Summary
Summary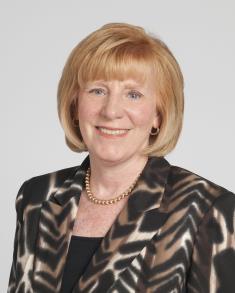 Deborah G. Klein, MSN, RN, ACNS-BC, CCRN, CHFN, FAHA, is a clinical nurse specialist in the coronary and heart failure intensive care units, and cardiac accelerated recovery, cardiac short-stay and post-anesthesia care units at Cleveland Clinic main campus. Klein boasts more than three decades of experience in critical care practice, education, consultation and research, having significantly advanced the nursing profession throughout her career. She is known for her work in therapeutic hypothermia post-cardiac arrest, pain assessment in patients who are unable to communicate pain, and end-of-life care.
Klein has published more than 50 book chapters and articles on critical care topics and has served as an editorial board member for numerous nursing journals. She is one of three editors of the last four editions of the book Introduction to Critical Care Nursing, winner of the 2009 American Journal of Nursing Book of the Year award. Additionally, she has been honored with several local and national awards for clinical practice and teaching, and was a recipient of the 2011 Circle of Excellence Award from the American Association of Critical-Care Nurses (AACN). That same year, she was also elected as an American Heart Association (AHA) Fellow for her contributions to cardiac care. She was elected to the AACN Board of Directors (2014-2017) and she has also served as secretary on the AACN Certification Board (2016-2017). She is an active member of several local and national industry associations, including the AACN and AHA.
Education
MSN, Frances Payne Bolton School of Nursing, Case Western Reserve University, Cleveland, Ohio, 1982
BSN, Frances Payne Bolton School of Nursing, Case Western Reserve University, Cleveland, Ohio, 1977
Certifications
Certified Critical Care Registered Nurse (CCRN), American Association of Critical-Care Nurses
Board Certified Adult Clinical Nurse Specialist (ACNS-BC), American Nurses Credentialing Center
Basic Cardiac Life Support (BCLS), American Heart Association
Advanced Cardiac Life Support (ACLS) Provider and Instructor, American Heart Association
Certified Heart Failure Nurse (CHFN), American Association of Heart Failure Nurses
End-of-Life Nursing Education Consortium (ELNEC) Instructor
Contact Information
Cleveland Clinic
9500 Euclid Avenue / J31
Cleveland, Ohio 44195
216.444.8559
kleind@ccf.org
Leadership
Leadership
Klein is an active nurse leader both within and outside the Cleveland Clinic health system. Grounded in evidence-based practice and education, her forward-thinking leadership philosophy encourages innovation and creativity. Klein is a proponent of professional development, multi-disciplinary collaboration, nursing research and more, and aims to lead through a hands-on learning environment. Her expertise is noted throughout various clinical units, councils and committees at Cleveland Clinic and in a number of professional industry organizations throughout the country.
Clinical Practice & Teaching
Clinical Practice & Teaching
Klein's clinical expertise lies within the area of critical care nursing.
Teaching
An experienced educator, Klein has been educating nursing students as a clinical instructor at the Frances Payne Bolton School of Nursing at Case Western Reserve University, in Cleveland since 1984. She has also taught as an adjunct clinical associate at the Kent State University College of Nursing in Kent, Ohio, since 1999.
Research & Publications
Research & Publications
Kaser has published numerous peer-reviewed articles in nursing and medical journals on a variety of topics, including diabetes management education, caring for the bariatric patient and weight-loss surgery. Additionally, she actively presents both regionally and nationally.
Professional Involvement
Professional Involvement
Member, American Association of Critical-Care Nurses

Panel Member, Continuing Education Review and Practice Alert Review (Adult) Panels
AACN Ambassador
Member, CNS Scope and Standards Task Force

Member, American Heart Association
Member, Lake Erie Chapter, AACN
Member, Society of Critical Care Medicine
Member, National Association of Clinical Nurse Specialists
Member, American Heart Association

Chair, Planning Committee, Cardiovascular Nursing Clinical Symposium

Member, American College of Cardiology
Member, American Association of Heart Failure Nurses
Alumni, Frances Payne Bolton School of Nursing, Nursing Alumni Association, Case Western Reserve University

Past Board Member, Frances Payne Bolton School of Nursing, Nursing Alumni Association, Case Western Reserve University

Member, Alpha Mu Chapter, Sigma Theta Tau International Society of Nursing
Honors & Awards
Honors & Awards
Lifetime Achievement Award, Cleveland Clinic Zielony Nursing Institute, 2013
Fellow, American Heart Association, 2011
Circle of Excellence Award, American Association of Critical-Care Nurses, 2011
Book of the Year Award, American Journal of Nursing, 2009
Excellence in Nursing Practice Award, Delta Xi Chapter of Sigma Theta Tau International Society of Nursing, Kent State University, 2005
Award for Excellence, Frances Payne Bolton School of Nursing, Nursing Alumni Association, Case Western Reserve University, 1995
Inductee, Sigma Theta Tau International Society of Nursing, 1977