Summary
Summary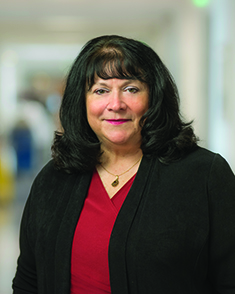 Mary R. Kennedy, MBA, BSN, RN, is the vice president of patient care and chief nursing officer for Cleveland Clinic's Medina Hospital. Kennedy is a dynamic, experienced leader who brings a wealth of knowledge and experience to her role. Prior to her current position, Kennedy worked at Cleveland Clinic's Lutheran Hospital for a number of years, arriving in 1988 with a team of medical experts to help transition the infamous spine and orthopedics program to the community-based hospital. She also served as chief nursing officer from 2005 to 2012, as interim president in 2011, and held leadership positions in quality and case management, nursing resources, and perioperative and critical care services.
As director of quality and accreditation, Kennedy facilitated and led preparation for a Joint Commission visit in 2003, in which Lutheran Hospital was the only Ohio hospital to receive a perfect score. Throughout her career, Kennedy has also fulfilled roles ranging from accreditation coordinator to clinical manager and staff nurse, as well as regulatory and operational management consulting. A strong advocate of community service, under Kennedy's leadership, Lutheran Hospital received Cleveland Clinic's Hospital of the Year award for community service and volunteerism for its work with Transitional Housing Inc. in 2010.
Education
MBA in Healthcare Systems Executive Management, Baldwin-Wallace University, Berea, Ohio, 1999
BSN, University of Akron, Akron, Ohio, 1991
Diploma, St. Vincent Charity Hospital School of Nursing, Cleveland, Ohio, 1972
Certifications
Serving Leader Strategic Advisor Certification, Cleveland Clinic/Third River Partners, 2013
Trained lead auditor, ISO 9001:2000, 2004
Accreditation Training, National Institute for Accreditation of Healthcare Organizations, 2008
Contact Information
Cleveland Clinic Medina Hospital
1000 E. Washington Street / MDH
Medina, Ohio 44256
330.721.5985
makenn@ccf.org
Leadership
Leadership
Kennedy is responsible for the overall strategic planning of Medina Hospital's nursing initiatives, as well as resource allocation, and budget and operational management of all inpatient and outpatient care and support areas. She holds standing positions with numerous committees and councils throughout the health system, which includes the chief nursing officer representative for the system-wide obstetrics and gynecology affinity group. Kennedy firmly believes in professional development at all career levels, including her own. Throughout 2013, she completed formal serving leadership training, a U.S. Department of Homeland Security FEMA course in healthcare leadership for mass casualties and was accepted into the Leadership Medina County class of 2014.
Clinical Practice & Teaching
Clinical Practice & Teaching
Clinical Practice
Kennedy's clinical experience lies within the areas of post-anesthesia care, emergency room and surgical cardiac intensive care nursing.
Teaching
With her extensive experience in quality and case management, Kennedy has been asked to speak as a guest lecturer for registered nurse case management students. Her lecture includes highlights on quality in organizations and the Center for Medicare and Medicaid Services (CMS) conditions of participation. Additionally, she is a guest lecturer on the topics of quality, accreditation and recent trends for Cleveland Clinic's Nursing Leadership Academy, and is a mentor for Cleveland Clinic's Group of Aspiring Leaders (GOAL).
Research & Publications
Research & Publications
With a history of presenting to audiences within and outside of the Cleveland Clinic health system, Kennedy has spoken on key topics of interest in the nursing profession, including quality, accreditation and recent trends, utilizing an acuity system in the post-anesthesia care unit and managed care. Additionally, she served as an active member for Lutheran Hospital's Investigational Review Board for approval of all hospital research projects for 13 years.
Professional Involvement
Professional Involvement
Member, American Organization of Nurse Executives (AONE)
Legislative Committee Member, Northeast Ohio Nursing Initiative (NEONI)
Member, Sigma Theta Tau/ Nursing Honor Society, Nu Delta Chapter
Baldwin College Healthcare MBA alumnae
Member, Brunswick Chamber of Commerce
Past-Member, Transitional Housing Inc. Board of Trustees
Past-Member, Ohio City Board
Past-Member, American Nurses Association, American Society of Post-Anesthesia Nurses
Association and Greater Cleveland Post-Anesthesia Nurses Association
Honors & Awards
Honors & Awards
Throughout Kennedy's tenure as a chief nursing officer, Lutheran and Medina Hospital's have received the following honors:
Cleveland Clinic MLK Diversity Hospital of the Year Award for Community Service, Cleveland Clinic Lutheran Hospital, 2010
Leapfrog Survey A Rating, Cleveland Clinic Medina Hospital, 2013
Top-ranked Orthopedics Hospital, U.S. News & World Report, only hospital in Medina county to receive, 2013