Summary
Summary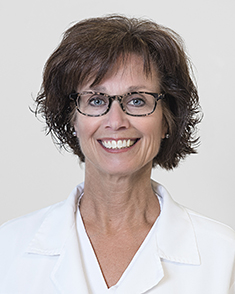 Kathleen T. Kennedy, MSN, RN, CCNS, CCRN, is a clinical nurse specialist in critical care at Cleveland Clinic Hillcrest Hospital. With more than three decades of experience in the professional practice of nursing, Kennedy brings a wealth of knowledge, skills and expertise to her role as a clinical resource, mentor and advanced practice nurse. She has spent her professional career within the walls of the Cleveland Clinic health system. Her first position was that of staff nurse at Hillcrest Hospital's intensive care unit, a clinical area in which Kennedy also served as assistant head nurse, head nurse and nurse manager. She was a critical care float nurse for 10 years, prior to joining the surgical intensive care team at main campus in 2001. Her diverse background also includes several years of service as a clinical instructor and education nurse specialist.
Throughout her career, Kennedy has sought to consult and further educate her nursing colleagues on best practices, evidence-based research, clinical process and procedure and more, while encouraging professional development and advanced education opportunities. Kennedy is a member of the Society of Critical Care Medicine and national and local chapters of the American Association of Critical-Care Nurses.
Education
MSN, Kent State University, Kent, Ohio, 2008
BSN, Ursuline College, Pepper Pike, Ohio, 1986
Diploma, St. Alexis School of Nursing, Cleveland, Ohio, 1981
Certifications
Certified Critical Care Registered Nurse (CCRN), American Association of Critical-Care Nurses
Certified Critical Care Clinical Nurse Specialist (CCNS), American Association of Critical-Care Nurses
Certified Trauma Nurse, Emergency Nurses Association
Basic Cardiac Life Support (BCLS), American Heart Association
Advanced Cardiac Life Support (ACLS), American Heart Association
Contact Information
Cleveland Clinic Hillcrest Hospital
6780 Mayfield Road
Mayfield Heights, Ohio 44124
440.312.9013
kkennedy@ccf.org
Leadership
Leadership
As a leading figure with notable longevity and expertise in the critical care patient population, Kennedy is a trusted, knowledgeable resource. She takes a hands-on approach to management and leadership and is seen as a collaborative partner within the multi-disciplinary care team.
Clinical Practice & Teaching
Clinical Practice & Teaching
Clinical Practice
Kennedy's clinical expertise lies within the area of critical care nursing, with a specialized focus on pulmonary and mechanically ventilated patients.
Teaching
Kennedy is a consultant and clinical educator to nurses and nursing staff members within the critical care nursing units at Hillcrest Hospital. She has created and implemented numerous educational materials that have positively impacted critical care nursing practice and helped to further advance the profession. Additionally, she continually educates all members of the care team on various ways to improve and enhance patient care to drive positive outcomes.
Professional Involvement
Professional Involvement
Professional Involvement
Member, American Association of Critical-Care Nurses
Member, Lake Erie Chapter, American Association of Critical-Care Nurses
Member, Society of Critical Care Medicine
Honors & Awards
Honors & Awards
Inductee, Sigma Theta Tau International Honor Society of Nursing, 1986