Summary
Summary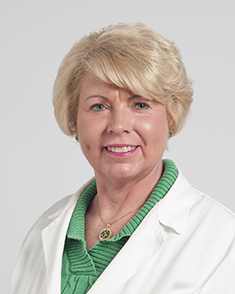 Diana L. Karius, MSN, RN, AOCN, is a clinical nurse specialist for the oncology and palliative medicine units at Cleveland Clinic main campus. With more than a decade of experience in her current role, Karius is a trusted leader among the caregiver team. She is responsible for education, monitoring and enhancing practice for inpatient oncology and palliative medicine nursing units. She also supports the outpatient oncology and gynecological oncology treatment clinics. Karius serves as a primary chemotherapy resource for the health system.
Karius entered the profession of nursing in 1979, and her extensive career includes healthcare organizations such as the College of Nursing at Valparaiso University, the University of Chicago Medical Center, University Hospital Home Care in Cleveland, and the Cleveland Clinic Taussig Cancer Institute. Throughout her career she has worked as a clinical teaching assistant, research clinical specialist, case manager and oncology clinical nurse specialist. With research and evidence-based practice at the forefront of her patient care philosophy, Karius is a member of several national and local industry associations, has served as a publication content reviewer, and is a well-versed presenter. She has also taught as an adjunct faculty member at three Northeast Ohio schools of nursing.
Education
MS, Purdue University, Purdue, Indiana, 1993
BSN, Kent State University, Kent, Ohio, 1979
Certifications
Certified Advanced Oncology Nurse (AOCN), Oncology Nursing Certification Corporation
Certified Hospice and Palliative Care Nurse (CHPN), National Board for Certification of Hospice and Palliative Nurses
Contact Information
Cleveland Clinic
9500 Euclid Avenue / MC G-70-71
Cleveland, Ohio 44195
216.444.0678
kariusd@ccf.org
Leadership
Leadership
A tenured clinical nurse leader within the units she serves, since 2000, Karius has implemented processes, educational initiatives and more to aid her colleagues in delivering superior patient care. Throughout her career she has been looked at as a clinical resource for physicians and staff members. She has mentored Master's-prepared clinical nurse specialist students, consulted on nutrition in oncology patients, and acted as a preceptor for oncology and neuro-oncology fellows.
Clinical Practice & Teaching
Clinical Practice & Teaching
Clinical Practice
Karius' clinical expertise lies within the area of oncology nursing, chemotherapy, biotherapy and the management of solid tumor patient populations. She has additional experience in palliative care nursing, pain and symptom management as well end-of-life care.
Teaching
An experienced educator, Karius has served as an external consultant to the Abbott Advisory Board on nutrition in oncology patients for the Oncology Nursing Society's Congress, and also co-authored a web-based course for the organization. She has precepted for oncology and neuro-oncology fellows in ommaya access and treatment, and has also taught as an adjunct faculty member at the following institutions:
Case Western Reserve University, Frances Payne Bolton School of Nursing, Cleveland, Ohio
University of Akron College of Nursing, Akron, Ohio
Kent State University College of Nursing, Kent, Ohio
Research & Publications
Research & Publications
With a career history that encompasses many notable publications and presentations, Karius has produced works on topics ranging from intraperitoneal chemotherapy and standardization of chemotherapy administration to improving patient safety on an inpatient palliative medicine unit and more. She served as an article and book reviewer for American Nurse Today and Clinical Nurse Specialist and has conducted research on the comfort and capability of nurses taking care of patients at end of life, and more.
Professional Involvement
Professional Involvement
Member, Northeast Ohio Association of Vascular Access
Member, Oncology Nursing Society
Member, Cleveland Chapter Oncology Nursing Society, Past Co-Chair, Program Committee
Past Member, Chicago Chapter Oncology Nursing Society
Trainer, Critical Care End-of-Life Nursing Education Consortium (ELNEC) and ELNEC Core
Trainer, Oncology Genetics
Ommaya Access, National Institutes of Health
Previous Course Trainer, Oncology Nursing Society Chemotherapy and Biotherapy
Member, Oncology Nursing Society Myeloma Mentorship Program
Member, Sigma Theta Tau International Society of Nursing, and Charter Memberships Delta XI, Kent
State University and Mu Omega, Purdue University
Honors & Awards
Honors & Awards
Best Practice Award, Platinum Level for Taussig Pain Management Team, Cleveland Clinic, July 2013
Mary Nowtny Excellence in Cancer Nursing Education, Oncology Nursing Society, 2011
Inductee, International Association of Nurses, 2011
Who's Who in American Nursing, Society of Nursing Professionals, 1990-1991 edition