Summary
Summary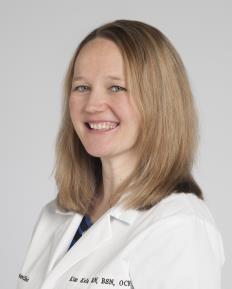 Kimberly Kalo, MSN, RN, AGCNS-BC, OCN, is clinical nurse specialist for the Cleveland Clinic Medicine and Respiratory Institutes where she serves as a resource and clinical expert for three inpatient nursing units, G80, G81, and G91. She utilizes evidence based research to promote and implement processes to improve both nursing and patient outcomes. Previously, Kalo served as both an clinical instructor in Cleveland Clinic's Office of Nursing Education and Professional Development and as a registered nurse in the hematology/oncology nursing unit at Cleveland Clinic main campus.
Kalo began her nursing career in 2005 as a bedside registered nurse, joining the oncology nursing team at main campus. She was active in her unit's shared governance, was a primary preceptor, and served as a charge nurse. She also immediately began helping implement numerous chemotherapy administration processes to better ensure safe, quality patient care. In 2010, she accepted a position as an clinical instructor, where she remained until early 2016 when she transitioned into her current role. Kalo is actively involved in numerous Cleveland Clinic committees and councils. She is also a basic life support (BLS) Instructor and one of the health system's vascular access resource nurse instructors.
Education
M.S.N., Adult Gerontology Clinical Nurse Specialist, Kent State University, Kent, Ohio, 2015
B.S.N., Bowling Green State University, Bowling Green, Ohio, 2005
Certifications
Board-Certified Adult-Gerontology Clinical Nurse Specialist (AGCNS-BC)
Certificate to Prescribe, Ohio Board of Nursing
Board-Certified Oncology Nurse (OCN)
Basic Life Support (BLS) Instructor, American Heart Association
Advanced Cardiac Life Support (ACLS), American Heart Association
Vascular Access Resource Nurse Instructor
Peripheral Vesicant Chemotherapy Certification
Contact Information
Cleveland Clinic
9500 Euclid Avenue
Cleveland, Ohio 44195
216.445.6845
kalok@ccf.org
Leadership
Leadership
Kalo is a dynamic leader with extensive experience starting as a bedside nurse, then a clinical instructor, and now as a clinical nurse specialist. She serves as a resource and mentor to the nurses in the Medicine and Pulmonary Institutes. One of her most notable accomplishments was the development and implementation of the 'Chemo Time-Out Process,' an initiative that positively impacted chemotherapy administration changes in a way that better ensured patient safety and care. Well-versed in nursing education, Kalo also played an important role in facilitating Cleveland Clinic's new graduate nurse residency program. She is involved in numerous committees and projects across the Cleveland Clinic enterprise.
Clinical Practice & Teaching
Clinical Practice & Teaching
Clinical Practice
Kalo's clinical experience lies within the area of oncology, pulmonary, and medical/surgical nursing.
Teaching
Kalo has extensive experience serving as a preceptor, mentor, and educator to nurses and healthcare teams – especially in the areas of evidence-based practice and quality process improvement initiatives. Within the hematology/oncology nursing unit at main campus, she was the primary preceptor for numerous new graduate registered nurses for several years. Upon her transition to the position of oncology clinical instructor in 2010, she actively taught adult oncology classes, ranging from core curriculum to review classes and specialty-specific classes such as non-oncology chemotherapy and basic chemotherapy. She has been heavily involved in Cleveland Clinic's multi-disciplinary education simulation program and nursing orientation process, and is also experienced in providing Cleveland Clinic's nursing teams with proper education on various nursing skills and techniques. She is also one of Cleveland Clinic's trained vascular access resource nurse instructors.
Research & Publications
Research & Publications
Kalo has presented to novice and experienced nurses throughout her nursing career. She has provided many in-services and specialty lectures in a wide variety of nursing topics.
Poster Presentations
Academy of Medical Surgical Nursing 2017- Reducing CLABSI through Nurse Engagement and Multidisciplinary Rounding
Cleveland Clinic Oncology Conference 2017- Equipping Non-Oncology Nurses to Safely Deliver Chemotherapy
Professional Involvement
Professional Involvement
Oncology Nursing Society (ONS)
North East Ohio Clinical Nurse Specialists (NEOCNS)
Honors & Awards
Honors & Awards
Cleveland Clinic Caregiver Celebrations Excellence Award, 2014 (Chemo Time-out Process)