Summary
Summary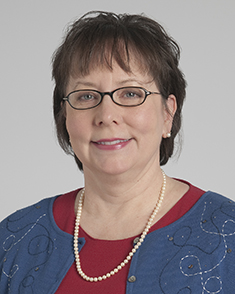 Kathleen M. Hill, MSN, RN, CCNS, is a clinical nurse specialist (CNS) for the surgical intensive care unit at Cleveland Clinic's main campus location. Hill is a diversified CNS, having practiced in a variety of intensive care settings, including coronary care, heart failure, cardiac surgery and medical and surgical intensive care. She actively lectures and publishes works on critical care and advanced practice nursing, including face transplantation, hemodynamic monitoring, ethical issues at the end of life, prescriptive authority for the CNS, role delineation for mid-level providers, and more.
Hill is an avid member of the American Association of Critical Care Nurses (AACN), serving as chair for the organization's CNS scope and standards task force and as a member of the evidence-based practice resources work group. She also sits on several councils within Cleveland Clinic health system, such as the adult intensive care unit practice council and the advanced practice nursing privileging council. Additionally, since 2004, she has been an American Red Cross community volunteer, and through the Northeast Ohio Nursing Initiative, has participated in a high school student/professional shadow program. In 2010, she received the national Circle of Excellence Award from the AACN, which recognizes significant contributions to the care of acutely and critically ill patients and their families.
Education
MSN, Kent State University, Kent, Ohio, 1984
BSN, Kent State University, Kent, Ohio, 1977
Certifications
Certified Clinical Nurse Specialist (CCNS), American Association of Critical Care Nurses
Contact Information
Cleveland Clinic
9500 Euclid Avenue / G54
Cleveland, Ohio 44195
216.444.0134
hillk4@ccf.org
Leadership
Leadership
Hill's work both within Cleveland Clinic and the healthcare industry has impacted the nursing profession on many levels. Her work ethic and leadership style is one that is focused on her clinical and professional expertise, from her lectures and published works on critical care nursing and advanced practice nurse roles to her notable participation within the AACN, both nationally and locally. Additionally, her active involvement in an initiative to improve the prevention and treatment of hospital acquired pressure ulcers has received recognition from the Institute of Healthcare Improvement, National Database for Nursing Quality Indicators, Wound Ostomy Continence Nurses Society and the National Pressure Ulcer Advisory Panel.
Clinical Practice & Teaching
Clinical Practice & Teaching
Clinical Practice
Hill's clinical expertise is primarily in intensive care, specifically surgical intensive care and cardiovascular intensive care, with additional expertise in atrial fibrillation and thoracic and cardiovascular surgery.
Teaching
With a long history in higher education, Hill served as a faculty member within the division of continuing education at Cleveland State University for 23 years. Throughout her time with Cleveland State, she taught a wide variety of topics and courses, such as 12-lead electrocardiography (ECG) interpretation, hemodynamic monitoring, cardiovascular assessment, the registered nurse refresher series, and a critical care review course. Additionally, since 2009, Hill has presented in the CCRN/PCCN review course offered at Cleveland Clinic.
Research & Publications
Research & Publications
With many lectures and written works on critical care nursing and advanced practice roles, Hill has presented and published pieces on topics such as face transplantation, hemodynamic monitoring, ethical issues at the end of life, 12-lead electrocardiography (ECG) interpretation, prescriptive authority for the CNS, and role delineation for mid-level providers. In 2007, she was part of a team of clinical nurse specialists to receive a grant from ACCN to conduct the research study: "Evaluating the Impact of a Standardized Order Set on the Process of Withdrawing Life-Sustaining Treatments from Patients in the Adult ICU."
Professional Involvement
Professional Involvement
Chair, CNS Scope and Standards Task Force, American Association of Critical Care Nurses
Member, Evidence-Based Practice Resources Work Group, American Association of Critical Care Nurses
Member, Circle of Excellence Award Review Panel, American Association of Critical Care Nurses
Past Member, CCNS Exam Development Committee and Clinical Nurse Specialist Scope and Standards Task Force, American Association of Critical Care Nurses
Honors & Awards
Honors & Awards
Honors & Awards
Nursing Excellence Award, Lifetime Achievement, Cleveland Clinic, 2012
Circle of Excellence Award, American Association of Critical Care Nurses, 2010