Summary
Summary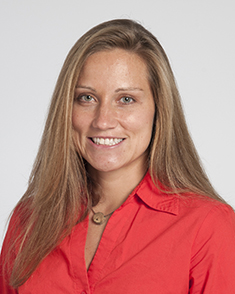 Mallory E. Hatmaker, MSN, CNP, is an adult/gerontology certified nurse practitioner with Cleveland Clinic's Employee Wellness and Internal Medicine departments. Spearheading a newly formulated, system-wide nursing wellness initiative, Hatmaker works closely with the Cleveland Clinic nursing and wellness administrative staff to coordinate and manage wellness events for the more than 12,000 nurses of Cleveland Clinic. Additionally, she is employed in the Internal Medicine department's employee walk-in clinic at Cleveland Clinic main campus, where she addresses acute caregiver needs or concerns.
Hatmaker joined the team at Cleveland Clinic upon entering the nursing profession as a registered nurse in 2009. Prior to her current position, which she assumed in 2014, Hatmaker's professional experience encompasses five years in various staff nurse roles, including a two-year position as a lung transplant coordinator and additional positions in both transplant special care and medical intensive care nursing. Throughout her career, Hatmaker has been involved in numerous internal health system councils and committees, is a Performance-Based Development System (PBDS) coach for new nursing caregivers and a member of the International Transplant Nurses Society.
Education
M.S.N., University of Akron, Akron, Ohio, 2014
B.S.N., University of Toledo, Toledo, Ohio, 2009 [cum laude]
Credentials and Certifications
Certified Nurse Practitioner (CNP), American Academy of Nurse Practitioners
Basic Disaster Life Support (BDLS), American Heart Association
Basic Cardiac Life Support (BCLS), American Heart Association
Contact Information
Cleveland Clinic Marymount Hospital
12300 McCracken Road
Garfield Heights, Ohio 44125
216.587.8220
bzinner@ccf.org
Leadership
Leadership
Through comprehensive program development, enhancement and management, Hatmaker leads health and wellness programs and planning for Cleveland Clinic's largest caregiver group. Her nursing wellness initiative includes a new clinic devoted to nursing wellness, a full-day nursing wellness retreat, ongoing nursing caregiver education, incorporation of wellness within the Cleveland Clinic New Graduate Nurse Residency program, and more. Through her leadership, the nursing wellness initiative is designed to enable nursing caregivers to take an active role in their health, from physical activity and healthy eating/healthy weight to stress management and tobacco cessation
Clinical Practice & Teaching
Clinical Practice & Teaching
Clinical Practice
Hatmaker's clinical expertise is in adult/gerontology nursing. Her medical interests include nursing wellness and preventative medicine.
Teaching
With a passion for health and wellness, Hatmaker educates and empowers Cleveland Clinic nurses to incorporate wellness into their daily lives resulting in a more active, healthy and engaged workforce. She is a PBDS coach for new nursing caregivers, a pain champion coach, and has taught classes for post-lung transplant patients and family members on lifestyle changes and medication management.
Research & Publications
Research & Publications
Hatmaker is a regular contributor to Consult-QD, a Cleveland Clinic blog designed for physicians and healthcare professionals across the globe. Her posts focus on nursing and caregiver wellness. She has also presented on employee wellness at the Cleveland Clinic Employee Health Dialogue.
Professional Involvement
Professional Involvement
Member, International Transplant Nurses Society