Summary
Summary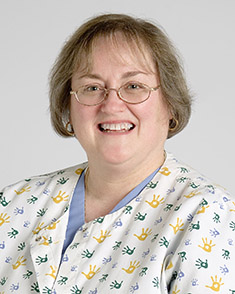 Jane H. Hartman, MSN, RN, NP-C, is a certified pediatric nurse practitioner and clinical nurse specialist at Cleveland Clinic Children's. Hartman has dedicated her nearly 35-year career to pediatric nursing practice, beginning in 1980, as a staff nurse at Rainbow Babies and Children's Hospital in Cleveland, Ohio. A tenured professional, Hartman has worked to improve patient outcomes through efforts such as evidence-based practice, enhancements to nursing policies, protocols and procedures, collaboration with the multidisciplinary care team, and more.
For 23 years, Hartman was employed by Fairview General Hospital, which later became Cleveland Clinic Fairview Hospital. During her time with Fairview Hospital, Hartman served as a staff nurse for the pediatric unit, pediatric urgent care and pediatric emergency department, and provided home health support for mother and infant services. Simultaneously, for 14 years, Hartman also worked in an outpatient setting at Comprehensive Pediatrics. She joined Cleveland Clinic in 2004 as a radiology staff nurse, became a pediatric nurse practitioner in 2005, and assumed her current position in 2012. Helping progress nursing practice in acute care and outpatient settings, Hartman mentors nurses employed in these areas. She is a national and local member of the Association for Vascular Access (AVA) and National Association of Pediatric Nurse Practitioners (NAPNAP). Her professional interests include immunizations and vascular access.
Education
MSN, The University of Akron, Akron, Ohio, 2005
BSN, The Ohio State University, Columbus, Ohio, 1980
Certifications
Pediatric Nurse Practitioner (NP-C), Pediatric Nursing Certification Board Certificate to Prescribe
Basic Cardiac Life Support (BCLS), American Heart Association
Pediatric Advanced Life Support (PALS), American Heart Association
Contact Information
Cleveland Clinic
9500 Euclid Avenue / S1-16
Cleveland, Ohio 44195
216.445.7244
hartmaj2@ccf.org
Leadership
Leadership
Hartman's leadership expertise spans multiple areas, from education and research in evidence-based practice to multidisciplinary team collaboration, mentoring of colleagues and the integration of the nursing perspective into comprehensive patient care plans. She has always advocated for nurses and actively contributes to the continued advancement of the nursing profession.
Clinical Practice & Teaching
Clinical Practice & Teaching
Clinical Practice
Hartman's clinical experience lies within the areas of pediatric inpatient and pediatric ambulatory care. Additional experience includes pediatric radiology, interventional radiology, pediatric emergency care, pediatric urgent care, neonatal intensive care and home health care.
Teaching
A mentor to nurses working in acute care and outpatient settings, Hartman assists her nursing colleagues throughout the health system in their own clinical practice. In working with the pediatric population, one of Hartman's primary responsibilities throughout her career has been effective patient education. As a radiology staff nurse, she developed a photo-diary to help provide education to school-aged children requiring a magnetic resonance imaging (MRI) test.
Research & Publications
Research & Publications
Throughout Hartman's career, she has delivered conference presentations for the National Association of Clinical Nurse Specialists on the topic of changing vaccine practice in a children's hospital, and for the Children's Hospital of Pittsburgh, UPMC on implementing a unit-based skin care team. She has also presented at Cleveland Clinic's nursing grand rounds on contrast agents in pediatric radiology. Her published works have been featured in the Journal of Radiology Nursing and Real Stories of Nursing Research: The Quest for Magnet Recognition.
Professional Involvement
Professional Involvement
Board Member and Treasurer, The Ohio Radiology Nurses Association (ORNA)
Member, National Association of Pediatric Nurse Practitioners (NAPNAP)
Member, Ohio Chapter of NAPNAP
Member, Association for Vascular Access (AVA)
Member, Northeast Ohio Chapter of AVA
Member, Sigma Theta Tau International Honor Society of Nursing
Honors & Awards
Honors & Awards
Honors & Awards
Outstanding Graduate Student Award in Nursing, The University of Akron, College of Nursing, 2005
Nursing Research Award, Cleveland Clinic, 2005
Traineeship Program Scholarship, The University Of Akron, 2004-2005