Summary
Summary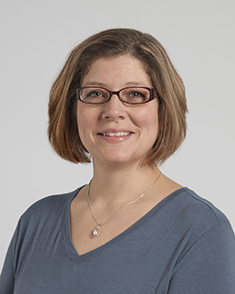 Kelly A. Haight, MSN, RN, ACNS-BC, is a board-certified adult clinical nurse specialist for the cardiovascular and thoracic step-down units at Cleveland Clinic main campus. She is an active member of various health system committees and councils, including co-chair of the Cleveland Clinic nursing pain mentor program. Haight provides educational classes to new and experienced nurses, assists in preparing staff for accreditation surveys and offers support for necessary practice changes, such as the implementation of new technology.
Haight's professional nursing career has been spent at Cleveland Clinic. She joined the health system's main campus location in 2008 as a patient companion and, upon receiving her Bachelor of Science in Nursing degree in 2010, became a registered nurse within one of the cardiovascular step-down units where she acted as a charge nurse, preceptor and mentor to new and student nurses, and a patient pain management resource. Haight accepted her current position in 2013. She is a member of numerous industry associations, including the National Association of Clinical Nurse Specialists, the American Association of Heart Failure Nurses, and the American and Ohio Nurses Associations (ANA/ONA), of which she was an elected delegate for both. Additionally, Haight held an elected seat within ANA's national nominations and elections committee.
Education
M.S.N., Kent State University, Kent, Ohio, 2013
B.S.N., The University of Akron, Akron, Ohio, 2010 (summa cum laude)
A.A. (Associates in the Arts), Cuyahoga Community College, Parma, Ohio, 1998
Certifications
Board Certified Adult Clinical Nurse Specialist (ACNS-BC), American Nurses Credentialing Center
Basic Cardiac Life Support (BCLS), American Heart Association
Advanced Cardiac Life Support (ACLS), American Heart Association
Contact Information
Cleveland Clinic
9500 Euclid Avenue / J52-104
Cleveland, Ohio 44195
216.445.9168
haightk@ccf.org
Leadership
Leadership
With less than five years of experience as a professional nurse, Haight's demonstrated leadership abilities have presented her with the opportunity for a career in nursing leadership. In communicating and guiding her colleagues and multidisciplinary team members, she demonstrates holistic nursing perspective and practice, collaborates to provide problem-solving strategies, encourages diplomatic team building that will guide, teach and advance the profession, and identifies and fosters appropriate management of ethical concerns and other challenges.
Clinical Practice & Teaching
Clinical Practice & Teaching
Clinical Practice
Haight's clinical expertise lies within the areas of cardiovascular and thoracic step-down.
Teaching
Haight's mentoring and precepting experiences have been an important part of her career since she entered the nursing profession. She has taught nurses and nursing students about professional development, educational advancement and healthcare policy issues. She has also provided educational classes to new and experienced nurses on the topics of heart failure, safe patient handling and meeting core measures for blood glucose control in cardiac surgery patients.
Research & Publications
Research & Publications
Haight's career publications include an article titled, "The beauty of what it means to be human," which was published in Imprint, in 2010. Haight also participated as a mid-year workshop presenter for the National Student Nursing Association, discussing the topic of writing a resolution.
Professional Involvement
Professional Involvement
Member, American Nurses Association
Nominations and Elections Committee Member, ANA
Member, Ohio Nurses Association
Past Delegate, ANA and ONA
Member, National Association of Clinical Nurse Specialists
Member, American Association of Heart Failure Nurses
Member, Sigma Theta Tau International Honor Society of Nursing
Member, Golden Key International Honour Society
Hours & Awards
Hours & Awards
Mary Gladwin Hall of Fame Award, The University of Akron, College of Nursing, 2010
The National Leadership Honor Society, Omicron Delta Kappa, 2010
Outstanding Undergraduate Student Award, Sigma Theta Tau International Honor Society of Nursing, 2010