Summary
Summary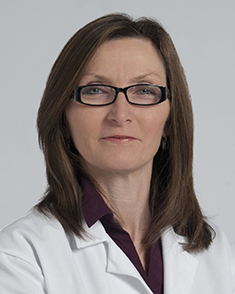 Karen L. Guzi, MSN, RN, ACNS-BC, BCEN, is a board-certified adult clinical nurse specialist within Cleveland Clinic's Emergency Services Institute. With more than three decades of clinical experience, Guzi's skills and expertise consist of nurse consulting, mentoring, education and professional development, nursing research, evidence-based practice and compassionate patient care. In her current position, Guzi services Cleveland Clinic's main campus, Avon, Ohio and Twinsburg, Ohio, locations. She is a trusted resource for nursing best practices, quality monitoring and process improvement, and a mentor for all staff.
Guzi has a diverse clinical background that is focused in emergency department, trauma, coronary care, and intensive care nursing, with additional experience in air and ground transport of critical care patients. She began her career in 1982, serving as a staff nurse in various positions in extended care, home care, health ministry, school nursing, and hospice settings. From 2005 to 2012, she was an adult education instructor at the Cuyahoga Valley Career Center's School of Nursing. Guzi remained part-time as an emergency department staff nurse while serving in higher education, until 2007. Guzi joined Cleveland Clinic in 2012. She is a member of the American Nurses Credentialing Center, National Association of Clinical Nurse Specialists, and Emergency Nurses Association.
Education
M.S.N., The University of Akron, Akron, Ohio, 2012
B.S.N., Bowling Green University, Toledo, Ohio, 1993
Diploma, Lutheran Medical Center School of Nursing, Cleveland, Ohio, 1982
Certifications
Certified Adult Clinical Nurse Specialist (ACNS-BC), American Nurses Credentialing Center
Board Certified Emergency Nurse (BCEN), Board of Certification for Emergency Nursing
SANE (Sexual Assault Nurse Examiner) Trained
HERT Nurse (Hospital Emergency Response Trained), Federal Emergency Management Agency
Basic Cardiac Life Support (BCLS), American Heart AssociationAdvanced Cardiac Life Support (ACLS), American Heart Association
Pediatric Advanced Life Support (PALS), American Heart Association
Contact Information
Cleveland Clinic
Emergency Services Institute
9500 Euclid Avenue / E1-800
Cleveland, Ohio 44195
216.636.5875
guzik@ccf.org
Leadership
Leadership
With a wealth of knowledge and experience, Guzi has fulfilled various leadership roles throughout her career. She consults on nursing best practices, serves as a role model and mentor for staff member professional development, is a trusted clinical resource and acts as a liaison and collaborator within the Emergency Services Institute and between the institute and other disciplines. She is a trusted resource for quality monitoring and process improvement and has helped in the attainment of the American Nurses Credentialing Center's Magnet® re-certification, the development of numerous protocols, documentation measures, audit tools for stroke management and more.
Clinical Practice & Teaching
Clinical Practice & Teaching
Clinical Practice
Guzi's clinical experience lies within the area of critical care nursing, specifically emergency department, trauma, coronary care, and intensive care nursing, as well as critical care ground and air transport.
Teaching
For seven years, Guzi was a classroom, laboratory and clinical instructor for full- and part-time practical nursing students at Cuyahoga Valley Career Center. As part of her teaching role within the School of Nursing, Guzi developed and updated curriculum, mentored new faculty members, professionally advised students and served as a liaison between the institution and its affiliates. Throughout her tenure in higher education, Guzi created an innovative process for organization of hard-copy educational materials, revised and modified the student laboratory environment and equipment, developed an advanced communication unit, and more.
Research & Publications
Research & Publications
Guzi participates and facilitates in the dissemination of nursing research, and also works collaboratively with health system physicians on research related to leadership rounding. Her future research efforts will be focused on the development of a patient satisfier survey tool that will be trialed in several emergency department settings.
Professional Involvement
Professional Involvement
Member, Emergency Nurses Association
Member, American Nurses Credentialing Center
Member, National Association of Clinical Nurse Specialists
Member, Sigma Theta Tau International Honor Society of Nursing
Honors & Awards
Honors & Awards
Caregiver Celebrations Excellence Award for participation in Nurse Residency program development, Cleveland Clinic, 2014
Caregiver Celebrations Excellence Award for preparation work regarding The Joint Commission Primary Stroke certification, Cleveland Clinic, 2013