Summary
Summary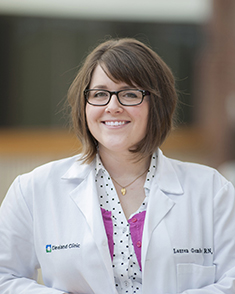 Lauren E. Gembala, MSN, RN, ACNS-BC, is a clinical nurse specialist in adult medical-surgical nursing at Cleveland Clinic Lakewood. Gembala bases her practice on the use of evidence-based research to develop initiatives that will improve nursing and patient outcomes. Gembala has worked in various positions throughout Cleveland Clinic health system since the start of her career in 2006. She accepted her current role in 2013, previously serving as a staff nurse within the coronary intensive care unit at Cleveland Clinic main campus for six years, and as a staff nurse within the main campus gastroenterology and renal hypertension nursing unit.
Gembala's professional involvement throughout both Lakewood and the health system has included the enterprise nurse practice council, policy and procedures committee, shared governance committee, and more. She has held memberships with the American Nurses Association, Preventative Cardiovascular Nurses Association, National Association of Clinical Nurse Specialists and American Association of Critical-Care Nurses.
Education
M.S.N., Kent State University, Kent, Ohio, 2013
B.S.N., Kent State University, Kent, Ohio, 2005
Certifications
Certified Adult Clinical Nurse Specialist (ACNS-BC), American Nurses Credentialing Center
Contact Information
Cleveland Clinic Lakewood
14519 Detroit Avenue
Lakewood, Ohio 44107
216.529.2844
gemball@ccf.org
Leadership
Leadership
Gembala strives to mentor and assist her nursing colleagues to improve their individual practice as well as overall patient outcomes. She is actively involved with Cleveland Clinic Lakewood's nurse practice council, and quality improvement initiatives. Additionally, she is part of a group of advanced practice nurses who are furthering the development of a follow-up outpatient pneumonia clinic.
Clinical Practice & Teaching
Clinical Practice & Teaching
Clinical Practice
Gembala's clinical expertise lies within the areas of medical-surgical and cardiac intensive care nursing.
Teaching
A mentor, collaborator, educator and coach to other nurses, nursing staff members and students, Gembala is an effective teacher both within and outside of the nursing unit. She helps her colleagues realize practice improvement opportunities and how to best implement evidence-based practice techniques to improve patient outcomes for the hospital. Additionally, Gembala assists with educational plan development as needed for scenarios such as staffing unit transitions.
Professional Involvement
Professional Involvement
Member, American Nurses Association
Member, National Association of Clinical Nurse Specialists
Past Member, Preventative Cardiovascular Nurses Association
Past Member, American Association of Critical-Care Nurses