Summary
Summary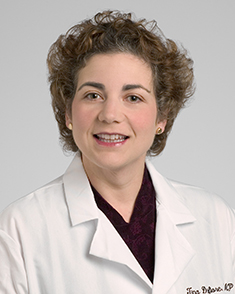 Tina E. DiFiore, MSN, CNS, NNP-BC, RN, is a clinical nurse specialist for Cleveland Clinic Children's neonatal intensive care unit (NICU) at Cleveland Clinic Hillcrest Hospital. A certified neonatal nurse practitioner, DiFiore has spent the majority of her nearly 25 years in the nursing profession caring for the neonatal patient population. She joined Hillcrest Hospital in 2009, and has been with Cleveland Clinic since 2001. She played an imperative role in the opening of Hillcrest Hospital's Level IIIB NICU in 2010, assisting with the design, planning and purchasing of equipment as well as education and training of all nursing staff.
DiFiore's career history also includes six years at Rainbow Babies and Children's Hospital in Cleveland and four years as a traveling neonatal nurse practitioner serving organizations such as Ochsner Foundation in New Orleans, University of Pittsburgh Medical Center-Lee Regional in Johnstown, Penn., Mt. Carmel East Hospital in Columbus, Ohio, Via Christi Regional Medical Center in Wichita, Kansas and Riverside Mercy Hospital and St. Vincent Mercy Medical Center both in Toledo, Ohio. DiFiore is a tenured clinical and adjunct faculty member, published author and avid member of numerous professional associations, including the Academy of Neonatal Nurses and National Association of Neonatal Nurses.
Education
Certificate in Management for Advanced Practice Nurses, Kent State University, Kent, Ohio, 1999
M.S.N., Case Western Reserve University, Frances Payne Bolton School of Nursing, Cleveland, Ohio, 1994
B.S.N., Ursuline College, The Breen School of Nursing, Pepper Pike, Ohio, 1989
Certifications
Certified Neonatal Nurse Practitioner (NNP-BC), National Certification Corporation
Certified Clinical Nurse Specialist (CNS), American Nurses Credentialing Center
Regional Trainer, Neonatal Resuscitation Program, American Academy of Pediatrics
Instructor, Lead S.T.A.B.L.E.
Trainer, Error Prevention Program, Ohio Children's Hospital Association
Contact Information
Cleveland Clinic Hillcrest Hospital
6780 Mayfield Road
Mayfield Heights, Ohio 44124
p. 216.312.1787
e. difiort@ccf.org
Leadership
Leadership
DiFiore's extensive experience and expertise has made her a well-known resource for her nursing and caregiver colleagues. She is a highly motivated and diversified professional who leads through the building of interpersonal relationships, staff empowerment, successful delegation and more. Her strengths including decision-making, problem solving, team building and care coordination. DiFiore was the original creator of Cleveland Clinic's annual neonatal nursing conference, which has been in existence since 2006.
Clinical Practice & Teaching
Clinical Practice & Teaching
Clinical Practice
DiFiore's clinical expertise lies within the area of neonatal nursing.
Teaching
Responsible for the instruction and supervision of neonatal nurse practitioner students in both the classroom and clinical settings, DiFiore has served as a clinical and adjunct faculty member at Case Western Reserve University in Cleveland since 2001. Additionally, she educates and supervises residents and staff members and is an instructor for continuing education courses.
Research & Publications
Research & Publications
A local and national presenter, DiFiore often addresses nursing and healthcare audiences on topics such as NICU design, immunizations, sleep studies in the NICU and more. She has been published in journals such as Neonatal Network: The Journal of Neonatal Nursing and Heart and Lung: The Journal of Acute and Critical Care.
Professional Involvement
Professional Involvement
Member, Academy of Neonatal Nurses
Member, National Association of Neonatal Nurses
Member, Sigma Theta Tau International Honor Society of Nursing, Alpha Mu Chapter
Member, Ohio Association of Advanced Practice Nurses
Member, Ohio Perinatal Quality Collaborative
Past Advisory Board Member, "From Practice Issues to Issues about Practice: A Forum for Advanced Practice Nurses" and "Neonatal Pharmacology, an Update" Conferences
Past Board of Directors Member, Local Chapter, National Association of Neonatal Nurses
Honors & Awards
Honors & Awards
Nursing Alliance Award, Cleveland Clinic Hillcrest Hospital, 2012
S.T.A.R.S. Award for Care Excellence, Children's Mercy Hospital, 1997
S.T.A.R.S. Award for Care Excellence, Children's Mercy Hospital, 1996