Summary
Summary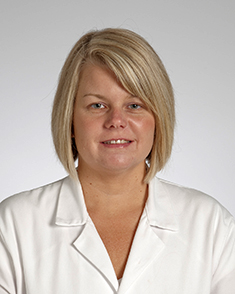 Stacey S. Claus, MSN, RN, GCNS-BC, CNRN, is a clinical nurse specialist in medical-surgical nursing at Cleveland Clinic Fairview Hospital. Throughout her career, Claus has worked to advance the professional practice of nursing and improve patient care through strategies such as quality improvement initiatives, patient fall reduction efforts, and interventions to minimize hospital-acquired conditions. She is an advocate for collaboration between physicians, mid-level providers and nurses and is actively involved in ensuring successful communication within the healthcare team.
Claus joined Cleveland Clinic in 2000 as a staff nurse on the Cleveland Clinic main campus neuroscience nursing floor and neurological concentrated care unit, providing care to neurological and neurosurgical patients. She accepted her current position in 2012. Throughout her nearly 15 years with Cleveland Clinic, Claus has also served as a clinical instructor within Cleveland Clinic's Office of Nursing Education and Professional Development and as a clinical nurse specialist intern. She has achieved certifications as a neuroscience registered nurse and a gerontological clinical nurse specialist. Claus is an avid public speaker and presenter and is highly involved in professional organizations nationally and regionally, including the American Association of Neuroscience Nurses.
Education
Clinical Nurse Specialist Program, Kent State University, Kent, Ohio, 2007-2010
B.S.N., Kent State University, Kent, Ohio, 2000
Certifications
Board Certified Gerontological Clinical Nurse Specialist (GCNS-BC), American Nurses Credentialing Center
Certified Neuroscience Registered Nurse (CRRN), American Board of Neuroscience Nursing
Contact Information
Cleveland Clinic Fairview Hospital
18101 Lorain Avenue
Cleveland, Ohio 44111
216.889.6445
clauss@ccf.org
Leadership
Leadership
Claus aims to educate, mentor and coach others throughout Cleveland Clinic health system. She is a facilitator and member of various committees, councils and programs, including Fairview Hospital's policy and procedure and medication use committees, geriatric resource nurse program and the health system's nurse residency team and advanced practice nurse council. She also coordinated the initiation of Fairview Hospital's new bariatric patient service line, serving as the internal resource for nursing staff members on the bariatric patient population.
Clinical Practice & Teaching
Clinical Practice & Teaching
Clinical Practice
Claus' clinical expertise lies within the areas of gerontology, medical-surgical and neuroscience nursing.
Teaching
Claus served as a clinical instructor for four years within Cleveland Clinic's Office of Nursing Education and Professional Development, specializing in the ongoing education of her nursing colleagues working with neuroscience and epilepsy patients. She was also a clinical instructor for Cuyahoga Community College's licensed practical nurse program, based in Cleveland, Ohio, and is a preceptor for graduate clinical nurse specialist students.
Research & Publications
Research & Publications
A national presenter, Claus has spoken to audiences throughout the industry on important topics such as effective clinical rounding, minimizing falls on a neuroscience nursing unit, using innovative fall prevention strategies to drive improvements, nursing care of the acute stroke patient, and more. She has also been published in the Handbook of Clinical Nutrition and Stroke.
Professional Involvement
Professional Involvement
Member, National Association of Clinical Nurse Specialists
Member, Sigma Theta Tau International Honor Society of Nursing
Member, National Gerontological Nurses Association
Member, American Association of Neuroscience Nurses
Member, Northeastern Ohio Chapter of the American Association of Neuroscience Nurses (NEOAANN)
Past-Education Chair, Past-Vice President Elect and Past-President NEOAANN