Summary
Summary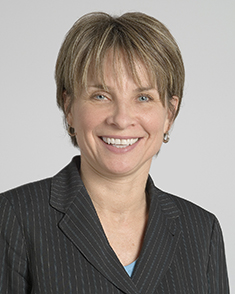 M. Jane (Janie) Burke, MBA, BSN, RN, CPN, NE-BC, is clinical director of nursing for Cleveland Clinic Children's and Cleveland Clinic Children's Hospital for Rehabilitation. In her role, she is responsible for managing the nursing clinical and administrative operations for Cleveland Clinic Children's pediatric inpatient hospital, as well as the 25-bed pediatric rehabilitation hospital. Cleveland Clinic Children's was ranked as a national leader in pediatric clinical care by U.S. News & World Report's 2020-21 edition of "Best Children's Hospitals."
With more than a decade of experience in her current role, Burke is a trusted leader among her team, overseeing the professional nursing practice of approximately 425 registered nurses, licensed practical nurses and advanced practice nurses.
A tenured Cleveland Clinic veteran, Burke began her pediatric nursing career at Cleveland Clinic nearly 30 years ago. She has worked as a staff nurse, advanced clinical nurse and nurse manager, in addition to her director position. As nurse manager, Burke coordinated several department expansions, implemented new programs centered on patient care, quality and satisfaction, and devised strategies to achieve and maintain front-end operational goals. She holds two national nursing certifications and was the 2001 recipient of Cleveland Clinic's Ambulatory Nursing Unit Excellence Award. She is a member of several national and local industry associations and committees and is a well-versed presenter. Additionally, she served as a clinical instructor at Case Western Reserve University's Francis Payne Bolton School of Nursing in Cleveland.
Education
M.B.A. in Healthcare, Baldwin Wallace College, Cleveland, Ohio, 2008
B.S.N., Youngstown State University, Youngstown, Ohio, 1988
Credentials and Certifications
Certified Pediatric Nurse (CPN), Pediatric Nursing Certification Board
Board Certified Nurse Executive (NE-BC), American Nurses Association
Contact Information
Cleveland Clinic Children's
9500 Euclid Avenue
Cleveland, Ohio 44195
216.445.4840
burkej1@ccf.org
Leadership
Leadership
With a passion for patient care and satisfaction, Burke is a role model and mentor for staff member professional development and is a trusted resource for quality monitoring and process improvement. Among many notable leadership initiatives, Burke has been instrumental in the implementation of a patient call-back program designed to assess post-procedure complications and patient satisfaction. Additionally, her high-risk pre-operative assessment program has proven successful in improving patient outcomes. Burke serves on multiple Cleveland Clinic health system committees representing the nursing profession and Cleveland Clinic Children's.
Clinical Practice & Teaching
Clinical Practice & Teaching
Clinical Practice
Burke's clinical experience lies within the field of pediatric nursing, with additional expertise in post-anesthesia care and ambulatory pediatrics.
Teaching
Burke served as a clinical instructor of nursing at Case Western Reserve University's Francis Payne Bolton School of Nursing in Cleveland.
Research & Publications
Research & Publications
For years, Burke has presented nationally on a variety of pediatric healthcare topics, including health and wellness, building an integrated pediatric healthcare system and improving the patient experience and caregiver communication, among others. Burke also served as co-investigator for a nursing research study that examined the effect of nurses' uniform colors on the feelings and emotions of school-aged children receiving healthcare.
Professional Involvement
Professional Involvement
Member, American Organization of Nurse Executives
Member, Society of Pediatric Nurses
Member, March of Dimes Nursing Award Nomination Committee
Trustee, Ronald McDonald House of Cleveland
Chair, Family Services Committee, Ronald McDonald House of Cleveland
Past Member, Ohio Nurse Association Committee, Baldwin Wallace College Representative