Summary
Summary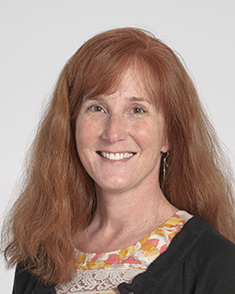 Carol R. Bennett, MSN, MBA, RN, PCNS-BC, is a board-certified pediatric clinical nurse specialist at Cleveland Clinic Children's. With a career that spans Rainbow Babies and Children's Hospital, The MetroHealth System and Cleveland Clinic, Bennett has spent more than 25 years caring for the pediatric patient population. Her experience includes pediatric and neonatal intensive care settings and pediatric clinical research coordination, in addition to her current position.
With a personal mission to progress and continually enhance pediatric care, Bennett has initiated programs such as pediatric ethics nursing rounds, a hypothermia therapy program, and numerous quality projects in the inpatient hospital setting. She has lectured to nursing staff on imperative patient conditions, implemented best practice measures, wrote nursing and procedural protocols, conducted internal and performance audits for patient safety and quality improvement, organized and implemented nursing orientation and training, and more. Bennett is a mentor and coach to high school and college students and is a member of the National Association of Clinical Nurse Specialists.
Education
M.B.A., University of Phoenix, Phoenix, Arizona, 2012
M.S.N., Frances Payne Bolton School of Nursing, Case Western Reserve University, Cleveland, Ohio, 2004
B.S.N., College of Nursing, Kent State University, Kent, Ohio, 1987
Certifications
Board Certified Pediatric Clinical Nurse Specialist (PCNS-BC), American Nurses Credentialing Center
Basic Cardiac Life Support (BCLS), American Heart Association
Pediatric Advanced Life Support (PALS), American Heart Association
Neonatal Resuscitation Program (NRP) Instructor, American Heart Association/American Academy of Pediatrics
Leadership
Leadership
With demonstrated leadership abilities in inpatient quality control, process improvement cause analysis, multi-disciplinary collaboration, safety in practice and cost-reduction strategy, Bennett is a driving force for the Cleveland Clinic Children's team. She has led efforts to offer safe family discharges for highly complex patients, bring new products to trial that provide safer practice methods, and create electronic medical record optimization for neonatal and pediatric flow sheets. Bennett has a special interest in nursing ethics and serves as the pediatric nurse specialist for Cleveland Clinic's pediatric ethics committee.
Clinical Practice & Teaching
Clinical Practice & Teaching
Clinical Practice
Bennett is a pediatric clinical nurse specialist with areas of clinical expertise in neonatal and pediatric intensive care, and medical-surgical pediatrics.
Teaching
Bennett serves as a mentor and coach to high school and undergraduate and graduate college students.
Research & Publications
Research & Publications
For two years, Bennett was a pediatric clinical research coordinator for MetroHealth Medical Center in Cleveland. Her research efforts included the coordination of a pharmacokinetic and pharmacodynamic study that is part of the Best Pharmaceuticals for Children Act (BPCA).
Professional Involvement
Professional Involvement
Member, National Association of Clinical Nurse Specialists
Honors & Awards
Honors & Awards
Nursing Clinical Excellence Award, Cleveland Clinic Nursing Institute, 2012