Meeting Description & Purpose
Meeting Description & Purpose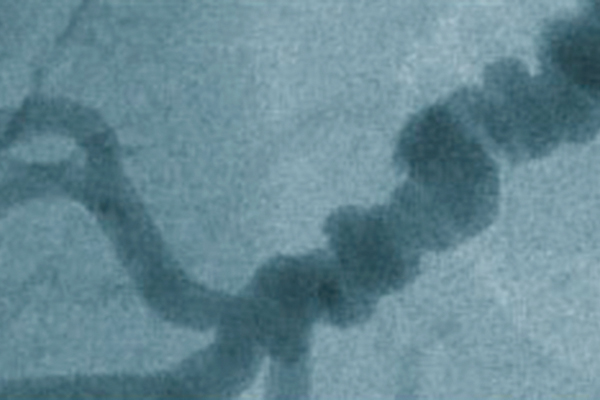 2nd International FMD Research Network and SCAD Symposium
Intercontinental Hotel and Conference Center
9801 Carnegie Avenue | Cleveland, OH 44106
May 18 -19, 2017
Get the latest news on this conference.
Follow us on twitter and use: #FMDSCAD2017.
Fibromuscular dysplasia (FMD) is an uncommon non-atherosclerotic arterial disorder that is associated with major vascular morbidity, including hypertension, stroke, arterial aneurysm and arterial dissection. More than 90% of patients with FMD are female and the average age at the time of diagnosis is approximately 52 years. Though initially described in 1938, the underlying pathophysiology and genetics of this disorder remains largely unknown and the prevalence of FMD in the general (female) population is uncertain. Though international registry efforts have advanced knowledge of the natural history of FMD, there have been no randomized clinical trials which have investigated optimal diagnostic or therapeutic strategies in FMD patients.
Spontaneous coronary artery dissection (SCAD), defined as a non-traumatic (iatrogenic or otherwise) separation of the coronary arterial wall by intramural hemorrhage (IMH), has been recognized as a cause of myocardial infarction among younger patients without significant risk for atherosclerosis. Like FMD, SCAD disproportionately affects women and is a non-atherosclerotic arteriopathy. A strong association between SCAD and FMD has recently been identified, though the majority of patients with FMD will never have a SCAD-related event. Over the past 5 years, there has been tremendous advancement in recognition of SCAD as a cause of MI and understanding its pathogenesis and management, though major questions remain.
This meeting will gather leading researchers and clinical thought leaders in the fields of FMD and SCAD for a state-of-the art review of the existing knowledge base and current research activities in the United States, Canada and Europe. During this meeting, members of the International FMD Research Network will convene in working groups along with an international panel of SCAD experts and FMD and SCAD patients/advocates. A summary of the discussions of the working groups will be presented in the general sessions.
The proposed audience for this conference includes:
Vascular specialists and other clinicians who care for patients with FMD (e.g., neurologists, nephrologists)
Clinicians who care for patients with SCAD, including general and interventional cardiologists, cardiac surgeons, and rehabilitation experts
Providers who specialize in the care of women, including women's health specialists and obstetricians/gynecologists
Cardiovascular translational and genetics researchers
Meeting Program
Meeting Program
Meeting Chairs:
Heather L. Gornik, MD, MHS
Staff Physician, Cleveland Clinic Heart and Vascular Institute
Associate Professor of Medicine, Cleveland Clinic Lerner College of Medicine of Case Western Reserve University
Cleveland, Ohio
Esther SH Kim, MD, MPH
Director, Arteriopathy Clinic, Vanderbilt Heart and Vascular Institute
Associate Professor of Medicine, Vanderbilt University School of Medicine
Nashville, Tennessee
Jeffrey W. Olin, DO
Director, Vascular Medicine & Vascular Diagnostic Laboratory
Professor of Medicine, Icahn School of Medicine at Mount Sinai
New York, New York
Additional Planning Committee Members
Santhi Ganesh, MD
Associate Professor of Internal Medicine and Human Genetics
University of Michigan
Ann Arbor, Michigan
Marianne Khoury, BS
Cleveland Clinic FMD Program
Pamela Mace, RN
Executive Director
FMD Society of America
Rocky River, Ohio
PRELIMINARY AGENDA
Each speaker will be allotted 12 minutes for presentation with 3 minutes reserved for questions and topic-related discussion, unless otherwise noted (15 minutes per topic).
Thursday, May 18, 2017
General Sessions
Setting the Foundation - FMD
Dr. Gornik moderates
9:30 a.m.
Registration
10 a.m.
Welcome, background and scope, introduction of participants
Dr. Heather Gornik
10:15 a.m.
FMD: historical perspective and angiographic-histologic classification system
Dr. James Stanley
10:30 a.m.
Modern nomenclature and broadening the FMD phenotype beyond the string of beads: aneurysms, dissections, and tortuosity in FMD
Dr. Jeffrey Olin
10:45 a.m.
Epidemiology of FMD – what's new? What remains unknown?
Dr. Esther Kim
11 a.m.
Update from the US Registry for FMD
Dr. Heather Gornik
11:30 a.m.
Update and key findings from the French ARCADIA Registry
Dr. Michel Azizi
11:45 a.m.
Update on the European FMD Initiative
Dr. Alexandre Persu
Noon
Panel discussion
Panel
12:15 p.m.
Patient perspective panel
Each panelist speaks for 3-5 minutes
Dr. Gornik Moderates

12:45 p.m. - 1:30 p.m.
Networking Lunch
| | | |
| --- | --- | --- |
| General Sessions | FMD Pathogenesis and Genetics | Dr. Olin moderates |
| 1:45 p.m. | FMD Genetics: State of the science 2017 and update from my lab | Dr. Santhi Ganesh |
| 2 p.m. | FMD as a complex genetic disease | Dr. Nabila Bouatia-Naji |
| 2:15 p.m. | Mt. Sinai Define- FMD Study Update | Dr. Jason Kovacic |
| 2:30 p.m. | Role of biomarkers in understanding FMD | Dr. Xavier Jeunemaitre |
| 2:45 p.m. | Project in progress: cognitive function and FMD | Dr. Bryan Wells |
| 3 p.m. | Panel discussion: genetic/environmental interactions in FMD? How will broadening the FMD pheonotype help efforts to understand genetic mechanisms of FMD? | Panel |
| 3:15 p.m. - 3:45 p.m. | Refreshment Break | |
General Sessions
Spontaneous Coronary Artery Dissection (SCAD)
Dr. Kim moderates
3:45 p.m.
Introduction: SCAD as a cause of MI and the link to FMD, preview of AHA SCAD Scientific Statement
Dr. Sharonne Hayes
4 p.m.
Angiographic diagnosis and management of SCAD in the cath lab; emerging data on coronary FMD beyond SCAD
Dr. Jacqueline Saw
4:15 p.m.
Epidemiology and pathophysiology of SCAD: theories, hypotheses, and evidence
Dr. Sahar Naderi
4:30 p.m.
Cardiac rehabilitation, chest pain and stress management post SCAD
Dr. Malissa Wood
4:45 p.m.
UK and European SCAD research and educational efforts
Dr. David Adlam
5 p.m.
New data from the Cleveland Clinic SCAD/FMD Program
Dr. Maya Serhal
Dr. Esther Kim
5:15 p.m.
Patient perspective panel
Each panelist speaks for 3-5 minutes
Dr. Kim Moderates
5:45 p.m.
General Sessions Adjourn for the Day
---
Friday, May 19, 2017
| | | |
| --- | --- | --- |
| 8:30 a..m. - 10 a.m. | Cleveland Clinic Facility and Art Tour for open session attendees | |
| | | |
| --- | --- | --- |
| General Sessions | Clinical Management Updates I | Dr. Olin moderates |
| 10:15 a.m. | Natural history of carotid FMD: Mt. Sinai Study | Dr. Jeffrey Olin |
| 10:30 a.m. | Brain aneurysms and FMD: Data from the US Registry | Dr. James Froehlich |
| 10:45 a.m. | Cervical artery dissection: recent lessons learned | Dr. Andrew Southerland |
| 11 a.m. | Intracranial FMD: data from Cleveland Clinic | Dr. Russell Cerejo |
| 11:15 a.m. | State of the art management of cervical artery dissections and brain aneurysms in patients with and without FMD | Dr. M. Shazam Hussain |
| 11:30 a.m. | Modern approaches to intractable headache, including Botox therapy for chronic migraine | Dr. Mark Stillman |
| Noon | Pulsatile tinnitus – the patient perspective and activities of whooshers.com | Ms. Emma Greenwood |
| 12:15 p.m. | Case presentation and discussion | Dr. Natalia Fendrikova-Mahlay with panel |
| 12:45 p.m. - 1:30 p.m. | Networking lunch | |
General Sessions
Clinical Management and Research Updates II
Dr. Kim moderates
1:45 p.m.
Management of FMD in Europe and the US: Similarities and differences
Dr. Alexandre Persu
2 p.m.
Approach to renal angiography and intervention in FMD
Dr. Bruce Gray
2:15 p.m.
Renal FMD: challenging cases from the cath lab
Dr. Christopher Bajzer
2:45 p.m.
Surgical approach to renal FMD: pediatric renal artery disease, mid-abdominal syndrome and adult visceral aneurysms.
Dr. Dawn Coleman
3 p.m.
Group review of international FMD Research network guidance for renal angiography (2014/2017)
Dr. Heather Gornik
Dr. Jeffrey Olin
3:15 p.m.
Panel discussion
Panel
3:30p.m. - 4 p.m.
Refreshment Break
| | | |
| --- | --- | --- |
| General Sessions | Research Logistics and Report of Working Groups | Dr. Gornik moderates |
| 4 p.m. | Incorporating research into an FMD clinical program (…with little or no funding) | Dr. Aditya Sharma |
| 4:15 p.m. | Challenges of registry research/the MCORRP perspective | Ms. Eva Kline-Rogers |
| 4:30 p.m. | Aligning local research efforts to the broader FMD research initiative: ARKADIA-POL case study | Dr. Andrzej Januszewicz |
| 4:45 p.m. | What can qualitative research methods bring to the study of FMD? | Dr. Sherry Bumpas |
Presentations of the working groups and discussion (10 minute summary of discussions followed by 5 minutes of discussion for each):
5 p.m.
Genetics/Reassessing the FMD Phenotype
Dr. Santhi Ganesh
Dr. Jeffrey Olin
5:15 p.m.
Exercise and Activity after SCAD
Dr. Esther Kim
5:30 p.m.
Maximizing Collaboration of International Registries
Dr. Heather Gornik
5:45 p.m.
Maximizing Patient Advocacy Efforts
Ms. Pamela Mace
6 p.m.
Wrap up and meeting adjourns
Drs. Gornik, Kim, Olin
6:30 p.m.
Working Group/Faculty Reception
Location TBD
Registration
Registration
Individuals may register to attend the general sessions of the meeting for a state-of-the-art update on FMD and SCAD. The working group sessions will be closed to invited participants, however, the final general session will feature a summary of working group discussions and future plans.
The registration fee for the meeting is $75.00 which includes syllabus materials and meals. Online registration is available at: https://fmdscadsymposium17.eventbrite.com.
Note: This is a NON-CME program. No CME credits will be awarded for participation in this meeting.
Get the latest news on this conference. Follow us on twitter and use: #FMDSCAD2017.
Housing
Housing
A block of rooms is available at the InterContinental Hotel and Conference Center at a rate of $189.00 plus tax per night or at the Holiday Inn Cleveland Clinic, 12 blocks from the InterContinental Hotel, at a rate of $139.00 plus tax per night. Cleveland Clinic shuttle service is available. Please reserve your room by calling 855.765.8709 or 216.707.4100 before April 17, 2017 and mention the FMD and SCAD Symposium to receive the discounted rate.
Young FMD/SCAD Investigator Award Travel Award
Young FMD/SCAD Investigator Award Travel Award
In order to promote the interest and engagement of early career clinical researchers and translational scientists in the fields of FMD and SCAD, a Young FMD/SCAD Investigator Travel Award is available.
The award will include air-travel (up to 500$), 2 nights hotel accommodation, meeting registration, on site meals, and ground transportation (up to 100$). The Travel Award winner will be assigned to the working group of her/his choice and will be acknowledged in the meeting program.
Early career clinical researchers and translational or basic scientists (within 5 years of doctoral degree) with interest and/or current research program related to FMD and/or SCAD are encouraged to apply. Women and minority early career applicants are encouraged to apply.
Applications for the travel award should include:
Applicant CV
Letter of interest describing the applicant's current interests and/or ongoing research related to FMD/SCAD and the potential impact of meeting attendance on the applicant's career.
Applications should be sent electronically by February 17, 2017 to:
Ms. Kathy Murakhaev
FMD and SCAD CONFERENCE TRAVEL AWARD
Vascular Medicine Section
Department of Cardiovascular Medicine
9500 Euclid Avenue
Desk J35
Cleveland, Ohio 44195
murdakk@ccf.org
The conference planning committee will review applications and will notify the award recipient by February 28, 2017.
For questions regarding the Symposium, please call 216.932.3448