EP Lab Procedures by Type
Cleveland Clinic electrophysiologists have extensive experience treating patients with all types of conditions, including those with the most challenging and complicated medical problems. This graph shows the types of procedures (lead extractions, pacemaker implants, implantable cardioverter defibrillator [ICD] implants, cardioversions and ablations) our doctors perform. The total number of procedures in 2015 was 5,175. The numbers (N = ) represent the number of each procedure we did in 2015. For instance, we performed 863 pulmonary vein ablation procedures for patients with atrial fibrillation, 227 ablation procedures for patients with ventricular arrhythmias and 469 ablation procedures for patients with other types of arrhythmias.
Abbreviations: CRT = Cardiac resynchronization therapy; ICD = Implantable cardioverter defibrillator; PVAI = pulmonary vein antrum isolation.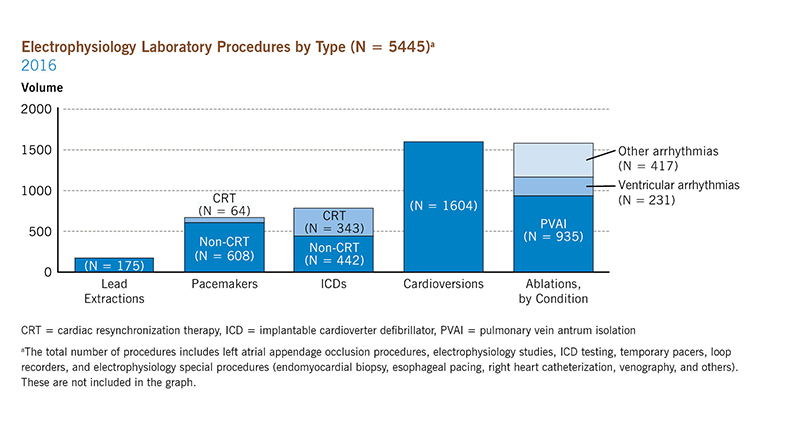 Learn more about:
Departments and Centers that Treat Patients with Arrhythmias
Outcomes by Specialty Areas
Learn about the outcomes for each section of the Heart & Vascular Institute individually.