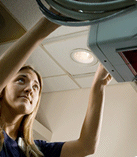 The journey begins
When I started at the University of Akron, I was taking general courses. Then my sister introduced me to the idea of becoming a radiologic technologist. Cleveland Clinic offered its own training course and certification program. I was able to attend classes and do my in-hospital training at the same time. That's important because you're learning and applying what you learn simultaneously.
Outgoing types are best for this out-of-this-world job
The radiology profession is great for people like me who are outgoing around people, yet easygoing when it comes to work. There will always be new advancements in the field, so working as an X-ray tech is a great way to have job security. And you get to help all kinds of people from different walks of life, ranging anywhere from 1 day old to 100 years old.
An awesome career that lets you have a life
The flexibility of the position is great too. You can choose between eight- and 10-hour shifts; four- or five-day work weeks; first, second or third shifts; and weekend programs. You name it, they have it. This kind of freedom helps make it possible to attend school to take more classes while working full time. And here at Cleveland Clinic, tuition reimbursement is available. Plus their new digital radiologic equipment means no working out of a dark room all day. It's fantastic!
What are some cool things about being a Cleveland Clinic radiologic technologist?
Good employee benefits
A wide variety of locations to work at including main downtown campus, suburban hospital and family health centers
Always working with the latest innovations, ahead of the general medical industry
The choice to work in the emergency department, with children, and with specialized fields such as orthopaedics or cardiology
Here's how you would plan for this career
Decide to pursue an allied health career in high school
Enroll in a shadowing program from Cleveland Clinic
Enroll in Cleveland Clinic's School of Diagnostic Imaging Program or a Radiologic Technology program at a regional college or university
Complete required training program
Start in-hospital training
Graduate from program
Enroll in additional courses to get certified in another field of radiology
Learn More