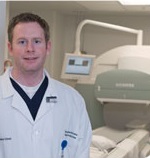 What interested you in becoming a Technologist?
My mother and sister are nurses so I knew that I wanted to go into the medical field. Originally I was going to go to x-ray school but when I went to observe for a day I ended up spending most of the day in the nuclear medicine department and found it very fascinating. So I went to college, majored in nuclear medicine, and never looked back.
What physical and/or soft skills do you need to have to succeed?
Anyone that gets into the medical field needs to have very good people skills. You have to remember that you are there to take care of sick people and they come in all varieties. Old or young, scared or angry, friendly or miserable, every patient is different and you have to be able to adjust to all situations. A strong background in math and sciences is also very important in nuclear medicine.
What advice would you give to interested high school students?
Don't get into the medical field just to earn a paycheck, because you won't last very long. If you are going to enter this field, do it for the right reasons, do it because you want to help people and always perform your job with as much compassion as you can.
What interested you in working at Cleveland Clinic?
The reputation of Cleveland Clinic is the main thing that drew me to Cleveland. I came from out of state to work here and it was definitely worth it. This is one of the top 5 hospitals in the country every year and it makes you proud to say you work at a place like that. Our nuclear medicine department is at the cutting edge. We have all the newest equipment, perform every procedure done in nuclear medicine, and currently have the largest nuclear medicine department in the country in terms of square footage.
What excites you about working as a Technologist?
Every day is different, every case is different. We see so many different things at Cleveland Clinic that it is hard to get bored at your job. I am the Lead Technologist here so every day presents its own set of challenges. It is these challenges that keep me excited about my job.
What has been your most gratifying experience as a Technologist?
I don't really have a single most gratifying experience but what is very satisfying is when patients go out of their way to tell you that you have done a great job. If you are getting into the medical field to get rewarded and singled out for a job well done, you are probably going to be sorely disappointed because it just doesn't happen that often. When it does though, it is a very gratifying experience.
What career options do you have as a Technologist?
There are some different avenues that being a Technologist can lead to. Some Technologists go on to administrative duties, some go into educating future Technologists. You can also get into sales or computer applications with medical companies always looking to recruit some of the better technologists they run into in the field.
Learn More