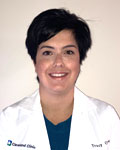 Biography
Tracy Ouellet is a Nurse Practitioner at Cleveland Clinic Canada. Fluent in French, Ms. Ouellet has provided care for a wide range of populations across Canada, including family health centres, First Nations communities as well as an emergency room setting. She is dedicated to helping her patients prevent disease and overcome any barriers to health and wellness.
Ms. Ouellet first obtained her Bachelor of Science in Nursing at the Université de Moncton's Campus de Moncton. She went on to complete her Masters in Family Nurse Practitioner at the Université de Moncton's Campus d'Edmundston.
Always looking to advance her skills, Ms. Ouellet has completed numerous additional certifications and courses, including Advanced Cardiovascular Life Support (ACLS), Trauma Nursing Core Course (TNCC), Pediatric Advanced Life Support (PALS), Neonatal Advanced Life Support (NALS), Rural Trauma Team Development Course (RTTDC), and Applied Suicide Intervention Skills Training (ASIST).
When she's not treating patients, Ms. Ouellet enjoys spending time with her husband and kids outdoors, boating and snowmobiling.
Education/Training
Residency

Université de Moncton
Family Nurse Practitioner
Moncton, NB

Bachelor of Science

Université de Moncton
Nursing
Edmundston, NB
Certifications
Advanced Cardiovascular Life Support (ACLS)
Trauma Nursing Core Course (TNCC)
Pediatric Advanced Life Support (PALS)
Neonatal Advanced Life Support (NALS)
Rural Trauma Team Development Course (RTTDC)
Applied Suicide Intervention Skills Training (ASIST)
Specialty Interests
Disease prevention
Family medicine
Professional Memberships
Nurse Practitioners of New Brunswick (NPNB)
Nurse Practitioner Association of Canada (NPAC)
Nurses Association of New Brunswick (NANB)
Canadian Nurses Association (CAN)