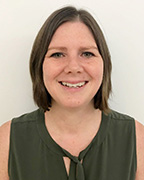 Biography
Kelly Murphy is a Registered Massage Therapist (RMT) with Cleveland Clinic Canada's Sports Health team. Registered with the College of Massage Therapists of Ontario, Ms. Murphy believes that massage therapy can help patients minimize pain and reach a higher level of health and wellness.
Born and raised in Timmins, Ontario, Ms. Murphy completed her Bachelor of Human Kinetics degree at Windsor University. Pursuing her passion, she graduated as a Registered Massage Therapist with a Diploma of Massage Therapy from the Sutherland-Chan School and Teaching Clinic.
Ms. Murphy has extensive experience in massage therapy. Ms. Murphy has treated a range of ailments from sports-related injuries to postural imbalances and chronic conditions and specific injuries including sprains, strains, tendonitis, headaches, low back or neck spasms. Ms. Murphy's massage treatments use a combination of myofascial release, trigger point release, neuromuscular techniques and traditional Swedish massage.
In her free time, Ms. Murphy enjoys playing basketball and cooking.
Education/Training
Diploma of Massage Therapy

Sutherland-Chan School and Teaching Clinic
Toronto, ON

Bachelor of Human Kinetics

Windsor University
Windsor, ON
Specialty Interests
Temporomandibular Joint (TMJ) Syndrome
Myofascial Release
Deep Tissue Massage
Sports Massage
Tissue Manipulation – Lower Limbs
Tissue Manipulation – Cervical Area
Prenatal Massage
Professional Memberships
College of Massage Therapists of Ontario