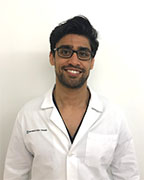 Biography
Sumeet Gill, MD, is a Sports Medicine Physician at Cleveland Clinic Canada. Dr. Gill most commonly assess and treats issues such as tendinopathies, strains, sprains, osteoarthritis, sports injuries, and concussions.
Dr. Gill completed his Bachelor of Science in Kinesiology before going on to obtain his Doctor of Medicine at McMaster University's Michael G. DeGroote School of Medicine. He completed his residency in Family Medicine at Women's College Hospital. His strong interest in kinesiology and athletics led him to complete a Fellowship in Sport and Exercise Medicine at the University of Toronto. During this time, he acted as a Facilitator for the MSK Seminar at the Medical School. In this role, he taught medical students history and physical exams for musculoskeletal complaints.
Dr. Gill has been involved in numerous research projects and his work has been published in the Journal of Trauma Treatment, the Journal of Clinical Medicine Research and the Sports Medicine School. He has a particular interest in exercise prescription, combat sports medicine and medical education.
When he's not seeing patients, Dr. Gill enjoys Brazilian Jiu Jitsu, mixed martial arts training and spending quality time with his wife, son and their French bulldog.
Education/Training
Fellowship

University of Toronto
Sport & Exercise Medicine
Toronto, ON

Residency

Women's College Hospital
Family Medicine
Toronto, ON


Doctor of Medicine

McMaster University
Michael G. DeGroote School of Medicine
Hamilton, ON

Bachelor of Science

University of Calgary
Kinesiology
Calgary, AB

Certifications/Training
Certificate of Added Competence – Sport Medicine (CCFP-SEM)
Advanced Cardiovascular Life Support
First Aid and CPR (C) HCP
Specialty Interests
Exercise prescription
Combat sports medicine
Medical education
Professional Memberships
The College of Family Physicians Canada
Canadian Academy of Sport & Exercise Medicine
Ontario Medical Association