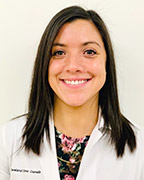 Tara Giallonardo is an Exercise Physiologist at Cleveland Clinic Canada. She has many years of experience with exercise supervision, healthy lifestyle education, counselling and designing and prescribing exercise prescriptions to chronic populations.
Ms. Giallonardo has always been interested in the human body and how it moves; therefore it was a natural choice to pursue a Bachelor of Science in Kinesiology from Brock University. She went on to complete a Graduate Diploma in Exercise Science for Health and Performance before completing a Masters in Kinesiology from the University of British Columbia. During her Master's Degree, she focused on reducing sedentary behaviour and offering lifestyle education through workplace wellness interventions.
Ms. Giallonardo has a particular interest in both chronic disease prevention and high performance training. She currently acts as an OFAI Fire Fighter candidate tester, where she performs VO2max tests on potential candidates. She previously held the role of Research Coordinator for the Brain & Body Lab at the University of Waterloo. In this position, she helped to implement and manage moderate to large research projects investigating the effects of exercise on cognitive function.
When she's not treating patients, Ms. Giallonardo likes to play sports, hike, cook and travel with friends.
Education/Training
Master of Science

University of British Columbia
Kinesiology
Vancouver, BC

Graduate Diploma

Niagara College
Exercise Science for Health & Performance
Welland, ON

Bachelor of Science (Honours)

Brock University
Kinesiology
St. Catharine's, ON
Certifications
Certified Exercise Physiologist CSEP-CEP
HCP-C CPR Health Care Professional- Perri-Med First Aid and CPR Training
Certified Phlebotomist
Coaching Level 1 - Ontario Basketball
Specialty Interests
Chronic disease prevention
High performance training
Professional Memberships
Canadian Society for Exercise Physiology (CSEP)