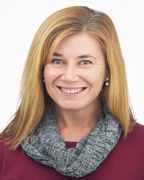 Biography
Sue Ellison is a physiotherapist at Cleveland Clinic Canada.
Ms. Ellison graduated from the University of Western Ontario with a Bachelor of Science in Kinesiology before going on to complete the physiotherapy program there. She completed a Clinical Masters of Sports Physiotherapy at the Curtin University of Technology in Perth, Australia and has since trained in acupuncture and received her Advanced Manipulative Therapy accreditation. She recently added Intramuscular Stimulation (IMS) to her skills as a clinician.
Ms. Ellison is dedicated to helping her patients reach their goals. She believes that the key to health and wellness is staying as active as possible, whether that involves simply walking or running a marathon. She is particularly interested in the world of sports and enjoys treating endurance athletes, runners, swimmers, as well as gymnasts and dragon boat competitors. She has provided care for many sporting events such as triathlons, distance running, and dragon boating. Ms. Ellison was an adjunct lecturer and unit coordinator in the Physical Therapy Department at the University of Toronto.
When she's not treating patients, Ms. Ellison loves to exercise and spend time with her family.
Education/Training
Clinical Masters

Sports Physiotherapy

Curtin University of Technology

Perth, Australia
Masters

Physiotherapy

University of Western Ontario

London, ON
Bachelor of Science
Kinesiology

University of Western Ontario

London, ON
Certifications
Acupuncture
Intramuscular Stimulation (IMS)
Advanced Manipulative Therapy - Orthopaedic Division of Canada (FCAMPT)
Specialty Interests
Sports
Endurance athletics
Gymnasts
Dragon boat
Professional Memberships
Canadian Physiotherapy Association
Canadian Academy of Manipulative Physiotherapy: CAMPT