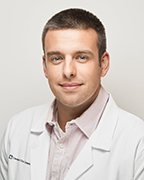 Biography
Dan Dmytrasz is an exercise physiologist at Cleveland Clinic Canada who has years of experience conducting fitness assessments and developing personalized exercise programs for his clients.
Mr. Dmytrasz was drawn to the field of kinesiology from an early age because of his interest in exercise, fitness and the human body. He pursued this passion as a career and obtained both his Bachelor of Science and his Bachelor of Education from York University before going on to obtain his Masters of Fitness. After graduation, Mr. Dmytrasz assisted with the NHL combine, where he administered fitness assessments for top NHL draft prospects.
Mr. Dmytrasz is passionate about educating his patients and getting them excited about the exercises he prescribes. He enjoys finding different ways to motivate his patients to improve their health and fitness. His philosophy? The body is meant to move. The more a person moves today, the better they will move tomorrow.
Education/Training
Masters of Fitness Science

York University
North York, ON
Bachelor of Education

York University
North York, ON
Bachelor of Science

Kinesiology and Health Science
York University
North York, ON
Certifications
NFPA – Firefighter I & II
CSEP – Certified Exercise Physiologist
NSCA – Certified Strength and Conditioning Specialist
Standard First Aid with CPR – HCP
WFI – PFT (Wellness Fitness Initiative - Peer Fitness Training)
Specialty Interests
Strength training
Circuit training