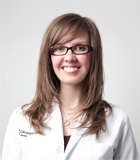 Biography
Joy Christensen is a registered nurse at Cleveland Clinic Canada. As part of the Executive Health nursing team, she works with physicians and colleagues to support patients in their efforts to achieve and maintain a healthy lifestyle. At Cleveland Clinic Canada's interdisciplinary and collaborative environment, Ms. Christensen collects and manages vital information from patients about their health such as their health history or test results and addresses their concerns. Ms. Christensen's training and experience also include supporting and treating patients in the following specialty areas: oncology, clinical trials, gynecology and infertility.
Born in Mississauga, Ms. Christensen graduated from Ryerson University with a Bachelor of Sciences degree in Nursing. Continuing her education and professional growth, she completed her clinical placements and training at several Toronto health centres, including Trillium Health Centre, St. Joseph's Health Care Centre, Toronto General Hospital and the Princess Margaret Hospital.
During her nursing career, Ms. Christensen worked as a nurse with oncology patients and developed a strong and knowledgeable background in solid tumour and clinical trials. With great empathy and compassion, she provided care as a primary nurse to patients completing clinical trials who faced challenges related to ovarian, breast and thyroid cancer. Ms. Christensen has also developed nursing expertise in infertility and worked with those in need of assisted reproductive technology and in-vitro fertilization.
On the weekends, Ms. Christensen enjoys spending time with her husband and their dog, Charlee.
Education/Training
Bachelor of Sciences, Nursing

Ryerson University
Toronto, ON
Certifications
Nurse Certificate in Reproductive Endocrinology and Infertility
Specialty Interests
Phase II & III Clinical Trials in Oncology
Reproduction and Infertility
Professional Memberships
Registered Nurses Association of Ontario
College of Nurses of Ontario
Canadian Fertility and Andrology Society
American Society for Reproductive Medicine