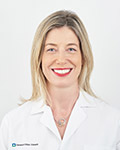 Biography
Michelle Begg is a physiotherapist at Cleveland Clinic Canada.
Ms. Begg graduated with a Bachelor of Science in Physiotherapy from the University college of Dublin, Ireland. She completed her Advanced Diploma of Manipulative Physiotherapy from the Canada Orthopedic Association and is a fellow of the Canadian Academy of Manipulative Physiotherapy. She has been certified in acupuncture by the British Medical Acupuncture Association. She recently completed a Doctor of Science in Physiotherapy at Andrews University Michigan.
Ms. Begg's passion for musical and athletic performance is the foundation of her clinical practice. An accomplished musician and competitive runner, she has a keen understanding of the complex body mechanics and physical demands that drive performance excellence. Ms. Begg brings years of clinical experience, a wealth of knowledge and a high degree of cultural sensitivity to her work. She has lived and worked in BC, Ontario, Ireland, and the Middle East in both private practice and hospitals. In her hospital based practice she has been a lead physiotherapist for a multi-disciplinary neuroscience team as well as a Clinical Educator in an orthopaedic outpatient department. Additionally, Ms. Begg has been a consultant physiotherapist for the Irish Academy of Music, a medical practitioner at the Toronto Pan Am Games, and has mentored and educated other physiotherapists through courses in Canada and the Middle East.
Ms. Begg offers a wide range of therapeutic treatments including advanced manual therapy techniques, fascial manipulation, acupuncture, craniosacral therapy and advanced motor control training. She is trained in the Integrated Systems Model of whole body assessment and integrative treatment. Her expertise in body alignment, motor control and core stability has helped many people, from professional musicians and top athletes to those just wanting to move more comfortably and overcome the pain and dysfunction caused by muscle imbalances and poor movement patterns. Utilizing a whole-body approach to treatment Ms. Begg is dedicated to providing patients with the strategies and tools they need to stay active and enjoy life to the fullest.
When she's not treating patients, Ms. Begg likes to spend time with her husband and two children. They love to get outside and enjoy ski trips, running, cycling, and swimming. She also enjoys singing in a rock choir.
Education/Training
Doctor of Science

Andrews University
Physiotherapy
Berrien Springs, Michigan
Advanced Diploma

Canada Physiotherapy Association Orthopaedic Division
Manipulative Physiotherapy
Vancouver, BC

Bachelor of Science

University College of Dublin
Physiotherapy
Dublin, Ireland
Certifications
Advanced manual therapy, CAMPT- certified (Canadian Academy of Manipulative Physiotherapy)
Acupuncture -British Medical Acupuncture Association
Fascial manipulation
Rehabilitative ultrasound imaging
Breathing evaluation and capnography
Advanced motor control training
Specialty Interests
Professional Memberships
College of Physiotherapists of Ontario
Canadian Physiotherapy Association, Orthopaedic Division
Fellow of the Canadian Academy of Manipulative Physiotherapy
Performing Arts Medicine Association