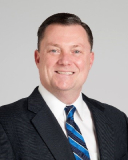 James Gregory Rosencrance is the President of Cleveland Clinic Indian River Hospital. In this role, he is responsible for the hospital's successful operations. He leads more than 2,100 caregivers throughout the hospital and its nine community-based centers. Dr. Rosencrance focuses on improving quality and safety and the overall patient experience, as well as working to expand clinical programs and services.
Previously, Dr. Rosencrance served as Chair of the Medicine Institute at the Cleveland Clinic Foundation. He was instrumental in restructuring the Medicine Institute to Cleveland Clinic Community Care.
Dr. Rosencrance graduated from the Joan C. Edwards School of Medicine at Marshall University in Huntington, WV. He completed his residency in internal medicine at Charleston Area Medical Center in Charleston, WV.
Dr. Rosencrance is a Fellow of the American College of Physicians and a Member of the Editorial Board of the American Journal of Medicine. He has received numerous awards and honors for his work, including being named the Ayash Distinguished Professor of Internal Medicine. He is the author of over 150 abstracts, publications, research projects and presentations. In 1993, the Gregory Rosencrance Clinic Fund was established. The interest from the Fund is used for worthwhile resident endeavors in the Medical Residents Ambulatory Clinic at the Charleston Division of West Virginia University.