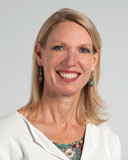 Ms. Morris joined Cleveland Clinic in 2013 as the Chief Government and Community Relations Officer. Her areas of responsibility include cultivating and maintaining relationships at the federal, state and local government levels to monitor development and influence legislative outcomes that affect the mission of the Cleveland Clinic; fostering continual development and partnership with the government agencies to conduct critical research and share best practices; ensuring good relations, communications and involvement with the city of Cleveland and its civic organizations; developing and leading community relations strategies and initiatives that support public health goals in the neighborhood; and creating and engaging civic education programs to promote education in the sciences and health disciplines.
Ms. Morris' background includes ten years representing the biotech and medical device industries, eight years as the Vice President of Legislative Affairs for the American Hospital Association and several years representing physician associations including a stint at the American Medical Association. She also lobbied on behalf AdvaMed, the medical device industry's primary trade association.
Ms. Morris graduated from Purdue University. While in college, she interned for the Ways and Means Committee in the U.S. House of Representatives. She returned to D.C. after graduation to serve as a legislative assistant on Capitol Hill from 1986-1990.