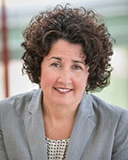 Ms. Beran brings a wealth of management and leadership experience to her role as Chief Strategy Officer, which spans a 17-year career at Cleveland Clinic. She has served as an administrator in Neurology and Infectious Disease and director of Cardiothoracic Affiliate Programs. From 2008 to 2011, she served as Senior Director, Clinical Operations and later Executive Director of Medical Operations. Key achievements include development of the Critical Care Transport Program, the use of continuous improvement and the creation of medical emergency teams.
From 2011 to 2014, Ms. Beran served as Executive Administrative Officer at Cleveland Clinic Abu Dhabi. She built the operating model for executive administration and led the Project Management Office that oversaw the hospital's opening.
When she returned to Cleveland Clinic's main campus in 2014, Ms. Beran joined the Strategy Office as Executive Director, Strategic Partnering and Network Integration, a position she held until she was named Interim Chief Strategy Officer in January 2018.
Ms. Beran's hard work and achievements in the Strategy Office have had a favorable impact on our organization. She was successful in executing partnerships that ranged from consulting, service agreements, affiliations, alliances and mergers.
She built an integration infrastructure from the ground up and led the successful integration of Akron General into our health system, bringing functional areas together to align organizational structures, standardize policies and procedures, and transform operating models.
She was instrumental in negotiating with Union Hospital, now a full member of Cleveland Clinic. She led development of proposals to advance Cleveland Clinic's Florida strategy; her work resulted in the current negotiations for Indian River Medical Center to become a full member of Cleveland Clinic.
Ms. Beran is a graduate of The College of Wooster and completed a master's degree at Baldwin Wallace in Executive Healthcare Business Administration.