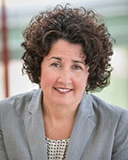 Josette Beran joined Cleveland Clinic in January 2001 as the Administrator of Neurology. She is currently the Interim Chief Strategy Officer. Josette has led the development of the Clinic's Office of Strategic Partnering and Network Integration.
Josette has 20 years of healthcare experience both nationally and internationally. She spent the beginning of her career managing refractive eye surgery for private ophthalmology practices. In her 15 years at the Cleveland Clinic she has held a number of leadership roles including Senior Director of the Cardiothoracic Surgery Affiliates and Executive Director of Medical Operations. Josette spent three years in Abu Dhabi, United Arab Emirates as the Executive Administrative Officer where she was a member of the executive team and responsible for overall hospital activation.
Josette holds a Master's degree in Executive Healthcare Business Administration from Baldwin Wallace University.