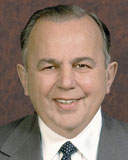 Mr. Weiss is the Principal – Five Forty Investment. He is also the former Chairman – American Greetings Corporation and has worked there for nearly 50 years, serving in positions that also include President, Chief Executive Officer, and Chief Operating Officer. He also serves on the Board of Directors of Dots, a young women's clothing retailer.
Mr. Weiss serves on the Boards of Directors for Bar-Ilan University, the Jewish Community Federation of Cleveland, and Yeshiva University. He also serves on the National Campaign Board for the Holocaust Memorial Museum and is a National Officer with the Union of Orthodox Jewish Congregations of America.
Born in Czechoslovakia and raised in Detroit, Michigan, Mr. Weiss attended Wayne State University and earned a Bachelor of Arts degree in Liberal Arts from Case Western Reserve University.
Cleveland Clinic – Director
First Elected to Cleveland Clinic Board in 1997
Board Committees: Philanthropy