Overview
Overview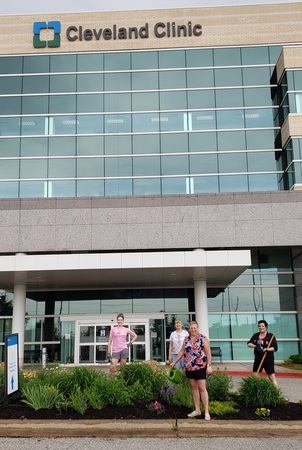 Sustainability is a rapidly evolving field. To this end, we engage a broad network of stakeholders with diverse expertise to inform our sustainability strategy and collaborate on initiatives. Active engagement with our caregivers, as well as industry, federal, regional and national stakeholders positions us to act on leadership opportunities, drive innovation and make progress toward our goals.
Industry
Industry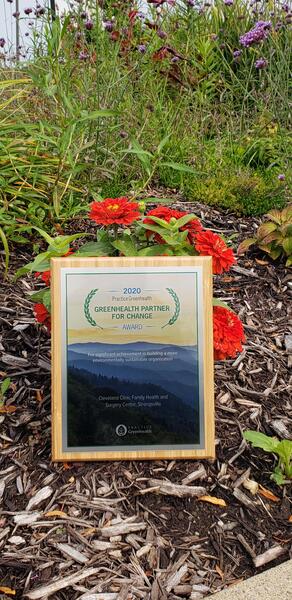 In 2020, Cleveland Clinic continued to share sustainability data and solutions with peer organizations through our membership with Practice Greenhealth (PGH)—a health care membership organization committed to sustainability and environmental stewardship in health care. Members of the Sustainability team participate in webinars, cohort calls, conferences and meetings throughout the year on a monthly basis or more frequently.
For six consecutive years, Cleveland Clinic has received PGH's Top 25 Environmental Excellence award, the highest level of recognition for PGH members for sustainability performance. In 2020, PGH also acknowledged Cleveland Clinic's sustainability efforts with Circles of Excellence Awards for top performance in the following sustainability categories:
Greening the Operating Room
Environmentally Preferred Purchasing
Climate
Green Building
Cleveland Clinic received the System for Change award for enterprise-wide progress on sustainability, with 16 of our hospitals and family health centers receiving awards. Euclid and Fairview hospitals both received Greenhealth Emerald Awards (presented to the top 20% of hospitals with advanced sustainability programs for exemplary performance) and Greening the Operating Room Recognition Awards for reducing the environmental impact of surgery. Cleveland Clinic is also a founding member of the Healthcare Without Harm Climate Council, which advises on policy issues, shares best practices and creates content designed to inspire the healthcare sector towards a zero carbon future.
Federal
Federal
To improve the energy efficiency of our facilities, Cleveland Clinic continued to participate two voluntary federal energy reduction programs in 2020: the Environmental Protection Agency (EPA) and the Department of Energy's (DOE) ENERGY STAR program, and the DOE's Better Buildings Challenge.
Cleveland Clinic uses ENERGY STAR's Portfolio Manager to track energy use, compare the performance of our facilities and measure progress toward our goals. We also began conducting Energy Treasure Hunts—an ENERGY STAR campaign designed to engage cross-functional teams in identifying low- and no-cost energy savings opportunities—in 2019 and plan to complete additional Energy Treasure Hunts at our regional hospitals and family health centers in 2021.
Following the achievement of our Better Building Challenge goal (reducing energy use in our facilities by at least 20% from our 2010 baseline) in 2019, we continued to collaborate with the DOE on energy conservation projects and pilots in 2020. To support industry benchmarking and energy conservation measures, we provide the DOE publicly accessible reports on our facility-level energy use annually.
Learn more about our energy conservation initiatives and performance.
Regional and National
Regional and National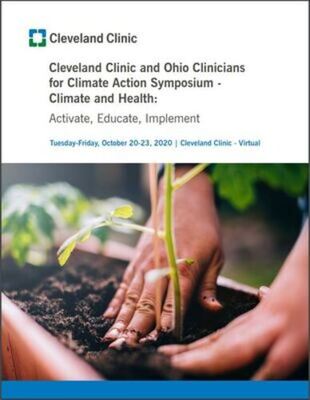 In October 2020, Cleveland Clinic and Ohio Clinicians for Climate Action organized a virtual Northeast Ohio Climate and Health Symposium for medical professionals with an interest in climate change and sustainability. One of the first in country and the first in Ohio, our climate and health symposium featured more than 15 speakers who covered a variety of topics—including sustainability, climate science, health policy and climate ties to various aspects of health and medicine—through presentations, panel discussions and question and answer sessions over the course of four days.
Cleveland Clinic became a member of the Lancet Countdown U.S. Policy Brief Working Group in 2020. The Lancet Countdown: Tracking Progress on Health and Climate Change is an annual report created through an international research collaboration to monitor the health implications of climate change, the benefits of taking action and the consequences of inaction. A U.S. companion brief, developed in partnership with the American Public Health Association and working group of experts, presents the most relevant findings, threats and opportunities for health in the United States. In the fall of 2020, a cross-functional team of 21 Cleveland Clinic caregivers supported the collaborative work of climate scientists, doctors, economists and public health professionals by providing feedback and recommendations on the brief.
Virtual Caregiver Engagement
Virtual Caregiver Engagement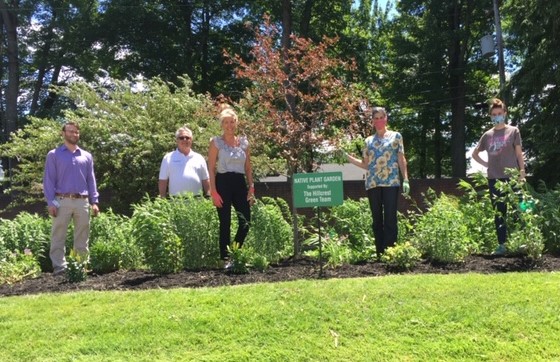 Due to the COVID-19 pandemic, we focused on ways to continue to engage our caregivers in sustainability initiatives through virtual platforms. To keep all caregivers informed of our sustainability goals, progress and programs, the sustainability team updated its intranet pages in 2020. Additionally, our Energy Savings & You online required training for new hires is ongoing, with more than 75,000 caregivers trained to date on energy conservation and ways to respond to energy shortages.
Our facility-led green teams supported sustainability efforts through litter cleanups, recycling education, caregiver and community engagement efforts, virtual Earth Day events, garden plantings and more. Cleveland Clinic Sustainability was excited to empower caregivers to form two new facility green teams in 2020, for a total of 27 across the enterprise. Through monthly calls, the Sustainability team shared progress, educational opportunities such as upcoming webinars and updates with green teams throughout the year, and began inviting external guest speakers to share information about regional sustainability initiatives.
To provide caregivers with opportunities to take actions that could generate a positive impact at home, at work and in their communities during the COVID-19 pandemic lockdown and beyond, the Sustainability team launched a new Connect Today community and participated in three Ecochallenges in 2020.
Connect Today Sustainability Community
In April 2020, we launched our Sustainability community on Connect Today, Cleveland Clinic's social collaboration platform. The site contains four main sections for caregiver engagement:
Find Your Green Team: caregivers can find a list of all of Cleveland Clinic's green teams, committees and communities, as well as key contacts and collaborative work spaces for each team
Learn About Sustainability at Cleveland Clinic: this site section contains a brief overview of Cleveland Clinic's impacts, goals, progress and success stories for each focus area of our sustainability program
Take Action: this page contains resources to help caregivers create healthier environments at work, at home and in their communities, as well as success stories and links to sustainable healthcare organizations and initiatives
Start a Discussion, Ask a Question or Share an Idea: caregivers can make connections, share information and suggest improvements on this interactive page in the community
Other resources on the site include a calendar of environmental events, sustainability frequently asked questions, key links, news stories, organizational accomplishments and blogs by the sustainability team. To promote the site, Cleveland Clinic Sustainability held an online training session with green team leaders and created a Sustainability Quest—a series of tasks encouraging caregivers to interact with site content that once completed, awards users a unique sustainability trophy on their Connect Today profile.
Ecochallenges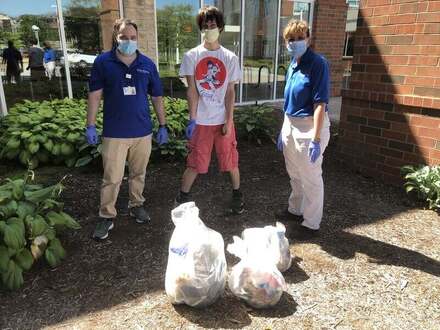 Ecochallenges are 3-4 week engagement campaigns that encourage individuals and teams to take specific daily and one-time actions that support the environment, personal wellbeing and local communities. Users log on to the Ecochallenge website to track each action they complete, along with the option to post photos, responses to reflection questions and lessons learned. Each action earns users points and the dashboard tracks the positive impact each participant and team make.
Cleveland Clinic Sustainability created teams and recruited caregivers to participate in three Ecochallenges in 2020: the Earth Day Ecochallenge in April, Plastic Free July and the People's Ecochallenge in October. Highlights of our team impacts across all three challenges include:
3,259 pieces of litter picked up in our communities
2,440 minutes spent learning about sustainability issues
674 single-use cups, straws, pieces of cutlery and containers not sent to landfill by participants adopting reusable products
35 public officials or leaders contacted about sustainability issues
Individual actions also included sourcing local and sustainable food, conserving energy and water, reducing transportation emissions, spending more time outdoors and several other actions that benefitted environmental, community and individual health.