Overview
Overview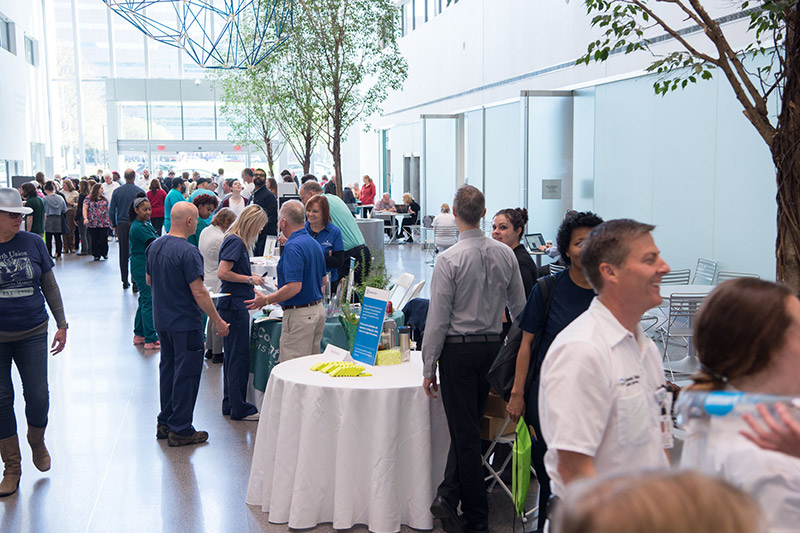 Environmental sustainability is a fast moving frontier of possibility where knowledge of environmental science, sustainable design and practice and community implementation is ever advancing. Because of this, we recognize the process of developing and implementing sustainable solutions is best when it builds and leverages a robust network of expertise across functions and regions. To this end, we collaborate with stakeholders at the industry, federal, regional and local levels to develop and advance sustainable practices in the healthcare industry at large and the communities in which we operate. Additionally, we have robust programs at Cleveland Clinic to engage caregivers in our sustainability efforts regardless of their location or position in the institution. Through this report and other communication channels, we are committed to sharing best practices and learning from our stakeholders to magnify the positive impact we can make on human and environmental health.
Industry
Industry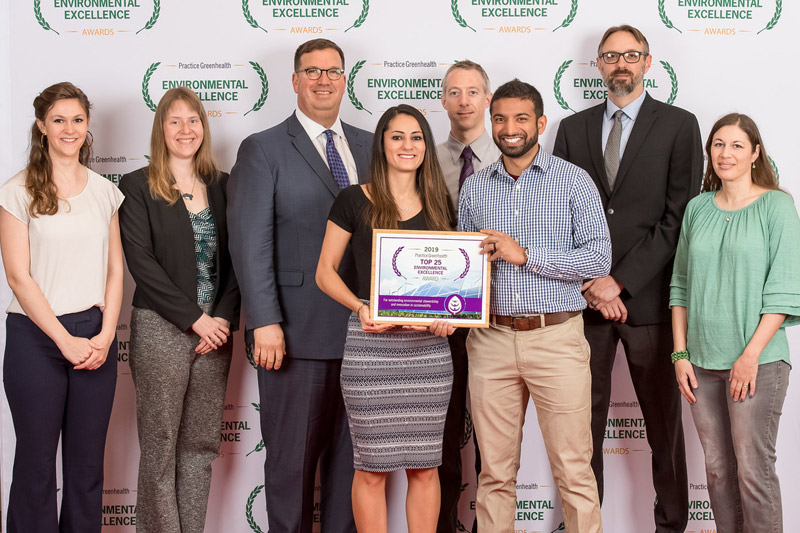 Cleveland Clinic is committed to sharing best practices and learning from our peers to advance sustainable practices in healthcare. We have been a member of Practice Greenhealth (PGH)—the nation's leading community for healthcare organizations committed to sustainable practices—since 2007. Through this collective, we share sustainable practices and data with other PGH members via case studies, reports, webinars, cohort calls, conferences and meetings. Through PGH's annual benchmarking reports and case studies, members can identify and reach out to leaders in areas such as energy, water, waste, emissions, green building, environmentally preferred purchasing, local and sustainable food and other topics to discuss successful strategies and share resources.
PGH recognizes the sustainability efforts of its members through their annual awards cycle. PGH has acknowledged Cleveland Clinic with its Top 25 Environmental Excellence award, their highest honor for hospitals leading the industry in all-around sustainability performance, for five consecutive years. PGH also recognizes individual Cleveland Clinic hospitals and family health centers across the enterprise with various awards, which we celebrate with our green teams annually. Cleveland Clinic is one of three systems that have won their "System for Change" award every year since its inception, which is a measure of the depth and breadth of our facility engagement.
Federal
Federal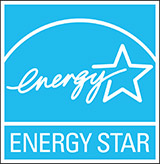 In 2019, Cleveland Clinic continued to participate in the Environmental Protection Agency (EPA) and the Department of Energy's (DOE) ENERGY STAR program, and the DOE's Better Buildings Challenge. These voluntary federal initiatives support our energy reduction strategy by supporting facility-level energy efficiency.
Cleveland Clinic Sustainability and facility managers across the enterprise use ENERGY STAR's Portfolio Manager to track energy use and cost data of our buildings. This cost-free online data management platform enables us to easily measure progress toward our energy reduction goals and compare the performance of our facilities. Additionally, Cleveland Clinic completed its first energy treasure hunt in 2019, an ENERGY STAR program that encourages cross functional teams to work together to find energy saving opportunities in their facilities. ENERGY STAR provides case studies and industry-specific checklists for treasure hunts, as well as a plethora of other online educational materials we share with caregivers for saving energy at work and at home.
ENERGY STAR also certifies products, appliances and buildings for energy efficiency. In 2019, Lutheran Hospital achieved ENERGY STAR certification for its efficient operations. Additionally, incorporating ENERGY STAR-certified appliances and products in buildings better positions facilities for meeting the U.S. Green Building Council's Leadership in Energy and Environmental Design (LEED) standards and ultimately, achieving LEED certification.

In 2019, Cleveland Clinic was proud to meet our Better Building Challenge goal of reducing energy use in our facilities by 20% from our 2010 baseline, exceeding the goal by 2%. Cleveland Clinic provided facility-level energy use data reports to the DOE every six months as part of the challenge, which are publicly available and used to enable benchmarking across the healthcare industry.
Cleveland Clinic also participates in Healthcare Without Harm's Climate Council, a national group of healthcare systems committed to climate action. In October 2019, Cleveland Clinic participated in a group engagement with members of the House Climate Action Committee and shared ideas on how to progress the climate agenda with a health-based lens.
Local and Regional
Local and Regional

Since its inception, Cleveland Clinic has supported Mayor Frank G. Jackson's Sustainable Cleveland 2019 (SC2019) initiative to build a thriving green city on a blue lake. Cleveland Clinic Sustainability has collaborated with the Mayor's Office of Sustainability on SC2019, as well as the Cleveland Tree Plan and the Cleveland Climate Action Plan to drive action on sustainability in the region. By aligning our sustainability initiatives with the City, we accelerate progress toward common goals. Learn more about our participation in SC2019 and Cuyahoga50.
Ohio EPA Platinum Environmental Stewardship Award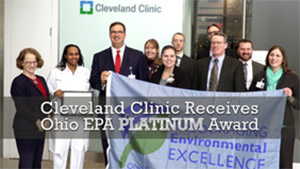 In 2019, the Ohio Environmental Protection Agency (EPA) awarded Cleveland Clinic its platinum level environmental stewardship award—the highest recognition available for environmental excellence. Cleveland Clinic earned this award for our emphasis on recycling, energy demand reduction, green infrastructure and work to create environmental improvements throughout the community. To earn the platinum award, a business or organization must expand their environmental program beyond their facilities and demonstrate how their environmental stewardship efforts benefit the local community, region or larger geographic area.
"We are committed to supporting a healthier region through our efforts in energy conservation and overall sustainability policies and practices. As a healthcare provider, we want to safeguard the health of our communities by adopting environmental best practices in the delivery of our exceptional patient care." Chris Connell, Chief Design Officer.
Ohio EPA's Encouraging Environmental Excellence (E3) program recognizes businesses and other organizations for completing environmentally beneficial activities and serves as an incentive for organizations to commit to ongoing environmental stewardship.
Caregiver
Caregiver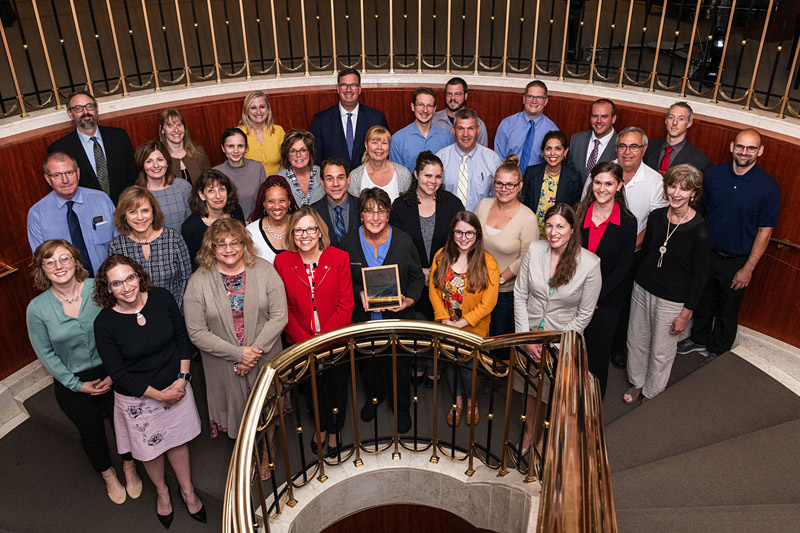 Cleveland Clinic Sustainability is a team of seven individuals with subject matter expertise in various sustainability facets that mirror our focus areas: energy, waste, water, climate, purchasing, communication and engagement, transportation, community programs, local and sustainable food, healthy chemicals and green building. They set the organization's sustainability strategy, collect data to measure progress on our goals and collaborate across the organization to drive our sustainability efforts. Cleveland Clinic also has 25 caregiver-led green teams located at our hospitals, family health centers and administrative buildings to champion progress at their facilities and in their surrounding communities.
Cleveland Clinic's growing number of green teams are comprised of caregivers spanning a variety of departments and with diversity of expertise. Examples of actions green teams take to support our sustainability efforts include:
Sharing information with their colleagues, including changes to our recycling programs, progress on our goals, best practices and opportunities for engagement
Promoting engagement by hosting events, activities, volunteer opportunities and contests, role-modeling sustainable behaviors and celebrating successes
Reducing the environmental impact of their facility by recycling, conserving water and energy, minimizing waste to landfill and purchasing green products
Documenting successes and measuring results to assist Cleveland Clinic Sustainability in tracking progress toward the organization's goals
In 2019, we held a half-day innovation and design session for our green teams using appreciative inquiry to find out what was working well for them, what inspired them and what they needed to build on their successes. Representatives from different green teams sat together to share best practices and collaborate with caregivers from outside of their facilities. We also shared and celebrated the 2019 facility-level awards Cleveland Clinic received from Practice Greenhealth for our sustainability efforts, as well as our annual EcoCaregiver award.
EcoCaregiver Program
EcoCaregivers are caregivers that lead by example and champion energy, water and waste reduction efforts across the enterprise. They also support our sustainable sourcing, green transportation and safe chemical initiatives. EcoCaregivers can be located in any department across the enterprise and often participate as members of our green teams and volunteer events. Cleveland Clinic Sustainability develops resources and projects to channel our caregivers' passion for the environment in their work areas. This includes an introduction to our sustainability efforts in the onboarding process through Energy Savings and You, a mandatory online training module that shows caregivers how to save energy and respond during energy shortages.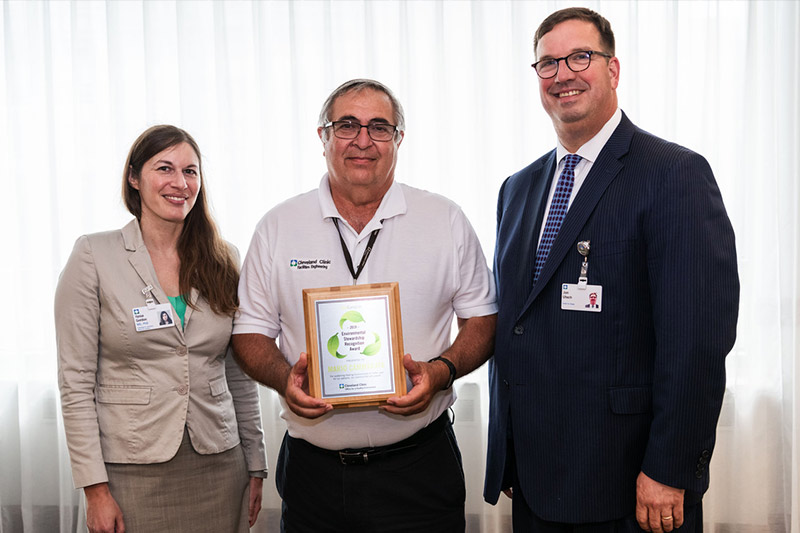 In 2018, Cleveland Clinic Sustainability introduced an EcoCaregiver award to recognize individuals across the organization that go above and beyond in their work area to make a positive environmental impact. In 2019, we recognized Mario Cammarata for his contributions to increasing the tree canopy on our properties and in our neighboring communities. He also supports the planting of pollinator and rain gardens, collecting data to help reduce bird strikes at our facilities and incorporating sustainable practices into our landscaping.
Celebrating Earth Day
To educate, excite and engage our patients, caregivers and community members in our journey toward sustainability, we host several Earth Day events across the enterprise. Cleveland Clinic Sustainability hosts an annual Earth Day Expo at our main campus and our green teams host events at our regional hospitals, family health centers and administrative spaces. During our 2019 Earth Day celebration at main campus, participants could play "Can It for the Planet"—a game about recycling, snap a picture in a photo booth, get a progress update on Cleveland Clinic's sustainability goals, try local produce, learn about local sustainability assets and programs from neighboring organizations, enjoy giveaways and purchase a raffle ticket for the chance to win a bike.