Welcome Letter
Welcome Letter
Dear Patients, Caregivers and Community Members,
We are pleased to present our ninth Communication on Progress as part of the United Nations Global Compact. Cleveland Clinic shares the UN Global Compact's principles of human rights, environmental responsibility and corporate integrity. This report uses the Global Reporting Initiative's standard disclosures to measure our performance in these areas and is in accordance with G4 core guidelines.
Today's healthcare providers face an array of unique challenges. They include declining reimbursement, the move to value-based payment, integration of the electronic medical record, and the need to improve quality, safety and access. Cleveland Clinic is addressing these challenges through its ongoing Clinical Transformation initiative. The initiative is developing a system of integrated, coordinated, value-based treatment that includes, care paths, seamless electronic medical records, interdisciplinary care teams, and discharge planning to reduce readmissions. We are educating all staff physicians in patient communication, and proactively addressing caregiver burnout through a variety of programs.
We continue to improve sustainability through strategic purchasing, construction and recycling. We have joined with local governments and community groups to promote weight loss and smoking cessation. Cleveland Clinic Stephanie Tubbs Jones Health Center's Mobile Food Pantry provides free, nutritional meal options, promotes healthy eating and improves health outcomes for community families. We urge leaders at all levels of society to promote nutrition, exercise and greater personal responsibility for health.
In 2017, Cleveland Clinic provided medical services to more patients from more places than ever before. We have been recognized among the World's Most Ethical Companies by Ethisphere Institute, honored as a top five hospital by DiversityInc and ranked as a Top 25 hospital by Practice Greenhealth.
We are proud to share the information in this year's Communication on Progress. Thank you for your interest.
Sincerely,
About This Report
About This Report
As a signatory of the United Nations (UN) Global Compact, a voluntary social responsibility body, Cleveland Clinic has pledged to promote sustainability policies and practices to advance our organization in ways that benefit the economies and societies we serve. In this report we summarize Cleveland Clinic's progress in the areas of human rights, social, environment, labor and anti-corruption as they relate to the UN sustainable development goals. This report marks our ninth consecutive Communication on Progress and reflects our work in the 2017 calendar year.
In addition to addressing the Ten Principles of the UN Global Compact, this report is in accordance with the Global Reporting Initiative's (GRI) G4 core guidelines. GRI is considered to be the world's most widely used standard for sustainability reporting and this is the fourth year we have utilized its framework to guide our reporting process.
More information on how our report links to the UNGC and GRI can be found in the index of our report.
Reporting Process & Oversight
Reporting Process & Oversight
An Executive Steering Committee comprised of leadership across the organization oversees the reporting process. This oversight includes guidance, data availability assessments, content review and the identification of theme of our report. An interdepartmental working group manages the production of the report, conducts stakeholder materiality interviews and ensures compliance with guidelines.
This report was compiled with the participation of the following internal departments that support application of the UN Global Compact principles through Cleveland Clinic:
Center for Medical Arts & Photography*
Arts & Medicine
Buildings and Properties
Clinical Affairs
Corporate Communications
Corporate Compliance Office
Environmental Health and Safety
Executive Administration
Finance
Human Resources
Law Department
Nursing Institute
Office for a Healthy Environment
Office of Diversity and Inclusion
Government & Community Relations
Office of Patient Experience
Protective Services
Supply Chain Management
Enterprise Quality
Transportation and Fleet Services
Wellness & Preventive Medicine
* Photographs from the Center for Medical Arts & Photography were contributed by the following photographers: Ken Baehr, Don Gerda, Matt Kohlmann, Willie McAllister, Tom Merce, Reen Nemeth and Stephen Travarca.
Stakeholder Engagement
Stakeholder Engagement
By virtue of our scope and operations, Cleveland Clinic engages many stakeholder groups. Our stakeholders include our patients, the entire healthcare provider industry, trade associations, federal and state agencies, regional and national philanthropic foundations, media outlets, community groups, citizens and others.
Our stakeholders are directly affected by our operational decisions, including individuals and groups with an interest in our social, economic and environmental performance. As a community anchor and an economic engine, our operational decisions have far reaching impacts, and we interact with these stakeholders to ensure that we address the needs of our local communities, employees and patient base.
We engage our patients and caregivers through internal surveys, we conduct ongoing in-person interviews with our executive team, board members and representatives from key external stakeholder groups, and we invite many of our stakeholders to attend facility openings, addresses by Cleveland Clinic executives and other Clinic-hosted events open to the public and other officials. We also periodically travel to the seats of federal, state and local governments to provide briefings on issues of importance to healthcare providers. The primary purpose of these discussions in 2017 was to prioritize the importance of each of our sustainability topics and find collaboration points for mutual benefit.
Some of the external groups we engaged for this report include:
American Heart Association
American Lung Association
Our top suppliers
City of Cleveland
Cleveland Foundation
Department of Energy
Environmental Protection Agency
Evergreen Cooperatives
Health and Human Services
National Institute of Health
North Union Farmers Market
Ohio Hospitals Association
Practice Greenhealth
The White House
Materiality & Boundary
Materiality & Boundary
Materiality
While all sustainability topics discussed in this report are important to our leadership, our stakeholder engagement process has helped us determine what sustainability topics matter most, or how "material" they are to our operations, and where they matter most within our organization and externally beyond our walls. This materiality process has enabled us to prioritize the topics that require the most focus for our long-term success.
All interviewed stakeholders were given a list of sustainability topics based on the Global Reporting Initiative's aspects list and engaged in open dialogue on all topics. The internal interview team ranked each topic discussed on a low to high scale of 1 to 7, and then the mean of all stakeholder answers was utilized to generate vertical and horizontal points on the graph. The opinions of our patients and caregivers were weighted with additional consideration.
The vertical-axis of the chart corresponds to the ranking or importance of a topic to our external stakeholders and the horizontal-axis corresponds to the importance to our internal stakeholders.
The chart is divided into three distinct groups: topics to manage, topics to set goals and manage, and topics to set goals, manage and provide robust discussion in our reporting.
Several topics emerged that were ranked highly by both our internal and external stakeholders. They are the indirect economic impacts of our operations, our engagement with the communities we serve, population health, research and innovation, access to care, quality of care, and the inherent link between human health and the health of the environment.
Generally, the most important topics discussed internally concerned our patients and caregivers, and our external stakeholders cared most about our community and environmental impacts. Where available, we have included robust discussion and reporting on the topics our stakeholders consider to be the most material to our operations in this year's report. Because 2016 was the first year we completed a materiality assessment, no significant changes to our material topics have occurred since the last reporting period. We will continue to use this materiality process to guide our reporting and data collection in the future.
Boundary
The disclosure aspects included in this report are material to our North American operations that are wholly owned and operated unless noted otherwise. We have designed this report specifically with our stakeholders in mind so that the topics, metrics and stories that matter most to our stakeholder groups are prioritized within their respective sections. Each group showed the most interest in areas of the report with which they had a direct connection.
Organizational Profile
Organizational Profile
Located in Cleveland, Ohio, Cleveland Clinic is a nonprofit, multispecialty academic medical center that integrates clinical and hospital healthcare services with research and education.
Four renowned physicians founded Cleveland Clinic in 1921 with a mission to provide better care of the sick, investigation into their problems and further education of those who serve. Drawing from military medicine, they believed in diverse specialists working and thinking as a unit. This kind of cooperation, efficiency and shared vision has fostered excellence in patient care, research and education.
Today, we continue to live and operate by the mission established by these visionary leaders, which is supported by six fundamental values: quality, innovation, teamwork, service, integrity and compassion. As of 2017, we operate more than 3,800 staffed beds at these locations:
13 hospitals in Northeastern Ohio
21 Northeast Ohio outpatient family health centers, including 10 ambulatory surgery centers
two specialized cancer centers in Mansfield and Sandusky, Ohio
a hospital and a clinic in Weston, Florida
a health and wellness center in West Palm Beach, Florida
an outpatient clinic and surgery center in Parkland, Florida
a specialized neurological and urological clinical center in Las Vegas, Nevada
a health and wellness center in Toronto, Canada.
Cleveland Clinic also provides management services for Ashtabula County Medical Center, located in Ashtabula, Ohio, with approximately 180 staffed beds, and Cleveland Clinic Abu Dhabi, a multispecialty hospital offering critical and acute care services that is part of Mubadala Development Company's network of healthcare facilities located in Abu Dhabi, United Arab Emirates with approximately 364 staffed beds. Cleveland Clinic is currently building a hospital in London, England.
View All Cleveland Clinic Locations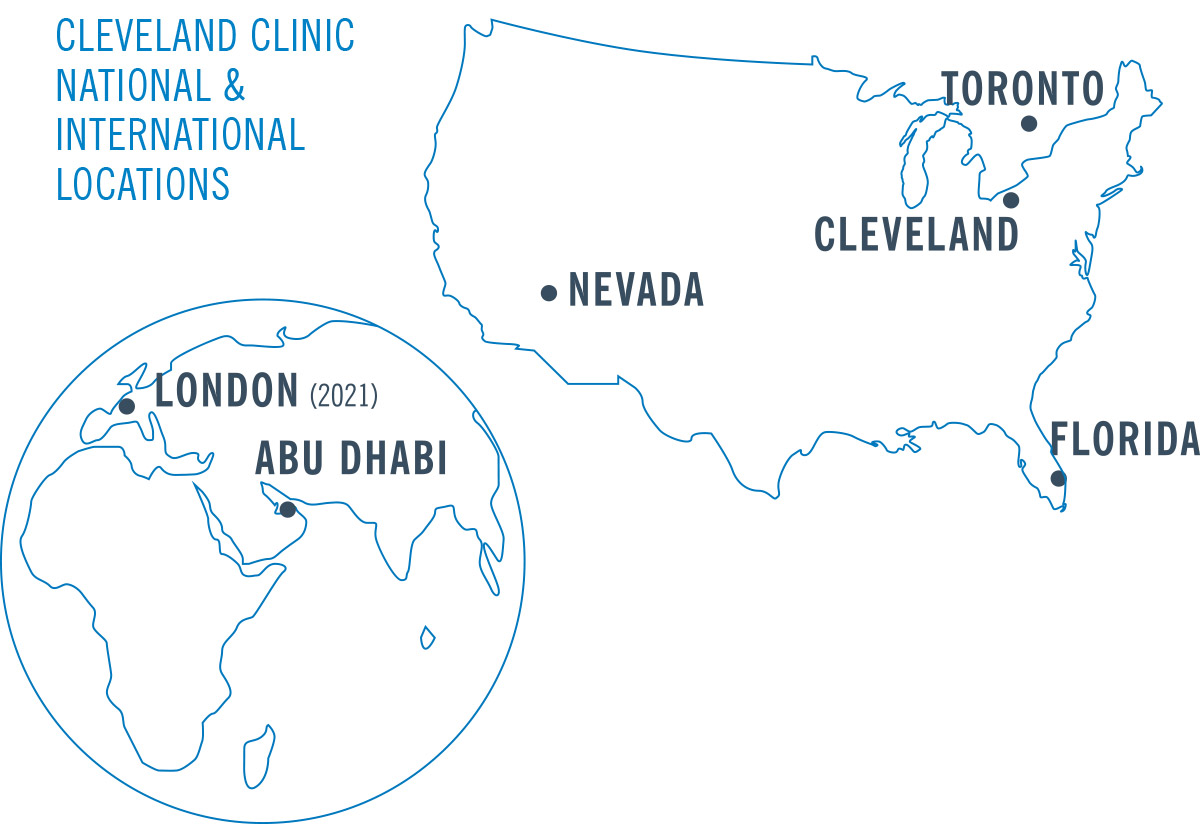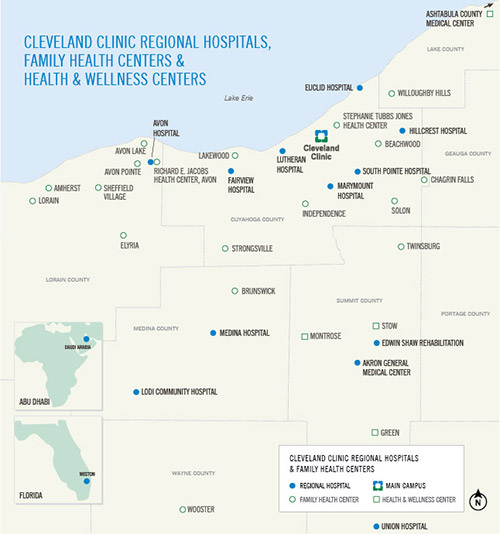 Who Are Our Patients?
Who Are Our Patients?
As a world-class health organization nationally ranked in 14 adult specializations and 9 pediatric specialties, Cleveland Clinic attracts patients from around the world.
While most of our patients live in Northeast Ohio, we see patients from across the United States, Mexico, Europe, the Middle East, Asia and South America.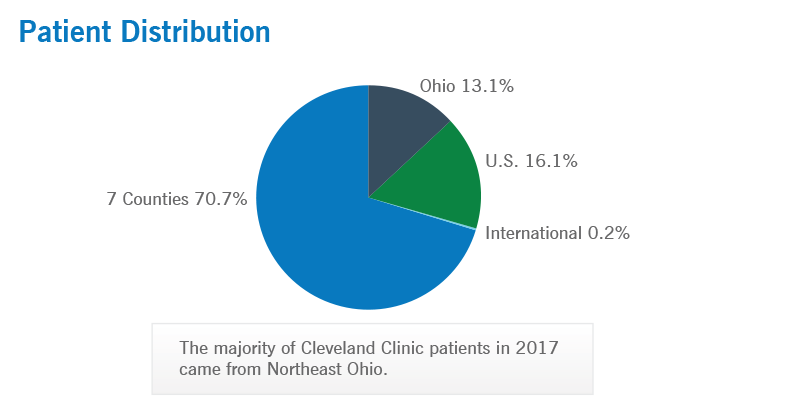 Cleveland Clinic provides patients with 24/7 access to care through the Express Care Online platform. In 2017, the number of virtual visits increased 163% to 25,502.
By the Numbers
By the Numbers
Number of Caregivers: 52,000
Number of Physicians and Scientists: 3,676
Number of Nurses: 11,889
Residents and Fellows in Training: 1,965
Cleveland Clinic Ohio Outpatient Locations: 150
Cleveland Clinic International Locations: 3
Number of Hospitals: 13
Number of Family Health Centers: 21
Number of Institutes: 27

Number of Beds on Cleveland Clinic main campus: more than 1,400
Number of Beds System-wide: 4,435
Number of Patient Visits: 7.6 million
Number of Admissions: 229,132
Number of Surgical Cases: 207,354
Number of Subspecialties: 140

Operating Revenue: $8.4 billion
Total Grant and Contract Revenue: $179 million
Total Federal Revenue: $110 million
Accredited Training Programs: 107