Overview
Overview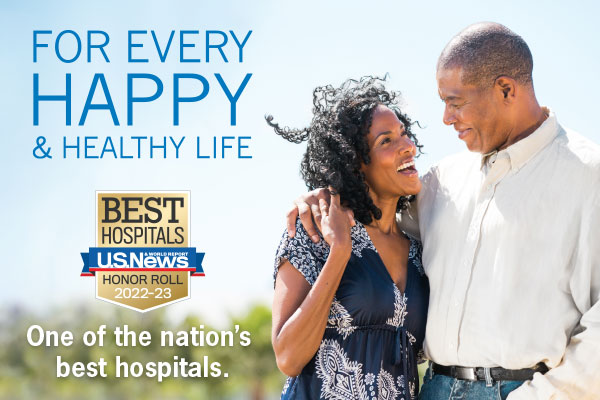 Understanding and improving our patients' experience is core to our service and mission. To better do this, we track measures of patient safety, quality of care and patient satisfaction. Where we meet our goals, we celebrate these accomplishments, and where we find challenges, we develop solutions to improve.
Culture of Safety
Culture of Safety
Cleveland Clinic strives to be the safest place in healthcare. Along with leadership commitment and robust process improvement, advancing a culture of safety is at the core of Cleveland Clinic's efforts to promote high reliability across the health systems in both clinical and non-clinical environments. Every caregiver finds what could go wrong, speaks up, and works to improve it. They listen, learn, and then lead to create effective, enduring solutions.
Cleveland Clinic assesses safety culture via a validated survey instrument that provides benchmarks and department-level results. In addition to caregiver engagement, the caregiver experience survey assesses safety cultures with a focus on these key themes:
Error prevention and reporting
Organizational learning and continuous improvement
Communication openness
Teamwork
Handoffs and transitions
Management support for safety
Staffing
Workplace safety
Cleveland Clinic embeds quality, safety and improvement principles into its culture through standardization, best practice sharing and multidisciplinary collaboration. Leadership supports caregivers to speak up and report any event, process or condition that causes harm or has the potential to cause harm or injury. Safety Event and "near miss" reporting provides the opportunity to improve practices and prevent future errors.
Patient Safety Goals
In addition to meeting the National Patient Safety Goals as defined by the Joint Commission, a national healthcare accreditation organization, Cleveland Clinic's Patient Safety strategy includes a focus on preventing complications, hospital-acquired conditions and infections, falls, and skin breakdown.
Quality of Care
Quality of Care
Patients expect and deserve world class individualized, appropriate and effective care to achieve the best possible outcomes. Cleveland Clinic has a comprehensive program to monitor, assess and improve the quality of patient care. In partnership with frontline caregivers, quality professionals improve clinical practices to affect outcomes that matter most to our patients. Content experts bring knowledge of regulatory, safety, investigation and prevention strategies, as well as performance improvement tools to frontline caregivers.
In addition, Cleveland Clinic supports transparent public reporting of healthcare quality data and participates in the following public reporting initiatives:
The Joint Commission Performance Measurement Initiative
Centers for Medicare and Medicaid Services (CMS) Hospital Compare
Ohio Department of Health Service Line Reporting
National Specialty Society Databases and Registries
Additionally, Cleveland Clinic promotes transparency through publication of annual Treatment Outcomes and sharing physician-level patient experience ratings and comments on its Find a Doctor site.
Creating new models of care is a priority to ensure we continue to fulfill our "Patients First" commitment through delivering the best care at an affordable cost. As care delivery shifts from fee-for-service to value-based and bundled payment delivery system, Cleveland Clinic is focused on concurrently improving patient safety, outcomes, and experience in all healthcare settings. Examples of this include evidence-based care paths for many procedures and chronic diseases, integrating comprehensive care coordination for high-risk patients, creating virtual access points to optimize patient access, and ensuring that input from Patient and Family Advisory Councils is integrated into decisions about how our care model evolves.
Measuring and managing performance around quality and safety is an essential component of this work.
As part of Cleveland Clinic's commitment to population health and in support of its Medicare Accountable Care Organization (ACO), these primary care ACO measures have been prioritized for monitoring and improvement. Cleveland Clinic is improving performance in these measures by enhancing care coordination, optimizing technology and information systems, and engaging primary care physicians and specialists directly in the improvement work. These pursuits are part of Cleveland Clinic's overall strategy to transform care in order to improve health and make care more affordable. 2017 data was unavailable at the time this report was published and will be updated when available.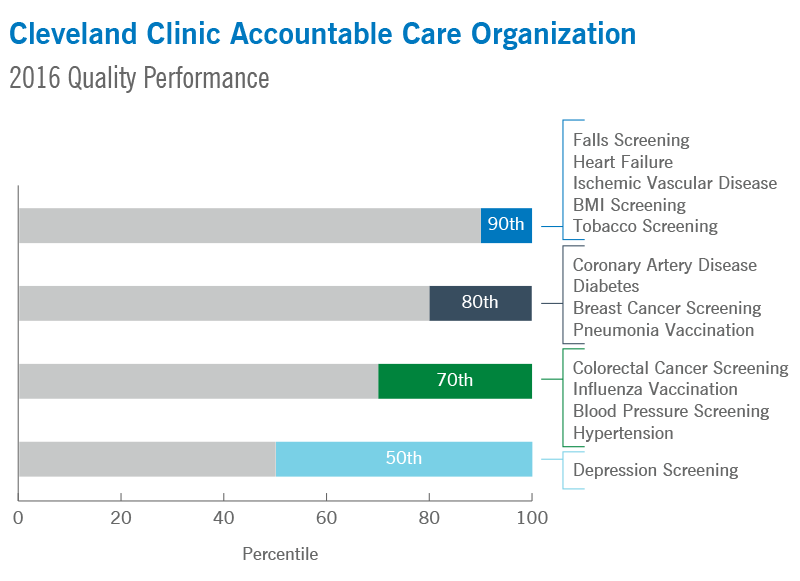 Patient Data
Patient Data
Cleveland Clinic tracks patient data such as inpatient HCAHPS ratings, patient safety indicators and outpatient experience to better understand and improve our patients' care.