Overview
Overview
The U.S. healthcare system is in the midst of an unprecedented transformation. We continue to draw upon our deep capabilities and spirit of innovation to lead the field in creating a model of healthcare for the future. Leaders across our health system are asking patients and front-line caregivers how best to deliver healthcare that is convenient, accessible, coordinated and meets patients' desired outcomes. While we work to improve the patient and provider experience and make care more affordable, we are relentlessly focused on quality and making Cleveland Clinic the safest place in healthcare.
Integrated Care Model
The Cleveland Clinic Integrated Care Model is a value-based model of care, which means it is designed to optimize outcomes while reducing costs. The patient remains at the heart of the Cleveland Clinic Integrated Care Model. The blue band represents the care system, which is a seamless pathway that patients move along as they receive care in the different settings listed. The care system represents integration of care across the continuum. Focus areas of the new model include elimination of unnecessary practice variation through the development of care paths and seamless care coordination across the continuum.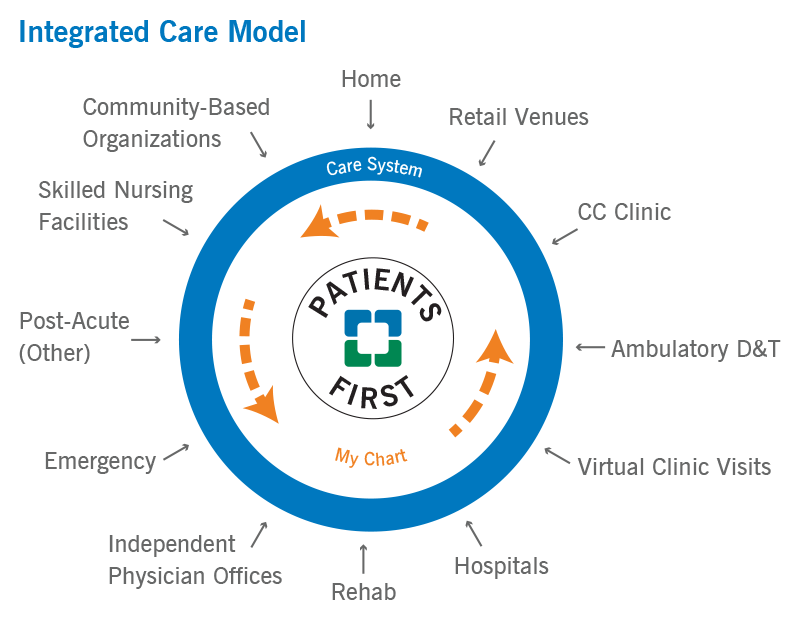 Community Health
Community Health
Population health describes when a healthcare provider is responsible for delivering care to a predefined group of people – either with the same disease or condition, or within the same geography. Population health is affected by many factors including socio-economic status, environmental health, access to quality healthcare, and health behaviors. Population health management has the potential to reduce waste in healthcare delivery and help patients remain healthier and out of the hospital.
In 2017, we launched Cleveland Clinic Community Health, a unit built to better enable our healthcare providers and teams to take care of patient populations. This unit will manage access, quality, experience, utilization and cost to produce the highest quality and health for our patients. Our Cleveland Clinic Community Health unit brings primary care providers together under one umbrella — internal medicine, family medicine, hospital medicine, general pediatrics, wellness, home care and Express Care will all report to the same unit. Primary care physicians are joined by advanced practice providers and medical assistants who are supported by nurses, patient service representatives and care coordinators, all working together to meet the needs of a specific group, or panel of patients. Social workers, pharmacists, nutritionists, wellness coaches, home health providers and others are readily accessible to ensure that every patient receives the support they need.
Research & Innovation
Research & Innovation
Cleveland Clinic researchers focus on an array of conditions, including breast and liver cancer, coronary artery disease, heart failure, epilepsy, Parkinson's disease, chronic obstructive pulmonary disease, asthma, high blood pressure, diabetes, depression and eating disorders. The Lerner Research Institute is one of the largest private research facilities in the United States, with hundreds of principal investigators, project scientists, research associates and postdoctoral fellows, with total annual research expenditures exceeding $150 million from federal agencies, non-federal societies and associations and endowment funds.
For the past 14 years, Cleveland Clinic has held a Medical Innovation Summit each fall as a way to bring together all stakeholders in healthcare to build the relationships and ignite the technologies that will advance patient care. The Summit is part of Cleveland Clinic's commitment to drive healthcare innovation and quality. The Summit offers a slate of premier speakers, the hottest topics, and an unmatched network of professionals that help health systems prepare for the ever-changing healthcare market.
Gene Barnett, MD, Director of the Burkhardt Brain Tumor and Neuro-Oncology Center and Director of our Gamma Knife Center, says the central goal of his career has been to make brain tumor patients live better, longer. In the early 80s, he describes an "aha moment" when he saw an advertisement for a 3D digitizer and imagined how the technology could be used to map brain tumors.
The navigation system he developed has since become the standard used around the world for brain and spine surgery. He also was instrumental in developing laser thermal therapy for brain tumors, performing the first surgery with the technology in 2008. Today, patients who previously heard that their brain tumors were inoperable rarely hear those terrifying words.
Dr. Barnett was recognized at the March 21 Staff Meeting for his pioneering work when CEO and President Tom Mihaljevic, MD, presented him with the 2017 F. Mason Sones, MD, Innovation Award.
The award is named for the distinguished Cleveland Clinic cardiologist and researcher, whose discovery of moving cine-coronary arteriography revealed the natural history of myocardial infarction and launched the modern era of cardiovascular care. The award was established to recognize achievements that reflect the spirit of Dr. Sones, and honor the Cleveland Clinic tradition of innovation for better patient care.
Distance Health
Distance Health
Technology is transforming where and how we practice medicine. Through distance health, Cleveland Clinic is improving quality and bringing our care to more patients in more locations. Leveraging technology in innovative ways, we are expanding the reach of our world class service and reducing costs. Patient entered data, apps, partnerships and data interrogation tools are revolutionizing the practice of medicine, and Cleveland Clinic is at the forefront in bringing these capabilities to life. In 2017, we increased our telemedicine presence and opened more urgent care walk-in clinics throughout our community.
Among the examples of successful use of health enabling technologies are our Mobile Stroke Unit and telestroke services, eHospital inpatient critical care monitoring, concussion app, MyChart, MyCare online virtual visits, Express Care online, remote image upload, and remote monitoring for chronic disease management.
Patient-Centered Medical Home
Patient-Centered Medical Home
A patient-centered medical home might sound like a place or somewhere you would go, but it is not. It is a long-term, team-based approach for your primary healthcare. Patients are engaged with their care team across the continuum and have a direct relationship with their provider who coordinates a team of caregivers and arranges appropriate treatment as needed.
In 2013, the Joint Commission's surveyors evaluated us on how effectively primary care clinicians and interdisciplinary teams work in partnership with patients to provide comprehensive, coordinated and patient-centered care. The Primary Care Medical Home certification was launched for hospitals in February 2013 to help improve outcomes, reduce healthcare costs and ensure patients receive timely and appropriate treatment. As an outcome of The Joint Commission's survey, 39 Medicine Institute practices at 29 sites — involving 230 primary care physicians and advanced practice nurses — received Primary Care Medical Home certification at Cleveland Clinic.
Shared Medical Appointments