Overview
Overview
Cleveland Clinic is committed to reducing waste across our health system. By engaging our caregivers to minimize the waste we send to our landfills, we are protecting the environment, reducing costs and improving land, air and water quality in our communities. We have made significant progress in a number of areas that advanced our system in responsible waste management, and are working to achieve our goal to reuse or recycle 100% of our non- hazardous waste.
Single Use Devices and Medical Waste
Single Use Devices and Medical Waste
Single Use Device Reprocessing
In the past, when clinical instruments were unused but removed from their packaging pre-surgery in our ORs, these items were incinerated or treated as regulated medical waste. In 2011, we adopted a single-use device program where these devices are recycled and remade through an in-depth and strictly regulated process. The reprocessed items are then sold at a lower cost to healthcare providers. The reprocessed equipment is subject to greater regulations than when it was originally created, ensuring the safety of patients and caregivers. In 2017, over 66 tons of these devices were diverted from landfill for reprocessing.
Hazardous and Regulated Medical Waste
Hazardous materials such as sterilization and water treatment chemicals, pharmaceuticals, cleaning products, electronic wastes, laboratory chemicals, and radiological films and wastes are an important part of the healthcare delivery model. Proper management of these materials is critical to protecting the health of our caregivers and the community at large.
Measuring the amount of regulated medical waste that is processed through our two main campus Rotoclaves was challenging until 2016. We had relied on an estimate of average cart weights and the number of loads processed through the system by our EVS team, but we still weren't confident these numbers were accurate. As part of our enterprise zero-waste and greening the OR goals, we wanted to be able to quantify the precise amount of RMW being processed through these machines and trace the waste back to its source in order to identify reduction opportunities.
To accomplish these goals, we purchased a large floor-scale, and with the help of EVS developed a cart-tagging process to track where each cart was coming from. Carts are now marked with a sign indicating whether they are from our ORs, Patient Floors, or Labs. After the full cart is transported by a robot through our underground tunnel system to the dock, an EVS employee then weighs each cart, and enters the weight and tag location into a form on an iPad. This form automatically populates a monthly spreadsheet which we then utilize in our enterprise recycling data. We experience a 99% cart weight accuracy and are now able to understand where our RMW is coming from. This has helped establish accurate metrics to track RMW reductions in our ORs.
Recycling
Recycling
Clinical Plastics Recycling
In 2015, we completed a system-wide expansion of our Operating Room (OR) clinical plastics recycling program that was created by Cleveland Clinic in partnership with Buckeye Industries and our waste vendor. From 2013 to 2017 we diverted over 440 tons of material from the landfill, as well as created more than 50 jobs for community members with developmental disabilities. Participating facilities competed on a monthly basis to see which team of caregivers could divert the most clinical plastics from the landfill. However, due to new State guidelines and material economics, Buckeye Industries closed down three facilities in 2017 and therefore is no longer able to accept our materials. We are working diligently with our waste and supply chain vendors to create a new solution for this recycling stream.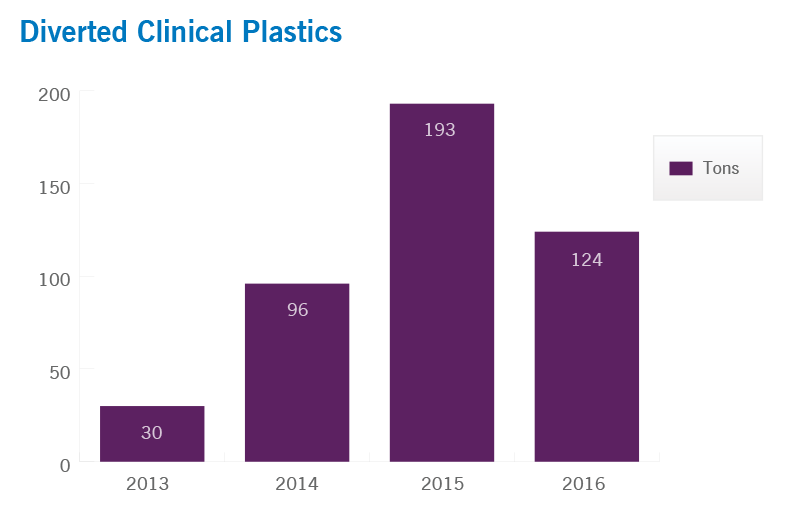 Metal Recycling Program
In 2017, the Office for a Healthy Environment (OHE) partnered with our facilities teams to standardize the recycling of metal at all of our northeast Ohio locations. Facility managers had noticed that many large and bulky metal items such as office furniture and medical equipment were ending up in the dumpster and heading for landfill. We partnered with a local metal recycling vendor to increase the diversion opportunity of these materials, and also capture the rebate value.
In its first year we diverted over 110,000 pounds of metal from the landfill and expect the number to increase next year. To encourage participation, we held a contest between facilities to see who could recycle the most metal, and the winner received a trophy created by a local artist from the scrap metal. This year's winner was Medina Hospital.
Kick the Can
One issue we encountered in many of our clinical and administrative spaces was an excess of trash containers and a shortage of recycling containers. In most administrative spaces, nursing stations, and patient rooms, there was an average of one or more trash can per each caregiver, but often only a single recycling bin that could be found in a break area or other common space. We conducted trash audits and noticed that most of what was ending up in personal trash cans was recyclable, but just not making it to the right container.
In 2017, in partnership with our Environmental Services (EVS) team, the Office for a Healthy Environment (OHE) rolled out the "Kick the Can" program, which aims to centralize waste and recycling stations. The goal of the program is to remove the majority of individual waste containers, and increase the number of centralized stations with comingled recycling, paper recycling, and trash. This initiative encourages our caregivers to make the right decision when tossing their waste, reduces the time our EVS staff spends pulling liners, avoids cost spent on excess liners, and encourages wellness by increasing the amount of steps our caregivers take during the workday. So far we've kicked over 4,000 cans and growing.
Single Stream Paper Shredding & Recycling
We offer a single stream paper shredding/recycling program to our facilities to further protect the personal information of our patients and to simplify the collection process for our employees. All paper, regardless of the sensitivity of the document is collected in our secured shredding containers. When this program became operational in 2010 we observed an increase on the order of 44% in the amount of paper captured in our secure shredding bins. Not only does this program improve our HIPAA compliance as we shred all paper, simplify the collection process for our employees, but it also reduces cost as we have leveraged the value of our paper waste commodity to negotiate lower service rates. This program is now among our lowest cost methods of recycling or disposal.
Decrease in Paper Recycling
In 2017, we recycled over 4,144 tons of paper, which is down 370 tons from 2016.
We attribute the decrease in paper recycling to our default dual-sided printing, increased digitization of materials, and paper use conservation initiatives. This recycling program saved nearly 70,500 trees and the equivalent emissions of 783 passenger vehicles being taken off the road.
Going Green by Using Blue
Our green team recycling sustainability motto is "Go green by using blue." In 2017, our enterprise comingled "blue-bag" recycling program diverted 2,805 tons of cans, bottles, glass, cardboard, and poster board from the landfill. The Office for a Healthy Environment works with green teams and the Environmental Health &