Overview
Overview
We see sustainable procurement as an area of significant potential to impact our health system, local economies and the healthcare industry at large. As part of our sustainable procurement commitment, we created a new position for a Sustainable Purchasing Project Manager and hired our first caregiver to fill this role in May 2018. Reporting to the Office for a Healthy Environment and collaborating closely with our Supply Chain Management (SCM) department, the Sustainable Purchasing Project Manager advocates for a lifecycle approach to sustainable procurement, analyzing not only the composition of products, but also their impacts during manufacture, use and disposal. The Sustainable Purchasing Project Manager also:
Collaborates directly with industry partners, suppliers and Group Purchasing Organizations (GPOs) to adopt and advance existing trusted frameworks, certifications and ecolabels
Promotes United Nations Global Compact (UNGC) principles and other Environmental, Social and Governance (ESG) standards to suppliers
Benchmarks our supply chain for products we currently source with sustainable attributes
Conducts research and interacts directly with current and potential suppliers to gather information on product attributes to assure that they align with our sustainability goals
Integrates sustainability criteria into supplier agreements and requests for proposals (RFPs)
Supports our supply chain to enhance the sourcing of green products and advocates for including sustainability criteria in sourcing decisions
Benchmarks products we currently source for sustainable attributes
Our green criteria include minimizing waste and packaging, increasing fuel economy, reducing hazardous waste and bioaccumulative toxins (PBTs), eliminating polyvinyl chloride (PVC) and Di-2-ethylhexyl phthalate (DEHP) and improving energy efficiency and air quality. Each month, the Sustainable Purchasing Project Manager attends a strategic sourcing meeting—during which the SCM department reviews contracts requiring renewal in the near-term—to provide insight on environmental best practices.
Other members of the Office for a Healthy Environment also support responsible procurement efforts, including sourcing local, sustainable foods, and our green teams work across the Enterprise to assist with sustainable procurement efforts at our regional hospitals and family health centers. Additionally, through our Supplier Diversity strategy, we support local and diverse suppliers.
Sector Leadership
Sector Leadership
Cleveland Clinic is a member of Practice Greenhealth (PGH), a healthcare membership organization dedicated to advancing sustainable solutions in the industry. We are a signatory to PGH's Environmentally Preferred Purchasing Pledge and actively participate in its market transformation working groups, the goals of which include sourcing safer chemicals and healthier foods. Our participation in these initiatives is ongoing throughout the year, and includes monthly calls with PGH, quarterly calls with market transformation groups, quarterly or more frequent calls with regional groups to address geographic specific issues (such as members located near the Great Lakes focused on water quality issues) and sending caregivers to attend and present at PGH's annual, multi-day CleanMed conference.
By working together to establish sustainable procurement standards and share best practices, PGH members—which include more than one-third of all U.S. hospitals—strive to use their collective influence to shape a more sustainable future for healthcare. For our leadership in sustainable procurement, PGH recognized Cleveland Clinic with awards for Top Ten performance in Environmentally Preferred Purchasing in 2015, 2016 and 2017.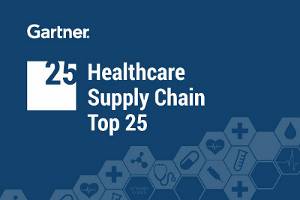 In 2018, Gartner, a global research and advisory firm, ranked Cleveland Clinic the number one global healthcare supply chain. While included in the top 25 global healthcare supply chain list the last two years, we rose from eighth place in 2017 to the top of the list in 2018 for driving innovation and collaboration, lowering costs and integrating supply chain into our patients-first model of care to optimize health outcomes.
Local and Sustainable Food
Local and Sustainable Food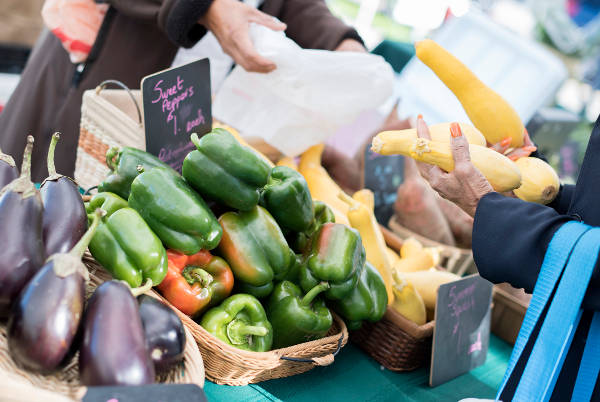 In 2016, we set a goal to buy 25% of our food on Main Campus locally or from farms and producers that use sustainable practices by 2020. By working collaboratively with our on-site nutrition service providers, we were proud to reach this goal ahead of schedule in 2017 and increased the goal to 30% in 2018. Currently, we are sourcing 29% of our food from local or sustainable sources. We use criteria vetted by Health Care Without Harm and Practice Greenhealth to define which products are sustainable, including their Sustainably-Raised Meat and Poultry guide. This list includes products that bear USDA-approved label claims, and/or reputable third-party animal welfare certifications. We endeavor each year to further increase the amount of cage-free eggs, organic products and items sourced within a 200 mile radius to serve at our food service locations. In 2018, Cleveland Clinic was proud to support local farmers and producers by hosting our 10th consecutive Farmers Market season.
Additionally, we collaborate with our on-site nutrition service providers to:
Encourage individuals to "skip the straw" when possible as part of our commitment to reduce single-use plastic waste
Promote reusable cups, with some regional hospitals and family health centers offering discounts to individuals who bring their own cup
Offer more plant-based meal options
Reduce waste and use more sustainable packaging options
Increase the number of fresh fruits and vegetables in meals
We have included many of these initiatives in our food service contracts, and work with our providers to track data on products we source to measure our progress and impact. To continue to advance our local and sustainable food initiatives, we have a cross-functional Health and Wellness Committee that meets monthly and the Office for a Healthy Environment meets quarterly with food service staff.
Green IT
Green IT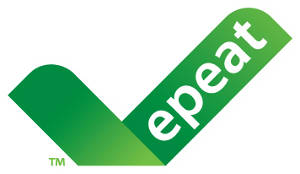 According to the U.S. Environmental Protection Agency (EPA), unsafe handling of used electronics and electronic waste (e-waste) can result in harm to the environment and human health due to the toxic materials they contain, such as lead, mercury, arsenic and cadmium, which can cause irreversible health effects.1 Cleveland Clinic is committed to sourcing electronics that meet strict environmental criteria and to managing our e-waste responsibly.
In 2018, we were proud to receive an Electronic Product Environmental Assessment Tool (EPEAT) Purchaser Award from the Green Electronics Council. Awardees earn stars based on their level of commitment to green electronic purchasing, which includes having language in place that requires purchasing of EPEAT-registered electronics and reporting the proportion of EPEAT-registered products they source. In 2017, Cleveland Clinic received a one star award, and in 2018, we received a three-star award for our growing commitment to procuring green electronics. Compared to non-EPEAT registered products, throughout their lifecycles the 51,367 EPEAT-registered IT products Cleveland Clinic purchased in 2018 will:
Save $2,484,578 by consuming less energy
Generate 55 fewer metric tons of hazardous waste, the equivalent weight of 455 refrigerators
Eliminate 251 metric tons of solid waste, the equivalent weight of trash produced by 135 U.S. households for a year
Conserve 24,146 MWh of electricity—enough to power 1,988 U.S. households for a year
Reduce greenhouse gas emissions by 14,772 metric tons of CO2 equivalents—equal to taking 3,163 average U.S. passenger cars off the road for a year
---
1United States Environmental Protection Agency, "Cleaning Up Electronic Waste (E-Waste)," accessed 30 July 2019, epa.gov/international-cooperation/cleaning-electronic-waste-e-waste.