Overview
Overview
As healthcare continues to transform, the impact of environmental health on population health is becoming more important as we integrate sustainability into our healthcare delivery model. As a leader in healthcare, our engagement on environmental health issues with our stakeholders from the global to the local level sets an example for others to follow. We are proud to work with the many organizations that provide resources and support for our programs.
"We are amazed at the discoveries we have found in ten years of innovating and implementing sustainable solutions to reinvent healthcare for the 21st Century. The challenges of our times demand that we redouble our efforts and stretch even further with our minds and our hearts to embrace a future where all of humanity can flourish."
- Jon Utech, Senior Director, Office for a Healthy Environment
10 Years of Sustainability
10 Years of Sustainability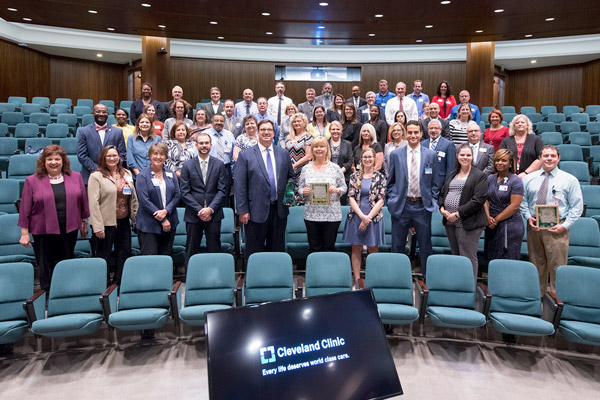 In the fall of 2017, the Office for a Healthy Environment (OHE) celebrated its ten year anniversary. To mark the occasion, OHE hosted several key external stakeholders, vendor partners, and caregivers from across the enterprise at a full-day appreciative inquiry sustainability summit. The objective of the summit was to discuss the most pressing sustainability issues affecting our patients and communities, and let the results inform the setting of bold goals to tackle for the next ten years and beyond.
The goals include:
Standardize all new building construction and renovation to LEED Gold
Reduce, reuse, recycle, or compost 100% of our non-hazardous waste
Become carbon neutral by 2027
Promote sustainability throughout the world
Be good stewards of enterprise resources
Cleveland clinic's sustainability office was created in 2007 by former Cleveland Clinic CEO Dr. Toby Cosgrove, and has grown from one individual to a small team of six. We understand that environmental health and human health are inherently linked, and our mission is to support healthy environments for healthy communities by taking a precautionary approach to environmental stewardship through our operations.
Global Leadership
Global Leadership
This report, Serving Our Present, Caring for Our Future, is a unique hybrid report that describes how our health system addresses labor, human rights and environmental issues in rich detail. It includes key successes and challenges and transparently reports our progress in a manner that forms a key pillar of our best practice sharing. This endeavor requires a significant investment of time and resources. We are pleased to see others begin to adopt this comprehensive model of reporting.
In 2017, the Office for a Healthy Environment's senior director, Jon Utech, was recognized by Healthcare Management International as being one of the top 10 most influential people in healthcare sustainability. As leaders in the sector, we continue to look for new ways to improve, inspire and set the example for others to follow.
Sector Leadership
Sector Leadership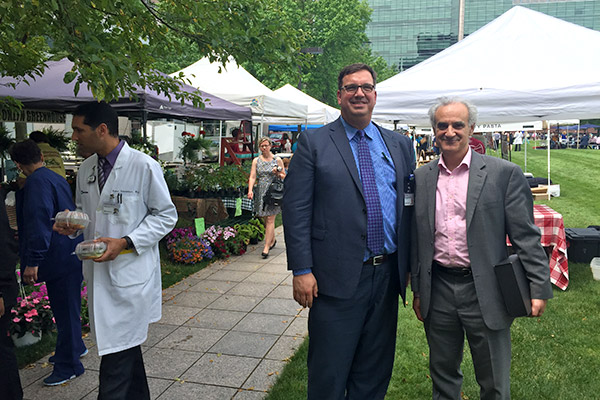 Cleveland Clinic is a member of Practice Greenhealth (PGH), the nation's leading healthcare community that empowers its members to increase their efficiencies and environmental stewardship while improving patient safety and care through tools, best practices and knowledge. In 2017, Cleveland Clinic's main campus continued to be ranked in the Top-25 for environmental excellence among hospitals in the nation by PGH.
Cleveland Clinic has also received the top Greening the OR Leadership award for our sustainability efforts in our operating rooms. This competitive award recognizes the top facility applicant or health system for their progress in reducing the environmental impact of the surgical environment. Additionally, we have been ranked in the Top-10 in the nation for the following categories: Less Waste, Greening the OR, Leadership, Climate, and Green Building.
Federal Engagement
Federal Engagement
ENERGYSTAR's Partner of the Year
ENERGY STAR is the Environmental Protection Agency's voluntary program to help businesses, organizations and individuals save money and protect the climate through better energy efficiency. In April 2016, Cleveland Clinic was honored as ENERGYSTAR's Partner of the Year.
Cleveland Clinic has committed to partnering with ENERGYSTAR. We track and benchmark utility use across our portfolio using ENERGY STAR's Portfolio Manager, a free software program available for tracking energy usage and cost. All facility managers have access to ENERGY STAR Portfolio Manager where they are encouraged to review the building characteristics and details, along with monthly energy use. They have access to a specialized Cleveland Clinic EUI Template in the reporting feature that allows them to easily track their performance since 2010.
DOE's Better Buildings Challenge
Cleveland Clinic also participates in the Department of Energy (DOE's) Better Buildings Challenge as a Corporate Partner. Results are shared publically every six months and Cleveland Clinic hospitals and entire healthcare system are benchmarked against other like-facilities. Leading up to each six month benchmark, data is tracked and reviewed internally by our Office for a Healthy Environment and Buildings and Properties Departments, along with our facility managers and CBRE, our real estate management company. Our Better Building Challenge commitment ensures that we make transparent progress towards our 20% reduction goal and allows us to learn what other healthcare systems and other industries are doing within this construct.
Local Collaboration
Local Collaboration
Sustainable Cleveland
In 2017, Cleveland Clinic, in partnership with Healthcare Without Harm, the City of Cleveland, and other local stakeholder groups held a regional climate resiliency summit.
Sustainable Cleveland 2019 is a 10-year initiative started by the City of Cleveland to develop a thriving and resilient community. In 2019, the Northeast Ohio region will recognize the 50th anniversary of Cleveland's burning river, in recognition of the incredible progress that we have and will have made in such a short timeframe. Cleveland Clinic is proud to participate in many of the SC2019 summits that generate solutions to some of our city's environmental challenges. Our internal goals will also be shaped by the desire to accelerate progress as we approach this landmark date. As a result, our program will increasingly be engaged in civic dialogue and innovation.
City of Cleveland's Community Action Plan
Cleveland Clinic's Office for a Healthy Environment helped shape the City of Cleveland's goal to reduce greenhouse gas (GHG) emissions by 80% from 2010 to 2050 and helped to develop the 33 actions outlined in the Community Action Plan to achieve this goal.
Enterprise Leadership
Enterprise Leadership
Cleveland Clinic's Office for a Healthy Environment is the keeper of best practices and driver of sustainability strategy for the enterprise. We are leaders in thought, word and action as we create a sustainable future for our industry. We use a variety of leadership platforms to broadcast our message to more than 52,000 caregivers. We benchmark energy, waste, water, engagement, transportation and transparency metrics across the top hospital and healthcare system performers in the U.S. We use this benchmarking tool as a means to guide our own efforts.
Our green teams drive execution at a local level across the health system. Leadership is distributed to each facility where green teams convene monthly to track execution of key programs. New initiatives are introduced and driven during our monthly system-green team webcast meetings. Our sustainability scorecard distills key programs and metrics that are pushed out to regional hospitals and family health center CEO/COOs through a regional integration process. Tracking facility performance against peers in the in the health system has been a key motivator.
Lastly, our facilities managers drive implementation at a local level across the health system. Facilities Management drives the adoption of energy intensity reduction through a competition rewarding the hospitals, family health centers and administrative facilities that achieve the highest reduction in EUI.
EcoCaregiver Connection
EcoCaregiver Connection

The EcoCaregiver™ employee engagement program was designed to build a culture of sustainability within Cleveland Clinic to reduce cost, waste and emissions while providing the highest quality medical care. In 2014, we launched an enterprise wide EcoCaregiver™ Training: Energy Savings & You. This mandatory training on energy demand management is required for all caregivers and continued throughout 2015.
Nine months post-launch, more than 52,000 caregivers across the enterprise have completed the training. This 15-minute module will be updated and reassigned annually for all caregivers, including staff. It reinforces an organizational expectation for an environment of energy conversation and emphasizes the importance of individual caregiver contribution to our energy demand reduction goals. In addition to the training, we have developed a robust communications campaign to prompt desired workplace behaviors.