Overview
Overview
Cleveland Clinic is committed to enhancing the resilience of the communities we serve by reducing our carbon footprint, supporting carbon sequestration initiatives and advocating for a low-carbon economy within our supply chain and at all levels of government. The impacts of climate change—including increased severe weather events, air pollution, days exceeding 90° degrees Fahrenheit, food and water scarcity, disease-carrying vectors and allergens—pose serious threats to public health and disproportionately affect vulnerable populations. We are collaborating with various stakeholders to communicate the nexus between climate and health and to advance climate solutions in our industry and communities.
Reducing Our Carbon Footprint
Reducing Our Carbon Footprint
Carbon Neutral by 2027
In 2017, our former CEO and President, Dr. Toby Cosgrove, announced a goal for the organization to become carbon neutral by 2027. We are excited by this challenge, and will continue to lead our sector and explore creative solutions to environmental challenges that benefit our community and support economic health.
Carbon Mitigation
Cleveland Clinic's 2017 scope 1 & 2 carbon footprint totaled 436,271 metric tons of CO2e. This is a 1% decrease from 2016 and a 16% reduction from our 2010 baseline. Our Carbon Intensity (CO2e/Sqft) has decreased 25% from our 2010 baseline as our enterprise has grown. 75% of our footprint is from purchased electricity, 23% is from direct usage of fuels in assets owned by Cleveland Clinic and 2% is from anesthesia gases. More than 96% of our carbon footprint is located in Northeast Ohio in our Hospitals, Family Health Centers, Medical Office Buildings and Administrative Facilities.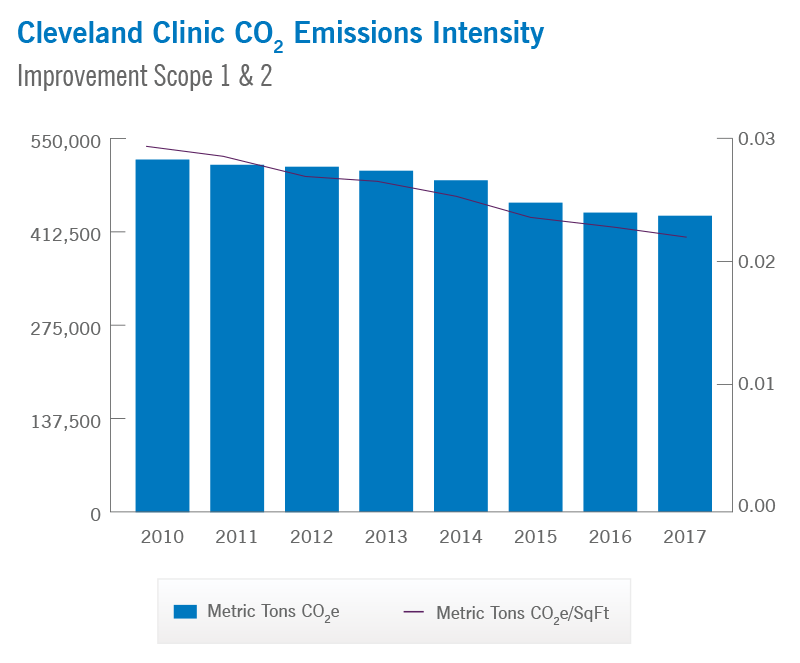 Cleveland Clinic calculated its scope 1 & 2 carbon footprint using the GHG protocol for electricity, natural gas, fuels used by generators, fleet vehicle fuel, and anesthesia gases. Annual regional eGRID factors for Co2e per MWh were utilized to account for greening of our electricity grid. Anesthesia gas emissions were calculated based on purchased cylinder volumes and intensity factors from "Carbon Footprint from Anesthetic Gas Use" study published by UK's Sustainable Development Unit in 2012.
Community Tree Planting
Community Tree Planting
In the late 1800s, the City of Cleveland was nicknamed The Forest City. However, according to theCleveland Tree Plan, Cleveland has lost nearly 50% of its street trees from 1940 to today, and has retained only 19% of possible canopy coverage. Each year more than 97 acres of tree canopy is lost and coverage is expected to decline to 14% by 2040.
In 2017, the Office for a Healthy Environment partnered with our Government and Community Relations department to transform parking lots into green spaces. Cleveland Clinic caregivers, residents of Cleveland's Fairfax neighborhood, Fairfax Renaissance Development Corporation and high school students came together to build "pocket parks."
The group worked to transform three lots along several blocks of Cedar Avenue near our main campus — planting trees, shrubs and other landscaping. The surface parking lots were previously used by construction workers who built Taussig Cancer Center and other Cleveland Clinic buildings.
The high school students are participants in Cleveland Clinic Louis Stokes Scholars program, a six-week internship focused on workforce readiness in which Cleveland and East Cleveland high school students have the opportunity to work and learn alongside Cleveland Clinic caregivers.
Climate Action Fund
Climate Action Fund
Cleveland Clinic was a founding member of the Cleveland Climate Action Fund alongside the City of Cleveland, Cleveland Foundation, George Gund Foundation, and the GreenCityBlueLake Institute at the Cleveland Clinic Museum of Natural History. The fund was founded as the first community-based, open-access carbon reduction fund in the United States with the goal of improving residents' lives while mitigating carbon emissions.
Since inception in 2008, the Fund has invested thousands of dollars towards climate resiliency projects in Cleveland neighborhoods such as Kinsman, Detroit Shoreway, and Glenville. Cleveland Clinic is proud to support this initiative and work with the City of Cleveland on climate resiliency and adaptation for our communities.
Healthcare Climate Council
Healthcare Climate Council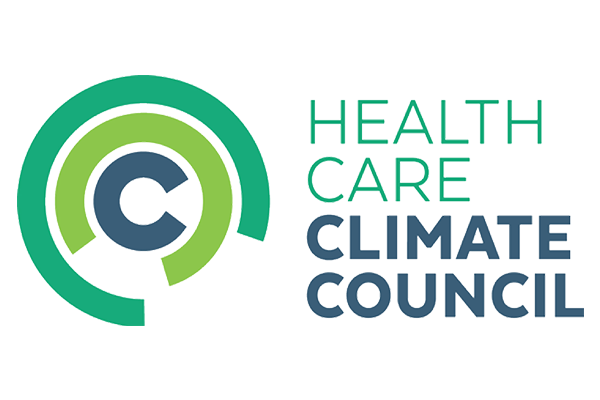 Cleveland Clinic is a member of Health Care Without Harm's Climate Council. The council is open to hospitals and health systems that recognize climate change is one of the single largest threats to public health and committed to addressing its health impacts. The council's mission is to amplify public and private responses to climate change by:
Accelerating investment in renewable energy and efficiency;
Scaling the healthcare sector's adoption of climate change mitigation and resilience programs; and
Advocating for local, state and national policies that ensure a sustainable and healthy future
As a leader in healthcare and an anchor institution in our communities, Cleveland Clinic recognizes that and our response to these challenges will guide the evolution of our organization in the coming decades. In 2017, the Office for a Healthy Environment continued collaborating with other council health systems on the policy implications affecting climate change and population health
Regulated Air Emissions
Regulated Air Emissions
EPA Air Title V Emission for Cleveland Clinic's main campus
Fee Emission Report (FER) | Emission Statement (ES)
| Air Pollutant | 2014 Emissions Total (Tons) | 2015 Emissions Total (Tons) | 2016 Emissions Total (Tons) | 2017 Emissions Total (Tons) |
| --- | --- | --- | --- | --- |
| Nitrogen Oxides | 30.999 | 31.612 | 15.803 | 17.416 |
| Sulfur Dioxides | 0.426 | 0.450 | 0.267 | 0.293 |
| Organic Compounds | 4.457 | 4.874 | 4.198 | 4.370 |
| Particulate Matter (PM)-10 | 0.783 | 0.865 | 0.731 | 0.761 |
| Volatile Organic Compounds | 2.814 | 2.666 | 2.150 | 2.257 |
| Carbon Monoxide | 39.557 | 37.308 | 32.072 | 33.401 |
| Total of Chargeable Pollutants | 36.480 | 37.814 | 21.031 | 22.845 |