Community Benefit
Community Benefit
The Community Benefit provided by Cleveland Clinic is far-reaching, from providing accessible healthcare, to educating the next generation of healthcare professionals, funding medical research that leads to advanced treatments and cures, and supporting community health initiatives.
Community Benefit includes activities or programs that improve access to health services, enhance public health, advance generalizable knowledge and relieve government burden. The primary categories for assessing Community Benefit include Financial Assistance, Medicaid Shortfall, Subsidized Health Services, Outreach Programs, Education and Research.
The Community Benefit we provide includes all health system operations in Ohio, Florida and Nevada.
Community Health Needs Assessments
Community Health Needs Assessments
Cleveland Clinic strives to provide compassionate, high-quality healthcare and support efforts to improve the health of our communities. We have conducted comprehensive community health needs assessments to understand and plan for the current and future health needs of the communities each of the Cleveland Clinic hospitals serves. In accordance with Internal Revenue Code Section 501(r), each hospital conducted its own community health needs assessment and developed its own implementation strategy report.
Economic Impact
Economic Impact
Cleveland Clinic is a driving economic force in Northeast Ohio, contributing substantially to growth in the region's innovation and employee base in our community. We are proud to be a part of the region's prominence as a national center of biomedical technology, research and quality patient care. Cleveland Clinic is the largest employer in Northeast Ohio and the second largest employer in the state. We continue to invest in our communities by building, hiring and expanding our services
Local and Diverse Spending
Local and Diverse Spending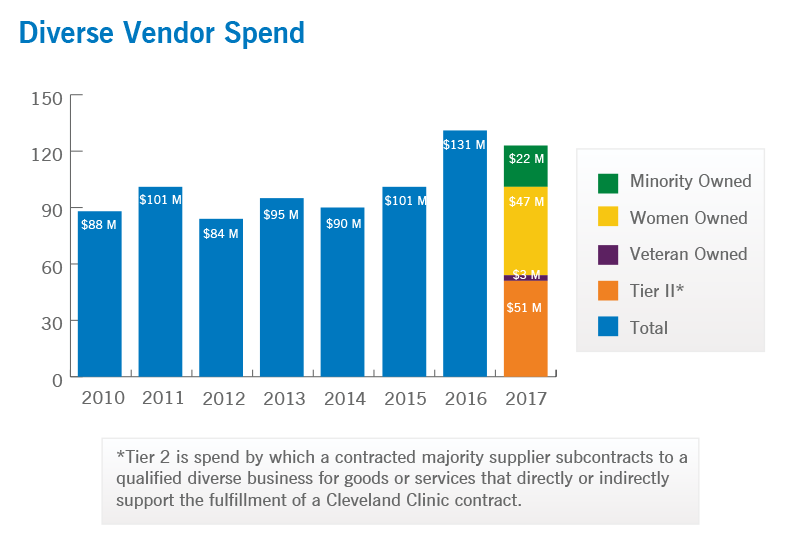 Cleveland Clinic has a long-standing commitment to care for the communities we serve. Our Supplier Diversity strategy supports this commitment by attracting, supporting and partnering with diverse business enterprises. This strategy allows us to leverage our purchasing power to drive economic inclusion for qualified diverse suppliers.
Cleveland Clinic strives to increase diverse participation in procurement opportunities for businesses that are 51% owned and operated by minorities, women, veterans, service-disabled veterans, LGBTQ, or are HUB-Zone certified.
Cleveland Clinic is dedicated to expanding opportunities for diverse businesses by:
Identifying new opportunities for diverse businesses across the Cleveland Clinic enterprise, as well as Tier II* opportunities with our contracted vendors.
Promoting an atmosphere of collaboration and education that provides guidance and consultation to diverse suppliers and further develops their business.
Partnering with regional and national organizations dedicated to strengthening diverse businesses through targeted education and growth programs. This includes professional organizations and local, state and national government leadership.
Since 2010, we've spent over $881 million with certified diverse suppliers across all 72 service and product categories.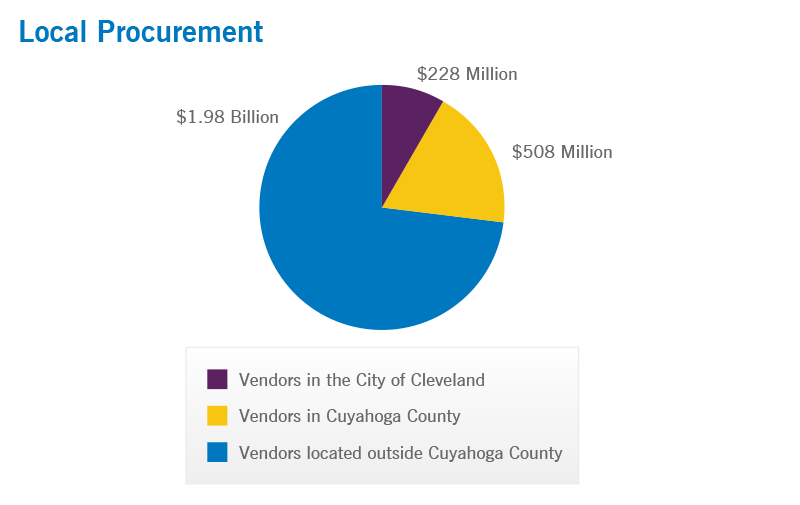 Mobile Food Pantry
Mobile Food Pantry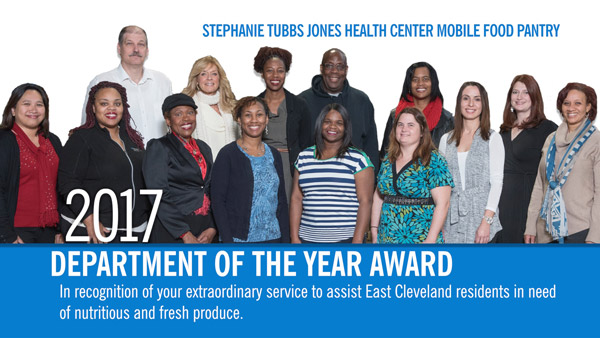 Cleveland Clinic's Stephanie Tubbs Jones Health Center (STJHC) sponsors a Mobile Food Pantry in East Cleveland on the 4th Saturday of each month in collaboration with the Greater Cleveland Food Bank. The Mobile Food Pantry operates like a Farmers Market, but the food is given away to community members for free.
The East Cleveland community is a "food desert," lacking easily accessible grocery stores that provide fresh produce. This disparity impacts the community through high rates of obesity, diabetes and hypertension.
"Research has shown that adding just two servings of fruits and vegetables a day can help combat most chronic illnesses; this makes access to fresh produce not just a social concern, but also a medical one," said Tisa Thompson, a Patient Liaison Program Coordinator at Stephanie Tubs Jones Health Center.
The Mobile Food Pantry provides healthy meal options for families, promotes healthy eating and improves health outcomes. In 2017, we maintained the Mobile Food Pantry year round, moving the pantry inside during the cold months when there is even less availability of fresh produce in the community. We have also teamed up with Coit Road Farmers Market to provide free cooking and exercise classes during each Mobile Food Pantry. The cooking class utilizes produce from the Pantry to teach families how to cook it in healthy ways and the exercise class incorporates normal household items into a routine that can be done at home without any special equipment.
Each month, the Greater Cleveland Food Bank provides STJHC with 10,000 to 12,000 pounds of fresh produce to feed 100-150 families. In 2017, STJHC's Mobile Food Pantry served 1,600 families and 3,800 individuals. The pantry is staffed by over 300 volunteers from across the Cleveland Clinic enterprise and surrounding community. The Mobile Food Pantry hopes to expand the model to other Cleveland Clinic Family Health Centers.