Development Opportunities
Development Opportunities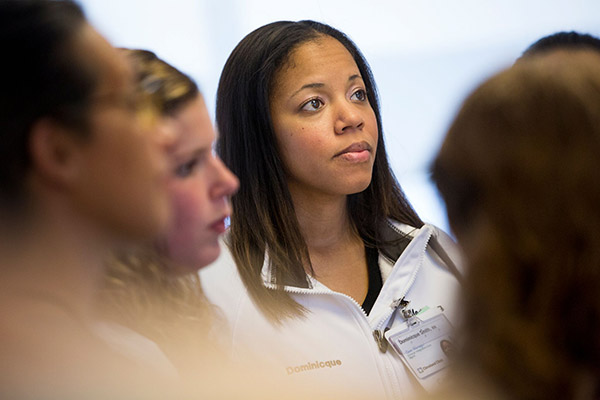 To help achieve our shared goals, we offer many development opportunities for caregivers to self-select to further their careers, including:
Development course tracks for each level of leadership through the Global Leadership and Learning Institute
Global Leadership and Learning Institute curriculum for executive and medical management training
A robust career planning website for caregivers
Blended learning opportunities using classroom, online and on-the-job formats
Mentoring programs
Accelerated development programs for high potential caregivers
An Emerging Leader program for aspiring leaders
Technical training in all clinical and technical fields
Additionally, we have caregivers in accelerated development programs. These participants are identified through Cleveland Clinic's Succession Planning and Individual Development Planning processes and represent our future leadership.
Building Your Future in Healthcare
Cleveland Clinic's center for leaning and development is the Global Leadership and Learning Institute.
"We are proud to support our caregivers to grow and learn in their careers with a focus on what matters most at Cleveland Clinic. We will partner to provide resources, insight and workshops to create a Coaching culture based on respect, build healthy Teams, embrace and lead Change and Thrive by bringing your whole self to work."
- Gina Cronin, Executive Director, Global Leadership and Learning Institute
As we transform our model of care, we need the Power of Every One to be successful.
All caregivers have the opportunity to access to tools and resources that help them develop and lead in several ways.
Leading self
Leading others
Leading managers
We believe caregivers develop better — and faster — when they own their careers. We believe we all benefit when caregivers are supporting in being a part of the changes in healthcare.
The graphic has quite a bit of text: perhaps we can use the blue circle and then add the text to the body of this section. If we do this, we will need to edit below.
Our Model
Broaden capabilities by applying what caregivers learn in the work they do. Our Career Development Model emphasizes growth through job-related experiences — when development takes place in real time. Caregivers also gain exposure to new knowledge and skills when they interact with others at Cleveland Clinic. Formal education is available when it's timely and valuable to support professional goals.
Our Approach
It's simple. We ask caregivers to "Seek to understand yourself. Be aware of the environment around you. And with that knowledge, plan for your future."
Career Management
We partnered with Harvard ManageMentor to offer caregivers a complete Career Management module. It helps the better understand their career aspirations and how to progress forward.
At Cleveland Clinic, we develop the leaders of tomorrow. It's part of our efforts to retain top talent and prepare our organization for the future.
We do this by engaging others to be their best and empowering personal and professional growth. That means developing, inspiring and connecting leaders to our vision — and their role in leading change within Cleveland Clinic.
Lead Forward
Our Lead Forward development programs are designed for all people. Whether you're starting your career or at the most senior levels of management, our programs offer valuable skills and insights to apply in your daily work.
By taking part in one of these programs, we intend for participants to:
Grow leader capability to inspire teams toward fulfilling Cleveland Clinic's mission, vision and goals.
Foster a culture of teaming and collaboration that supports relationships and high reliability — all toward putting Patients First.
Appreciate the importance of continual learning and become aware of resources to support your learning journey.
Program Descriptions
Harnessing Potential
Empowering Others
Transforming Enterprise
Lead Forward is just one of many development programs for caregivers. Cleveland Clinic's Education Institute collaborates closely with our Global Leadership and Learning Institute to provide leadership development to healthcare executives from around the world. As an example, the Samson Global Leadership Academy for Healthcare Executives offers one- and two-week immersion courses in leadership development and systems thinking, and has attracted healthcare leaders from more than 26 countries.
Global Leadership & Learning Institute
Global Leadership & Learning Institute
Global Leadership & Learning Institute (GLLI)
Cleveland Clinic is committed to our caregivers' learning and development. As we transform healthcare, we need the Power of Every One to be successful. At GLLI:
We develop, inspire and connect leaders to transformational vision and leading change
We provide every caregiver resources to learn and develop their own professional growth
We proudly champion Cleveland Clinic's learning culture and leadership behaviors
We have five Centers of Expertise:
Global Executive Education
Learning Technologies
Operations & Onboarding
Talent Management
Team & Leadership Development
Our programs are all about opening our doors to our caregivers in a time of unprecedented healthcare change – from learning about new technology to our business systems and state of the art facilities. We partner to plan, implement processes, and deploy resources in order to operationalize programs and projects that support the learning and development of Cleveland Clinic caregivers. Our goal is to deliver a robust learning infrastructure to facilitate a culture of learning and growth.
Talent Management
Talent Management encompasses both Performance Management and Talent Reviews. The Performance Management process provides managers and employees the opportunity to:
Formally review employee job performance
Establish performance expectations, goals and development opportunities
Facilitate ongoing coaching discussions
The goal of the Talent Review process is to proactively develop future Cleveland Clinic leaders. The purpose of the program is to:
Accelerate talent development, with better results
Reduce time to fill leadership roles utilizing Succession Planning
Build inclusivity and diversity in talent
Engage and retain high potential talent
To learn more, visit Learner Connect.
"The talent management process was redesigned and expanded in 2017. Talent management was moved from paper and Excel files into ONE HR: Workday and Portal, our web based enterprisewide HR system. Leading industry best practices were integrated into the process. Diversity and inclusion measures were thoughtfully, and effectively integrated into the process. Finally, the program was expanded to a larger audience, linking different levels of the organization."
- Joe Rak, Director, Talent Management
The Power of Everyone
Learn more about the four Leader Behaviors that help Cleveland Clinic leaders live the mission, vision, and values of our organization.
Tuition Reimbursement
Tuition Reimbursement
We offer tuition to all caregivers who have been employed for a year or more toward the completion of graduate and undergraduate degrees. Tuition is reimbursed at the end of the semester after each student satisfactorily completes the approved coursework. Investing in our caregivers futures enables us to continue to provide the best care for our patients.
In 2017, over 3,174 caregivers participated and over $10.2 million was reimbursed.
Annual Maximum Cap Allowance
Type of Degree
Nursing Major
Non-nursing Major
Physician Assistant Major
Graduate, Doctorate & PhD
Full Time: $7,500
Part Time: $3,750
Full Time: $4,500
Part Time: $2,500
Full Time: $7,500
Part Time: $3,750
Bachelor
Full Time: $5,000
Part Time: $2,500
Full Time: $3,000
Part Time: $1,150
Full Time: NA
Part Time: NA
Associate
Full Time: $2,500
Part Time: $1,250
Full Time: $1,500
Part Time: $750
Full Time: NA
Part Time: NA
Cleveland Clinic collaborates with EdAssist™ to schedule and facilitate onsite and online college fairs and to process tuition reimbursement requests.
Total Rewards
Total Rewards
As Cleveland Clinic has grown, two central values have anchored us: our commitment to delivering world class care and treating our caregivers the same way. This means attending to physical, emotional, spiritual, vocational and financial needs. Our benefits include multiple health and dental plan choices, vision and prescription drug coverage, life and disability insurance, flex spending, partner benefits and more. In addition, we provide savings, investment and pension plans, wellness programs, paid time off, career development, and performance reviews. The total additional value of Cleveland Clinic benefits typically adds up to almost 30% of an employee's base pay.