Overview
Overview
"One of the things that impressed me most when I first visited Cleveland Clinic 14 years ago was its culture of promoting 'Patients First.' Diversity and inclusion are an integral part of that mantra. We provide a welcoming and respectful environment for patients, families, and caregivers of all races, ages, genders, nationalities, religions, sexual orientations, disability, or veteran status."
– Tomislav Mihaljevic, MD
Cleveland Clinic CEO and President
Cleveland Clinic values a culture where caregivers integrate diversity and inclusion throughout the enterprise. We respect and appreciate our similarities and differences; they enable us to better serve our patients, one another, and our global communities.
Cleveland Clinic is committed to creating a diverse and inclusive organization that provides the best care and outcomes for our patients and promotes engagement through the best work experience for our caregivers. Achieving this as a global healthcare provider requires creating and sustaining a culturally competent workforce and ensuring that we provide all the tools and resources necessary for our caregivers to be successful.
The Office of Diversity and Inclusion provides strategic leadership for creating an inclusive organizational culture for patients, caregivers, business partners, and the communities Cleveland Clinic serves.
Our three core focus areas are:
Enterprise Demographics
Cultural Competency Education and Development
Health Equity, Community Engagement & Economic Vitality
We leverage and align these focus areas to complement and enhance yearly enterprise goals to ensure that diversity is integrated in Cleveland Clinic's daily operations.
2018 DiversityInc Top Health Systems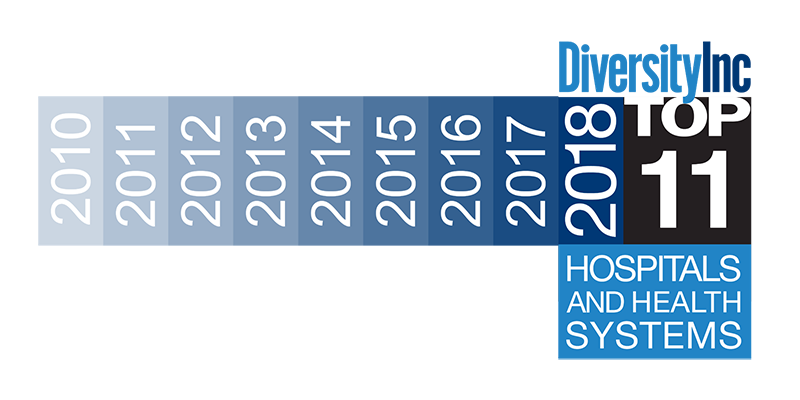 Cleveland Clinic ranked among the top hospitals and health systems for diversity programming by DiversityInc for the ninth consecutive year. Organizations on this list perform well in talent pipeline, talent management, leadership commitment, and supplier diversity.
Healthcare Equality Index Leader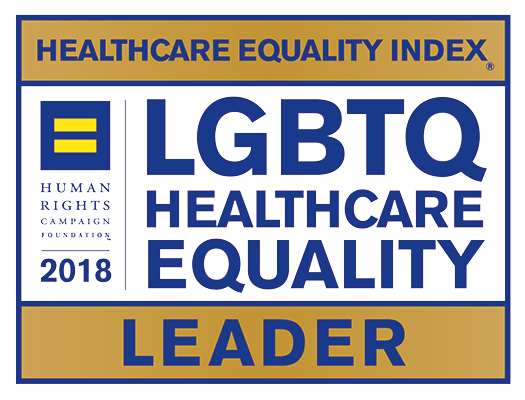 Cleveland Clinic has also been recognized as a Leader in LGBTQ (Lesbian, Gay, Bisexual,Transgender, and Queer or Questioning) Healthcare Equality for five years in a row (Main Campus since 2014; Regional Hospitals and Weston Florida since 2015). This recognition is based on the Human Rights Campaign's Healthcare Equality Index, which is a benchmarking tool that evaluates healthcare facilities for equity and inclusion of lesbian, gay, bisexual and transgender patients, visitors and employees.
ERGs & Councils Honors AwardsTM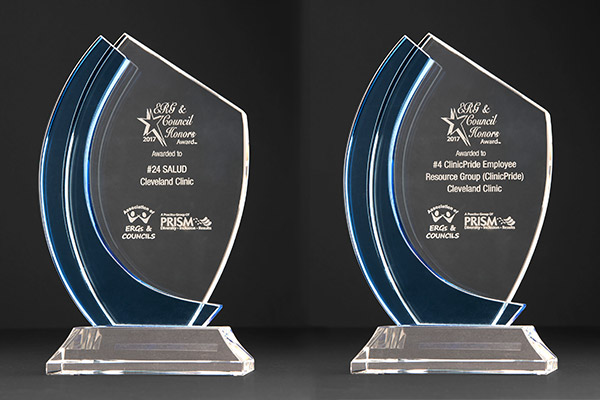 Employee Resource Groups and Diversity Councils serve as ambassadors of diversity and inclusion strategies to support recruitment efforts, provide personal and professional development, increase engagement, and promote health equity throughout our system. In 2017, the Association of ERGs & Councils recognized ClinicPride, our Lesbian, Gay, Bisexual, Transgender, Allies, and Queer or Questioning – LGBTAQ ERG and SALUD, our Hispanic/Latinx ERG, for their contributions and achievements in leading organizational diversity processes and demonstrating results in the workforce, workplace, and marketplace. ClinicPride and SALUD are ranked among the top 25 ERGs in the nation at #4 and #24, respectively. The groups have been ranked for three consecutive years.
American Indian Science and Engineering Society Top 50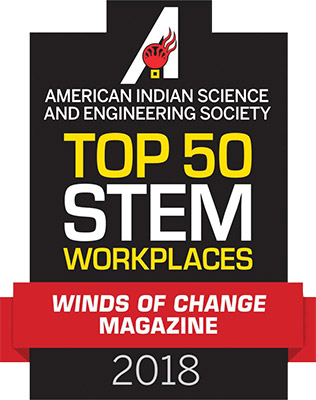 Since 2013, Cleveland Clinic has been honored in Winds of Change, the national publication of the American Indian Science and Engineering Society (AISES). The periodical focuses on the career and educational advancement for American Indians/Alaska Natives/Native Hawaiians/First Nations with an emphasis on the science, technology, engineering and math (STEM) professions.
Organizations selected for this Top 50 list demonstrated a commitment to diversity recruitment including specific outreach to indigenous communities. Winds of Change noted that a number of companies, such as Cleveland Clinic, have effective employee resource groups (ERGs) specifically for Native American employees. Ours is called Circle of Healers and each year it hosts educational and cultural forums open to all caregivers.
Enterprise Demographics
Enterprise Demographics
"Cleveland Clinic stands for diversity. Cleveland Clinic stands for inclusion and opportunity."
– Tomislav Mihaljevic, MD
Cleveland Clinic CEO and President
Cleveland Clinic recognizes that having a workforce that reflects the patient population it serves includes a diverse leadership team and pipeline. The integration of diversity and inclusion initiatives across the enterprise addresses the strategic need to expand the number of diverse candidates available to hire into healthcare with succession into management and executive roles.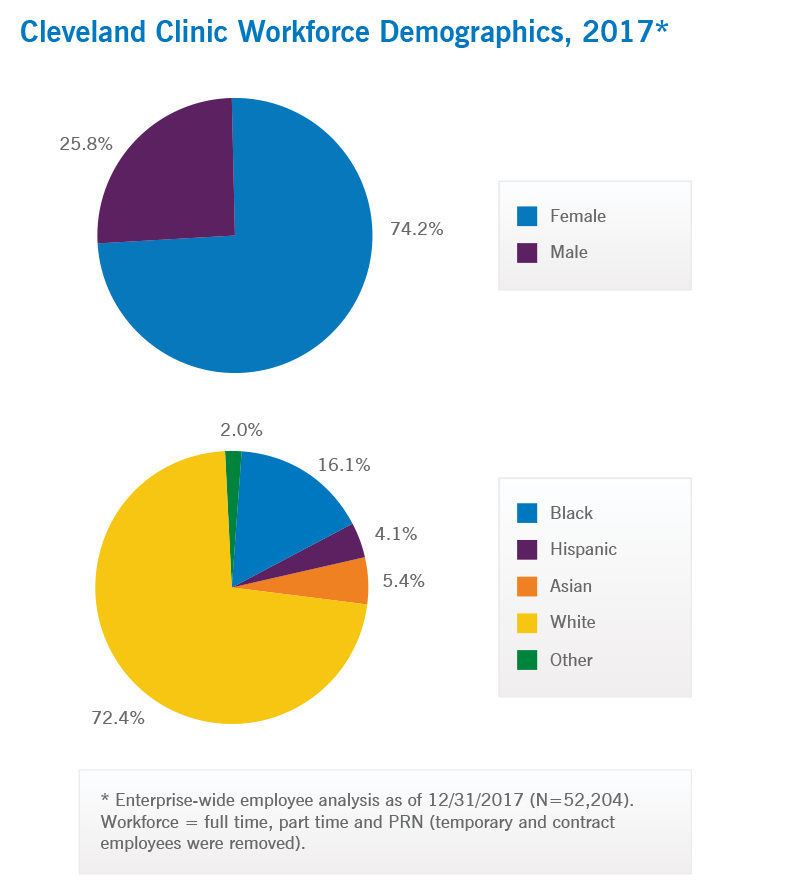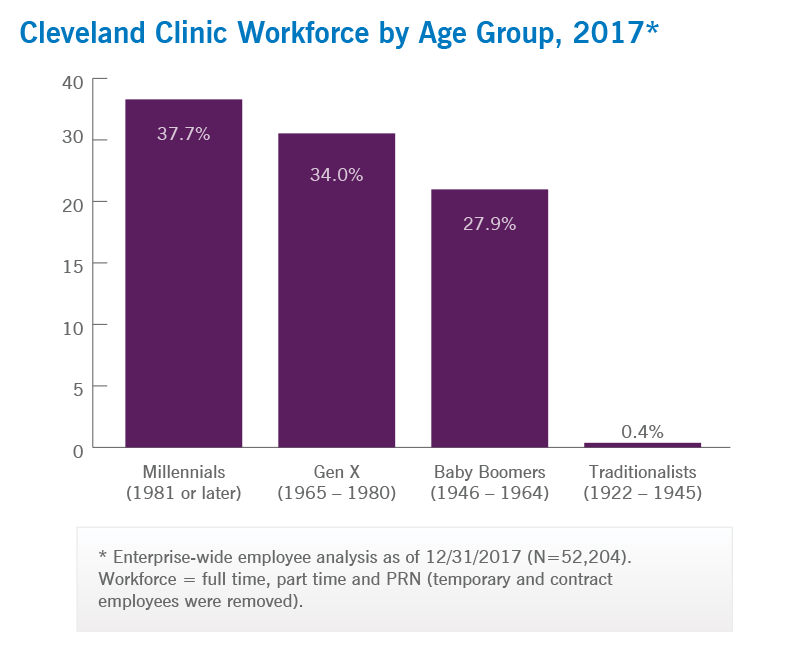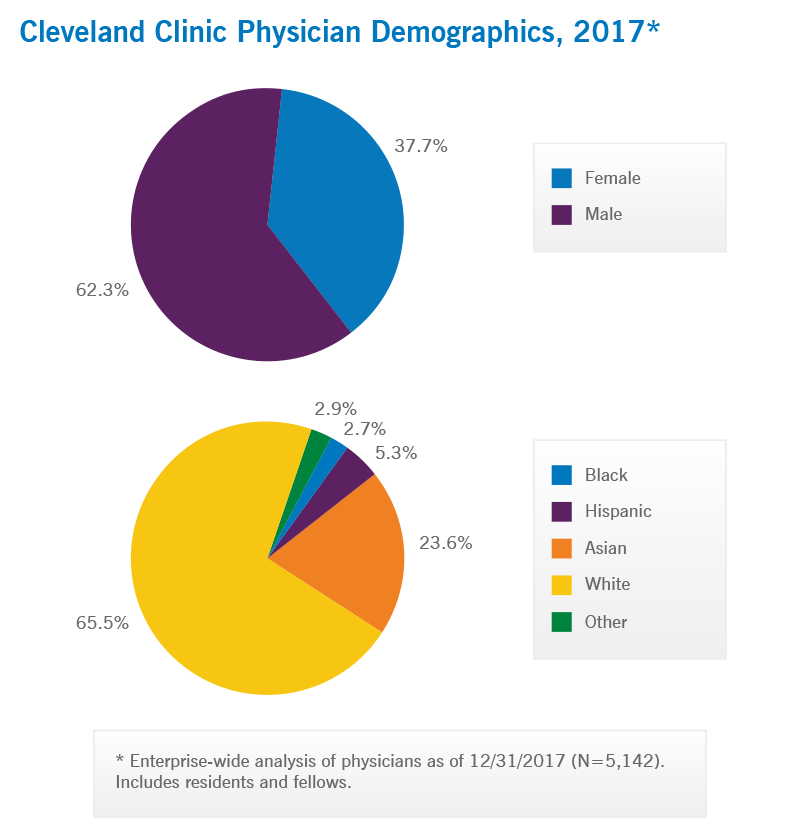 Pipeline Talent Development
Increasing the enrollment of underrepresented minority (URM) students in health professions is becoming a more important and urgent issue. Cleveland Clinic takes an innovative approach to foster the continuing education and development of URM talent into healthcare. We offer various programs for high school/college students, and caregivers to provide them with career information, experiential learning, coaching/mentoring, problem-solving expertise, and enhance professionalism.
In 2017, 40 students and 75 caregivers participated in our pipeline programs, with 100% being URM.
Mentorship
Cleveland Clinic is committed to increasing diverse talent in management and executive roles. Over the years we expanded mentorship programs to serve this purpose; several initiatives are highlighted below:
HBCU and HACU Recruitment: A strategic effort to identify, cultivate, and sustain relationships with Hispanic Serving Institutions, Historically Black Colleges and Universities, and select colleges and universities in Northeast Ohio to develop a pipeline of diverse talent for the Administrative Fellowship Program, managerial/professional level positions, and clinical opportunities.
Mentoring Circles: Bring together a diverse group of future leaders for informal dialogues with senior leaders to support participants' personal and professional growth. In 2016, 20 caregivers participated in the re-launch of this program, with 60% of participants being minorities. In 2017, a physician staff cohort was launched with 74% being URM and 39% females.
Cultural Competency & Development
Cultural Competency & Development
Enterprise-wide cultural competency skill development is fundamental in achieving the best patient and caregiver experience. We build skills, increase awareness and knowledge by providing trainings, seminars, coaching and consultation services to caregivers and departments to further enhance cultural competency and create a more inclusive environment.
Online Training
A Diversity & Inclusion module created for caregivers provides an overview of diversity, inclusion, and cultural competence across the enterprise for our Ohio, Florida, and Nevada locations. All new hires and existing caregivers are required to complete it annually. In 2017, the module was completed by 94.8% of caregivers and included topics such as Unconscious Bias and Health Equity.
Instructor-led Trainings
Available throughout the year with both scheduled and customized offerings available. Trainings may be customized for a department by need or request to increase cultural competence for patient care and/or improve caregiver interaction and management skills. In 2017, we surpassed our knowledge gain goal of 10%, with a 19.9% increase, through instructor-led trainings.
Language Enrichment Programs
Offered in-person and online, enhance communication skills of caregivers to improve patient experience. Courses include: Spanish for Healthcare Professionals, Accent Modification, English as a Second Language and the English Pathways program (a co-sponsored community ESL program with Polaris), which is specific for individuals who have a language barrier and received their medical/nursing degree outside of the United States and are interested in pursuing a career in health.
Health Equity, Community Engagement, & Economic Vitality
Health Equity, Community Engagement, & Economic Vitality
"We are a global healthcare leader that builds initiatives in education, pipeline development, supplier diversity, cultural competency and around changing demographics. We openly engage with diverse groups and seek multicultural experiences with stakeholders to reflect the patients and communities we serve."
– Le Joyce K. Naylor, MA, CCDP/AP
Chief Diversity & Inclusion Officer
We partner with key internal and community stakeholders to make advancements in research, patient access, and patient education in order to contribute to the reduction in health disparities through improved or enhanced: access, patient outcomes, patent satisfaction, and community health outreach, education and research.
Cleveland Clinic has 11 affinity-based Employee Resource Groups (ERGs) and 19 location-specific Diversity Councils (DCs). ERGs and DCs serve as ambassadors of diversity and inclusion strategies to support recruitment efforts, provide personal and professional development, increase engagement, and promote health equity throughout our system and across the communities we serve.