Overview
Overview
Within Cleveland Clinic's Enterprise Quality, we have a formal Environmental Health and Safety (EHS) team charged with the implementation and monitoring of EHS management activities at Cleveland Clinic main campus and our family health centers. In addition, each community hospital maintains written management plans that address the "Environment of Care" based on management structure and individual needs.
Enterprise safety leadership members regularly review regulations and assess the need for changes to general safety policies, equipment, procedures, training and other activities. Ultimately, the responsibility for environmental health and safety at Cleveland Clinic extends through the entire supervisory force to every caregiver. Only through a cooperative effort by supervisors and caregivers can an effective accident prevention program be established and preserved.
Cleveland Clinic also protects our caregivers and patients through risk control efforts related to serious diseases. For example, Occupational Health promotes the health and safety of our caregivers through new hire pre-placement assessments, urine drug screenings, annual compliance, Tuberculosis testing, audiograms, as well as required immunization and flu vaccinations. In addition, we established a work restriction policy for caregivers with communicable diseases, a safety event reporting system and post-exposure guidelines and support for those exposed to blood-borne pathogens. Employees are encouraged to report all exposures and near-misses, and aggressive post-exposure follow-up procedures are followed.
Cleveland Clinic's recording and reporting of accident statistics is in accordance with the requirements of the Occupational Safety and Health Administration (OSHA) and the Bureau of Labor Statistics (BLS). An injury or illness is considered to be work-related if an event or exposure in the work environment either caused or contributed to the resulting condition or significantly aggravated a pre-existing condition. Our injury data presented below represents the majority of caregivers, reflecting our Ohio facilities. Injury rates are listed as the number of injuries per 100 full-time employees.
Environmental Health and Safety (EHS) Data
Environmental Health and Safety (EHS) Data
In 2017, our OSHA-recordable injury rate of 3.22 was a seven percent reduction compared to 2016. Likewise, our lost time injury rate of 0.51 was a nine percent reduction compared to the previous year. Both are well below the U.S. hospital average for 2016. The Bureau of Labor Statistics indicates the average hospital had an OSHA-recordable injury rate of 5.90 and a lost-time injury rate of 1.30.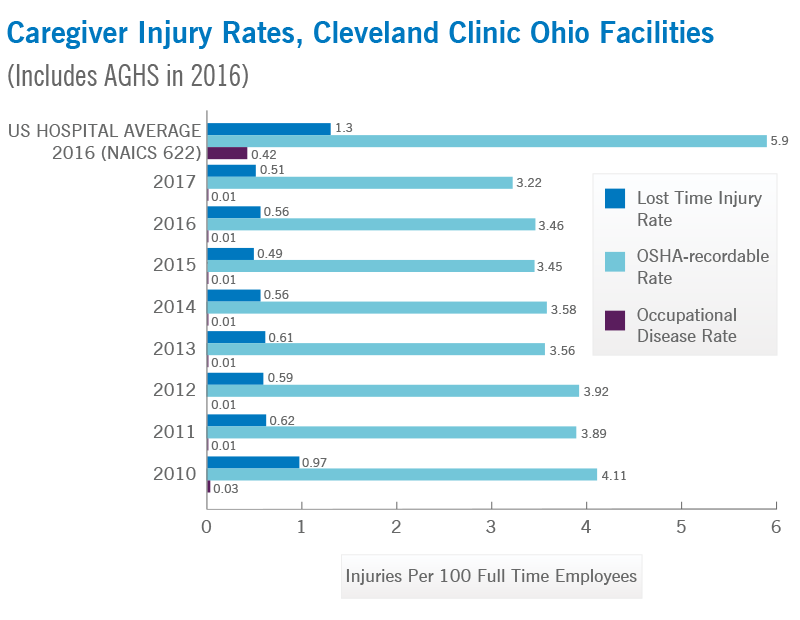 There were no work-related fatalities in 2017. Injuries by gender relate closely to our overall male/female employment ratios.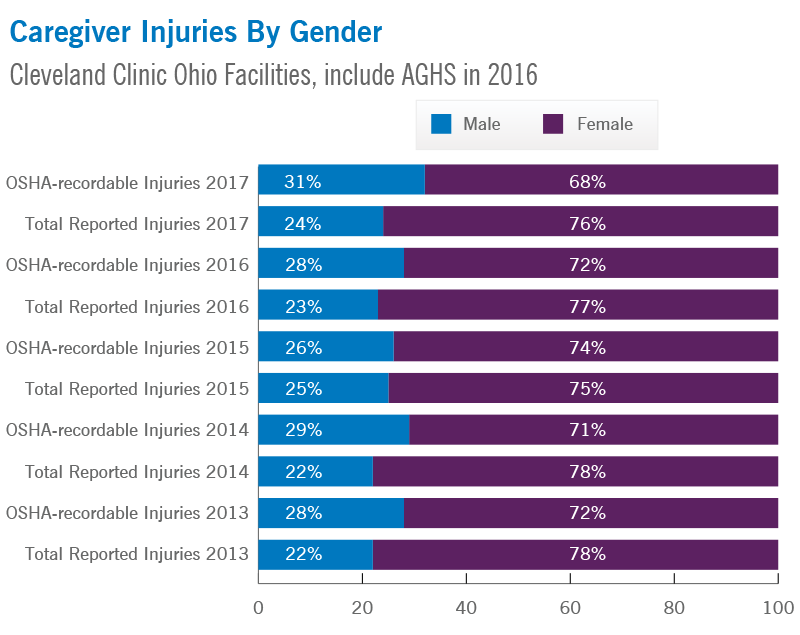 Cleveland Clinic absenteeism, as measured by unscheduled paid time off (UPTO), dropped from 1.0 percent in 2010 to 0.67 percent in 2015. It has floated between there and 0.71 percent for the past three years. Absenteeism can be used to indicate caregiver health and wellness, engagement, job satisfaction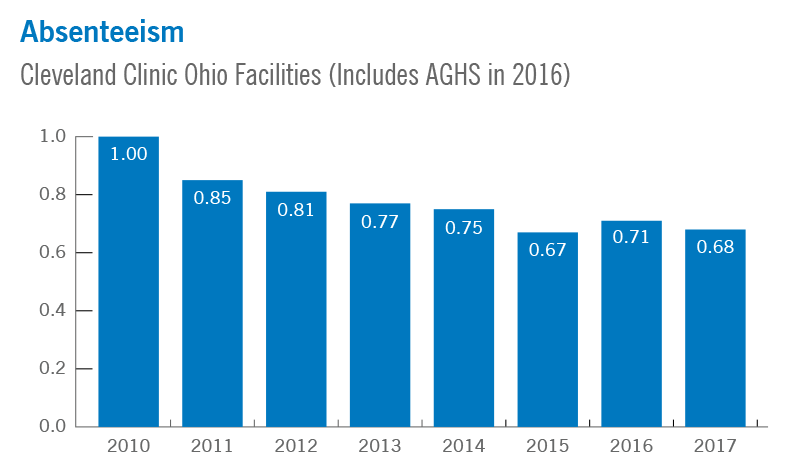 Bloodborne Pathogens
Bloodborne Pathogens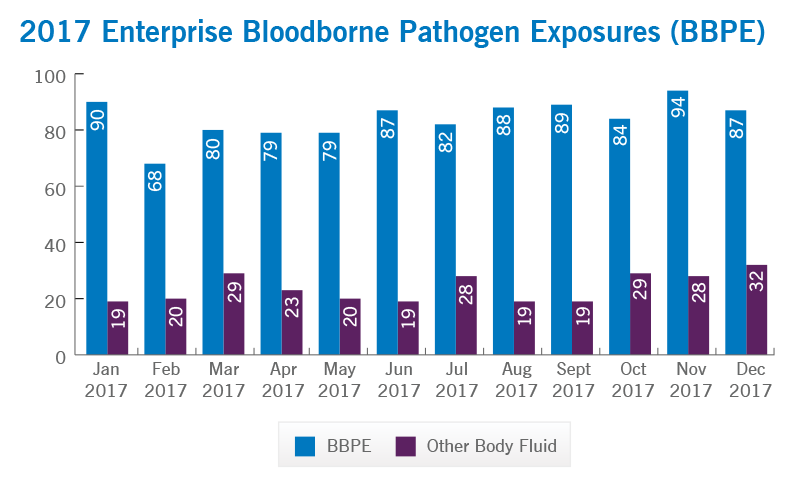 The chart reflects enterprise bloodborne pathogen exposures for sharps and non-sharp related events in 2017. In 2017, Bloddborne Pathogen exposures (BBPEs) from sharps was 624, down7% from 2016, and BBPEs from splashes was 190, up 4% from 2016.
In order to address this increase in BBPEs from splashes, our EHS team is working with Fairview hospital on a splash safety initiative. During our department walkthroughs we discovered eyewear was not easily accessible in several locations. In 2018, our goal is to increase accessibility at these identified locations and used the lessons learned to roll the program out to all departments and units in the enterprise. Fairview Hospital has installed 350 eyewear brackets to date, and we expect to see a decrease in BBPEs from splashes in 2018 due to this initiative.
OHSA Recordable Injuries, Other Emphasis Programs
OHSA Recordable Injuries, Other Emphasis Programs
Cleveland Clinic also works to reduce the two most expensive injury types that caregivers experience on the job: Ergonomic injuries, and Slip, Trip, and Fall injuries. Ergonomic injuries in healthcare are most likely associated with patient handling and movement. In addition to these, we monitor and evaluate injuries associated with moving objects, and those associated with person/machine interfaces, such as keyboard activities.
In 2016, Cleveland Clinic published its Mobility with Safe Patient Handling (MSPH) Care Path. This care path is intended to provide evidence-based patient care to reduce or eliminate the adverse effects of immobility, while providing caregivers with the tools and techniques to provide care safely. All of our medical/surgical RNs take a MSPH class as part of their ongoing education.
Starting in 2015, and continuing today, walking and working surfaces are being evaluated to reduce the potential for caregiver, patient, and visitor falls. Northeast Ohio can be treacherous in the winter months, and fall data is somewhat seasonal. We see an increase in outdoor falls between November and March each year.
However, our trend for the year was a nice downward line as indicated in the graph below.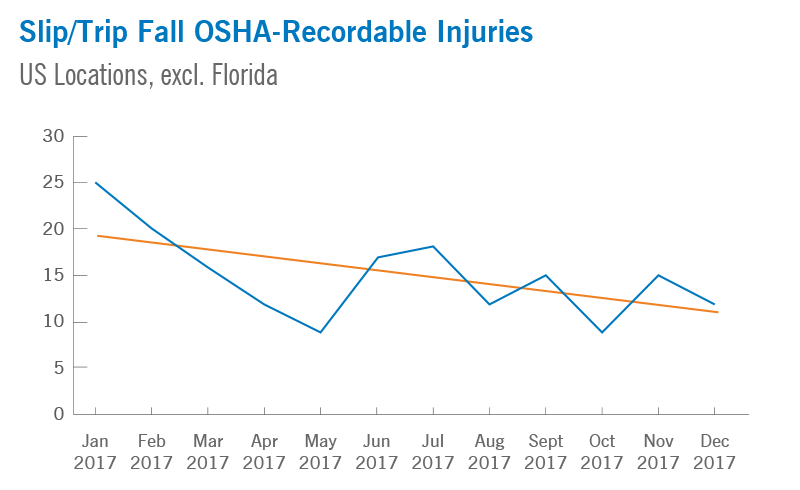 A.L.I.C.E.
A.L.I.C.E.

With the sudden rise in active shooter incidents in the United States, providing our caregivers with training to survive such an incident is a top priority at Cleveland Clinic. The Protective Services Department adopted the A.L.I.C.E. Active Shooter Response model that was developed by the A.L.I.C.E. Training Institute. Thirty-five caregivers from various disciplines across the Cleveland Clinic Health System received A.L.I.C.E. Instructor training to help facilitate enterprise wide training.
The Emergency Management Department, in conjunction with the Cleveland Clinic Police Department, developed a healthcare-oriented A.L.I.C.E. training module that is used by all of our certified Instructors to provide consistency in the delivery of the material. The training is delivered through various media: as a module that is embedded in the annual mandatory online Emergency Management training; as "lunch-and-learn" live training sessions; during monthly department meetings; and as whole-house in- service training.
The A.L.I.C.E. Active-Shooter Response training has been a huge success with Cleveland Clinic caregivers. Every new caregiver and contracted vendor participates in training, and over 51,000 caregivers receive an annual refresher course.
Victim Advocate Program
Victim Advocate Program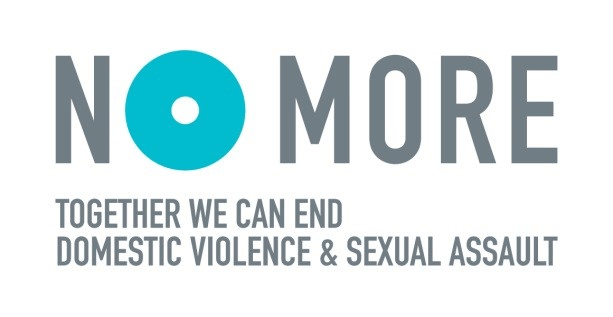 In 2014, Cleveland Clinic's Police Department secured Victims of Crime Act grant funding for our Victim Assistance Program. This program is dedicated to providing Cleveland Clinic patients, visitors and employees with support, education, and resources to cope in the aftermath of a criminal offense. The Victim Assistance Program continued to offer these services in 2017 to victims or survivors of any crime, such as domestic violence, sexual assault, workplace violence, harassment, assault or human trafficking. The services are available free of charge at Cleveland Clinic main campus, regional hospitals and family health centers.