Overview
Overview
Engagement at Cleveland Clinic extends beyond a single program to become a culture that guides our interactions with one another, our patients and our communities. Caregiver feedback is sought through various channels including surveys, weekly polls and team huddles. In 2017, nearly all of our caregivers attended town hall meetings for open dialogue with department managers. Actions and improvements based on the feedback received are applied to engagement activities across the organization.
EcoCaregiver
The EcoCaregiver™ employee engagement program was designed to build a culture of sustainability within Cleveland Clinic to reduce cost, waste and emissions while providing the highest quality medical care. In 2014, we launched an enterprise wide EcoCaregiver™ Training: Energy Savings & You. This mandatory training on energy demand management is required for all caregivers and continued throughout 2017. More than 50,000 caregivers across the enterprise have completed the training. This 15-minute module will be updated and reassigned annually for all caregivers, including staff. It reinforces an organizational expectation for an environment of energy conversation and emphasizes the importance of individual caregiver contribution to our energy demand reduction goals. In addition to the training, we have developed a robust communications campaign to prompt desired workplace behaviors.
My Two Cents
Caregivers contribute to MyTwoCents, an online forum to provide feedback and make suggestions for improvements. Since 2010, more than 6,000 ideas have been submitted, with over 800 caregiver ideas being implemented. These submissions have realized over $2.5 million in savings, with projected future additional savings of nearly $3.5 million
In 2017, over 4,500 participants from throughout the enterprise participated in more than 150 projects.
Leadership Rounding
Leadership from around the organization partake in a monthly leadership rounding program to improve patient care, support engagement and recognize caregivers. All leaders gather together at the start of each rounding session before breaking into assigned teams on designated areas for approximately 75 minutes. Following the break out, leaders reconvene to share patient and caregiver stories.
Caregiver Experience Survey
Caregiver Experience Survey
Press Ganey has administered our patient experience surveys for several years, so we transitioned to them for our combined caregiver engagement and culture of safety surveys as well. This approach better aligns results to the patient experience and improves patient care.
The streamlined survey approach reduced survey fatigue and identified system-wide drivers of engagement to help focus our efforts while helping us to determine engagement levels across our clinical and non-clinical caregiver population. Now, more than ever, the enterprise connects the dots between safety, engagement and patient satisfaction.
Caregiver engagement is not defined by our surveys. Rather the surveys are simply ways for us to check in on our unique experiences, share them and learn from them. The surveys help reveal the perceptions we have about where and how we feel about the care we deliver to our patients.
As a confidential tool, the survey is the best method of understanding what's working and what isn't as we harness the Power of Every One to achieve Cleveland Clinic's goals. It's one form of how we listen. Another is our engagement Town Halls. Town Halls are conversations to drive actions. Those actions relate to what we learn about the caregiver experience following the survey.
Caregiver Celebrations
Caregiver Celebrations
Caregiver Celebration awards feature four ascending recognition tiers. The awards range from simple, on-the-spot, non-monetary e-certificates of Appreciation, to quarterly Excellence recognitions presented at the institute/division/hospital level, to the top tier Caregiver Award given to the top 50 nominated individuals and teams, who receive $500.
Of these 50, one individual and one team are selected to receive the CEO award of $10,000.
Additionally, we present an individual or team with the Gladys Gibson Award for heroism. Gladys Gibson was a telephone operator who sacrificed her life when she stayed at her post to alert other caregivers of disaster during the 1921 fire.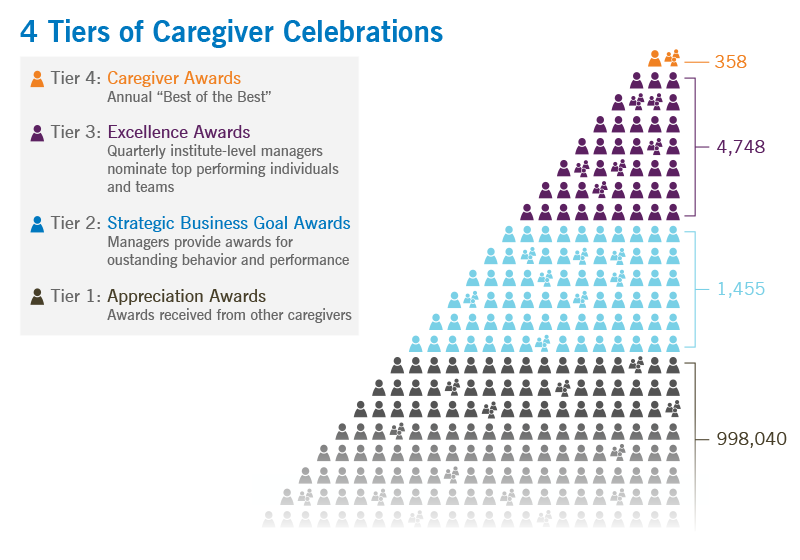 Recipient Highlights
The seventh annual Caregiver Award banquet took place in June, 2017 at the InterContinental Hotel and Conference Center where over 280 caregivers were recognized for their achievements. The event was hosted to recognize caregivers who achieved the Caregiver Award, the highest honor in the Caregiver Celebrations program. Recipients were honored for outstanding contributions and modeling of our core values of quality, innovation, teamwork, service, integrity and compassion. Their award-winning work demonstrated the Power of Every One – from improving quality of care to saving millions of dollars in efficiencies.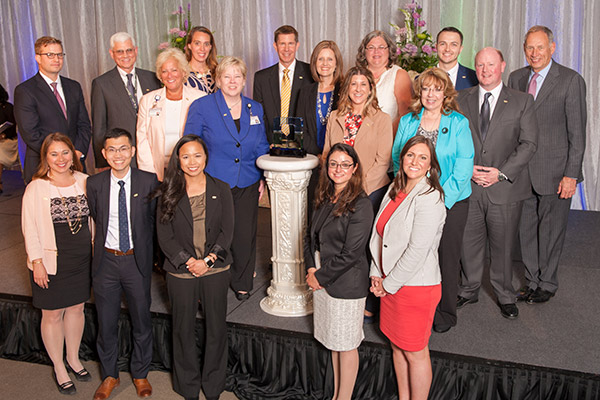 Pictured: Avon Hospital Cultural Onboarding Team
The Avon Hospital Cultural Onboarding Team designed, developed and implemented a world-class cultural onboarding program for new and existing Avon Hospital caregivers. Planning for this began in 2015 by conducting "vision groups" consisting of both caregivers and community members. The purpose was to solicit feedback on what the new hospital should look and feel like. The program set expectations for being an Avon Hospital caregiver and instilled confidence in joining the team. More than 700 caregivers participated in the program.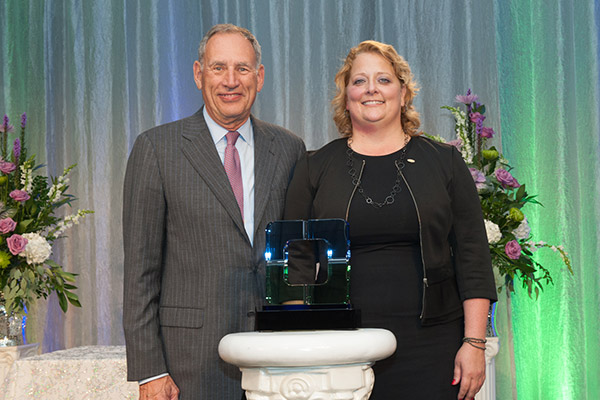 Pictured: Executive Advisor and former CEO & President of Cleveland Clinic Toby Cosgrove and Lutheran Hospital Mammogram Technician Ginger Orrego
Ginger Orrego, a mammogram technician at Lutheran Hospital, encountered a patient during a community event for free mammograms. The patient was in her mid-thirties, alone, from another country and without health insurance. She had a lump on her breast for some time, but delayed getting a study because she could not afford to pay for care. The exam revealed the patient had stage IV breast cancer. Orrego gave the patient hope by helping her find a physician and connecting her with social workers and the United Way, which helped the patient obtain grants and provided options for support services. She consoled the patient and acquired donations to ensure all of her needs were being met — from food to medications; from transportation to treatments.
Orrego even used use her own PTO to take the patient to appointments and helped arrange nutritious food, clothing and even a recliner when the patient could no longer lay down due to swelling. Through Orrego's outstanding compassion, the patient began to fight to survive.
Caregiver Celebrations Facts
Program Inception

2010

Addition of Patient Recognition Awards

2012

Caregiver Celebrations Received
since 2010

1.3 M

Patient Recognition Awards Received since 2012

65,016
Caregiver Panel
Caregiver Panel
More than 6,000 caregivers participated in the Caregiver Panel. It doesn't matter where they work or what their job is – all caregivers can join. As a member of the panel, our Market Research Department emails surveys monthly on such topics as benefits, new programs or practices, improving patient care, etc.
Departments then utilize the results from the panel to implement changes. For example, Protective Services used survey data to provide safety information and services to caregivers. Since Protective Services received caregiver panel results, the following have been implemented:
Safety reminders included on the intranet
Addition of police officer on-site at Euclid Hospital
Additional A.L.I.C.E training offerings
Town Halls
Town Halls
Town Halls Demonstrate Listening Culture
Institutes, divisions and regional hospitals have been holding caregiver engagement Town Halls since 2015. All 50,000 plus Cleveland Clinic caregivers are expected to attend these Town Halls when held in their area. Each Town Hall has a theme, and particular issues are discussed among managers and employee at all levels. At the end of the process, participants prioritize ideas and solutions and focus on next steps and actions. Managers in charge of Town Halls are given instructions to help make their meetings as orderly and productive as possible. Town Halls are followed up with more surveys to measure their effectiveness. Every effort is made to let Town Hall attendees know that they are appreciated, invited, heard, connected, included and part of the solution.
The impact of the enterprisewide Town Hall format led to the creation of modified small group sessions for units that would benefit from one on one or team coaching.
Leaders listened and heard what employees were saying. And the Office of Caregiver Experience was set to launch in 2018 as an umbrella department that would harness Cleveland Clinic innovation to develop and provide resources that would be available to all caregivers. Open invitations to attend Listening Tours will let caregivers share what they need to support them in providing world-class patient care.