Featured Speaker
Featured Speaker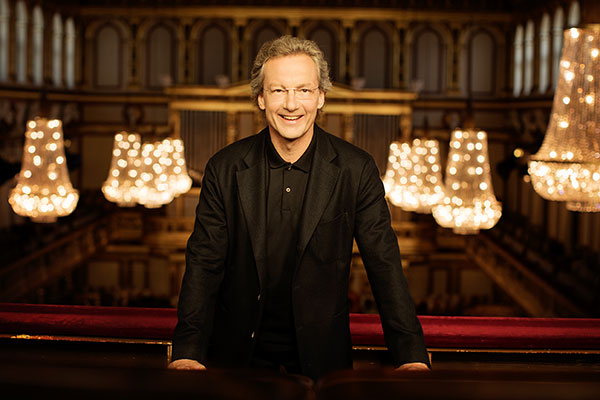 Franz Welser-Möst
Date: Wednesday, May 22, 2019
Time: 5:30 p.m. – 6:30 p.m.
InterContinental Hotel
Bank of America Conference Center
9801 Carnegie Avenue
Cleveland, OH 44106
Music Director
Kelvin Smith Family Endowed Chair
The Cleveland Orchestra
Ideas for Tomorrow: Franz Welser-Möst
Ideas for Tomorrow is an ongoing speaker series that provides a forum for the world's most distinguished thinkers, speakers and personalities to engage in a dialogue with members of our community.
Register Now
Franz Welser-Möst is among today's most distinguished conductors. The 2018-19 season marks his seventeenth year as music director of The Cleveland Orchestra, with the future of this acclaimed partnership extending into the next decade. The New York Times has declared Cleveland under Welser-Möst's direction to be the "best American orchestra" for its virtuosity, elegance of sound, variety of color, and chamber-like musical cohesion.
During The Cleveland Orchestra's centennial last season — dedicated to the community that created it — Franz Welser-Möst led two ambitious festivals, The Ecstasy of Tristan and Isolde, examining the power of music to portray and create transcendence, followed by a concentrated look at the philosophical and political messages within Beethoven's music in The Prometheus Project (presented on three continents, in Cleveland, Vienna, and Tokyo). His innovative approach to programming, introducing new music, and rediscovering and re-examining older works continues this season, including a brand-new made-for-Cleveland production by Frederic Wake-Walker of Richard Strauss's opera Ariadne auf Naxos in January.
Franz Welser-Möst and The Cleveland Orchestra are frequent guests at many prestigious concert halls and festivals around the world, including regular appearances in Vienna, New York, and Miami, and at the festivals of Salzburg and Lucerne. During Welser-Möst's tenure, The Cleveland Orchestra has been hugely successful in building up a new and, notably, younger audience at home in Cleveland through groundbreaking programs involving families, students, universities, and cross-community partnerships. A series of established and newly created education offerings continue to energize and engage students throughout the region.
As a guest conductor, Mr. Welser-Möst enjoys a close and productive relationship with the Vienna Philharmonic. His recent performances with the Philharmonic have included a series of critically-acclaimed opera productions at the Salzburg Festival (Strauss's Der Rosenkavalier in 2014, Beethoven's Fidelio in 2015, Strauss's Die Liebe der Danae in 2016, Reimann's Lear in 2017, and Strauss's Salome in 2018), as well as appearances on tour at New York's Carnegie Hall, at the Lucerne Festival, and in concert at La Scala Milan. He has conducted the Philharmonic's celebrated annual New Year's Day concert twice, viewed by millions worldwide. Performances with the Philharmonic this year include appearances at the Salzburg, Grafenegg, and Glyndebourne festivals, and, in November, at Versailles and Tokyo's Suntory Hall. He returns to Vienna in the spring to lead Mahler's Eighth Symphony.
Mr. Welser-Möst also maintains relationships with a number of other European orchestras and opera companies. His 2018-19 schedule includes concerts with the Czech Philharmonic and Dresden Staatskapelle. He leads performances of Mozart's The Magic Flute in a new production directed by Yuval Sharon with the Berlin State Opera, and Strauss's Ariadne auf Naxos at Milan's Teatro alla Scala.
From 2010 to 2014, Franz Welser-Möst served as general music director of the Vienna State Opera. His partnership with the company included an acclaimed new production of Wagner's Ring of the Nibelung cycle and a series of critically-praised new productions, as well as performances of a wide range of other operas, particularly works by Wagner and Richard Strauss. Prior to his years with the Vienna State Opera, Mr. Welser-Möst led the Zurich Opera across a decade-long tenure, conducting more than forty new productions and culminating in three seasons as general music director (2005-08).
Franz Welser-Möst's audio and video recordings have won major awards, including a Gramophone Award, Diapason d'Or, Japanese Record Academy Award, and two Grammy nominations. The recent Salzburg Festival production he conducted of Der Rosenkavalier was awarded with the Echo Klassik for "best opera recording." With The Cleveland Orchestra, his recordings include DVD releases of live performances of five of Bruckner's symphonies and a multi-DVD set of major works by Brahms, featuring Yefim Bronfman and Julia Fischer as soloists. A companion video recording of Brahms's German Requiem was released in 2017.
In 2017, Mr. Welser-Möst was awarded the Pro Arte Europa­preis for his advocacy and achievements as a musical ambassador. Other honors and awards include the Vienna Philhar­monic's "Ring of Honor" for his long-standing personal and artistic relationship with the ensemble, as well as recognition from the Western Law Center for Disability Rights, honorary membership in the Vienna Singverein, appointment as an Academician of the European Academy of Yuste, a Decoration of Honor from the Republic of Austria for his artistic achievements, and the Kilenyi Medal from the Bruckner Society of America.


#CCIdeas
Note: Seating is first-come, first-serve in the amphitheater. No seat-saving. Overflow seating will be available when the amphitheater reaches capacity.
Upcoming Speakers
Upcoming Speakers
Jennifer Hyman
Date postponed
Check back for more information in the near future.




Chief Executive Officer & Co-Founder, Rent the Runway

Jennifer Hyman is the Co-Founder and Chief Executive Officer of Rent the Runway, a company that is disrupting the $2.4 trillion fashion industry by introducing clothing rental as a utility in women's everyday lives. In her role, she sets the strategic priorities and leads the company in growing all areas of the business, including marketing, technology, product, logistics and data science. She co-founded Rent the Runway in 2009, and has since raised over $210 million in venture capital, growing the business to 9 million members, 1,200 employees (which is over 70% female and 70% minority) and 500+ designer partnerships. As the CEO, Jennifer has built Rent the Runway from an idea into a profitable, high-growth company and one of the most beloved brands in the U.S.

Jennifer has been honored with recognitions like Forbes "12 Most Disruptive Names in Business", Fortune's "Most Powerful Female Entrepreneurs", "Trailblazers", "40 under 40" Fast Company's "Most Creative People in Business" and the Tribeca Film Festival's "Disruptive Innovation" award. Under her leadership, Rent the Runway has been named to CNBC's "Disruptor 50" and Fast Company's Most Innovative Companies list multiple times. Serving as Rent the Runway's spokesperson, Jennifer is a frequent guest on television, regular lecturer at universities and business schools nationwide, and speaker at major industry events with a particular passion for female entrepreneurship and workplace equality.

Prior to Rent the Runway, Jennifer was the Director of Business Development at IMG where she focused on the creation of new media businesses for IMG's Fashion Division. She also ran the advertising sales team at WeddingChannel.com and was an in-house entrepreneur at Starwood Hotels, creating Starwood's first wedding business, which was recognized on the Oprah Winfrey Show for its innovation. In 2015, Jennifer Co-Founded the Rent the Runway Foundation to help female entrepreneurs throughout the U.S. build scalable, high-growth companies. She is an investor in and advisor to a diverse group of startups throughout the U.S. and is passionate about diversifying entrepreneurship.

Ms. Hyman serves on the Board of Directors of The Estée Lauder Companies. She received her BA from Harvard University cum laude and MBA from Harvard Business School, and lives in Brooklyn with her husband and daughter Aurora.


#CCIdeas

Note: Seating is first-come, first-serve in the amphitheater. No seat-saving. Overflow seating will be available when the amphitheater reaches capacity.
Speaker Archives
Speaker Archives
Many thought leaders have participated in the Ideas for Tomorrow speaker series. Previous speakers are listed below along with links to their presentation videos where available.
Steve Case
Chairman and CEO, Revolution LLC; Co-Founder, America Online; Chairman, The Case Foundation
J.D. Vance
Managing Partner, Rise of the Rest Seed Fund, Revolution, LLC; Author, Hillbilly Elegy – Revolution, LLC
Keven Plank
CEO of Under Armour
Doris Kearns Goodwin
Best-selling author and "America's Historian-in-Chief"
Mindy Grossman
President and Chief Executive Officer, Director of Weight Watchers International, Inc.
General Stan McChrystal
Former Commander of U.S. and International Forces in Afghanistan; Author of Best-Sellers Team of Teams and My Share of the Task; Co-Founder of the McChrystal Group
John Doerr
Chairman, Kleiner Perkins
Ginni Rometty
Chairman, President and CEO of IBM
Siddhartha Mukherjee, MD, DPhil
Oncologist and Author of The Emperor of All Maladies and The Gene: An Intimate History
Satya Nadella
Chief Executive Officer of Microsoft
Sheryl Sandberg
Chief Operating Officer at Facebook
Angela Duckworth
Founder and Scientific Director of the Character Lab
Frederick W. Smith
Founder and CEO of FedEx Corporation
Adam Silver
National Basketball Association Commissioner
Dan Gilbert
Majority Owner of the Cleveland Cavaliers
Fred McLeod
Play by Play Announcer for the Cleveland Cavaliers
David Gergen
CNN Senior Political Analyst; Harvard Kennedy School Professor and Director
David Agus
New York Times Bestselling Author; Physician and Professor of Medicine and Engineering, University of Southern California
Jim Free
Director of the National Aeronautics and Space Administration's John H. Glenn Research Center
Jim Colins
Author and Lecturer
David Gregory
Author and Former Moderator of Meet the Press
Admiral Michael Rogers
Commander, U.S. Cyber Command; Director, National Security Agency/Chief, Cenpal Security Service
Marissa Mayer
President & CEO, Yahoo
Candice Bergen
Actress and Author
Jack and Suzy Welch
Executive Chairman of the Jack Welch Management Institute and Author
Lord Norman Foster
Founder of Foster + Partners, Architect
Thomas Friedman
Author & Journalist, The New York Times
Gentry Lee
Chief Engineer for the Solar System Exploration Directorate at the Jet Propulsion Laboratory (JPL) in Pasadena, California
Eric Schmidt and Jonathan Rosenberg
Former CEO of Google, Current Google's Executive Chairman; Google Advisor
Michael Govan
CEO and Walps Annenberg Director
Sebastian Thrun
Co-Founder and CEO, Udacity
Dr. Donald Berwick
Former Administrator, Centers for Medicare and Medicaid Services; Founding CEO, Institute for Healthcare Improvement
Mark Tercek
President and CEO, The Nature Conservancy
Arianna Huffington
Chair, President and Editor-in-Chief, Huffington Post Media Group
Karim Sadjadpour
Author and Middle East Expert
Daniel Yergin
Author and Authority on Energy, International Politics and Economics
Jack Dorsey
Creator, Co-Founder, and Executive Chairman of Twitter, Inc.; Co-Founder and CEO of Square, Inc.
Warren Buffet
Business Leader, Philanthropist
Vladimir Pozner
Russian Journalist and Author
John T. Chambers
Chairman and Chief Executive Officer, Cisco
Kevin Johnson and Michelle Rhee
Mayor, City of Sacramento and CEO/Founder, StudentsFirst
Diane von Furstenberg
Fashion Designer
General Stanley A. McChrystal
Former commander of U.S. and International Security Assistance Forces (ISAF) Afghanistan; Former commander of the Premier Military Counter-Terrorism Force, Joint Special Operations Command (JSOC)
Dr. Ben S. Bernanke
Former Chairman of the Federal Reserve System
General James L. Jones, USMC (Ret.)
National Security Advisor
Dr. Atul Gawande
Practicing Surgeon, Accomplished Writer, Teacher and Speaker
Victor L.L. Chu
Chairman of the First Eastern Investment Group
Dean Kamen
Inventor and Physicist
Craig Mundie
Chief Research and Strategy Officer at Microsoft Corp.
Michael Dell
Chairman of the Board of Directors and Chief Executive Officer of Dell
H. Lee Scott, Jr.
Chairman of the Executive Committee of the Board of Directors of Wal-Mart Stores, Inc. (Walmart)
Tom Kelley
General Manager of IDEO
Michael E. Porter
Glen Bishop William Lawrence University Professor at Harvard Business School
His Excellency Yousef Al Otaiba
Ambassador of the United Arab Emirates to the United States of America and Mexico
Mike Milken
Philanthropist, Chairman of Milken Institute
Doris Kearns Goodwin
World-Renowned Historian
Stephen Kappes
Deputy Director, Central Intelligence Agency
Tom Brokaw
NBC News Special Correspondent
Glenn D. Lowry
Director of The Museum of Modern Art
Steven A. Burd
CEO of Safeway Inc.
Oprah Winfrey
Worldwide Media Leader, Philanthropist and Television Host
J. Craig Venter, PhD
Founder, Chairman and President of the J. Craig Venter Institute
John Glenn
Astronaut and Senator
William McDonough
World-Renowned Architect and Designer
Peter Lewis and Frank Gehry
Architects
Anne Mulcahy
Chairman and Chief Executive Officer of Xerox Corp.
Antonin Scalia
Associate Justice of the United States Supreme Court